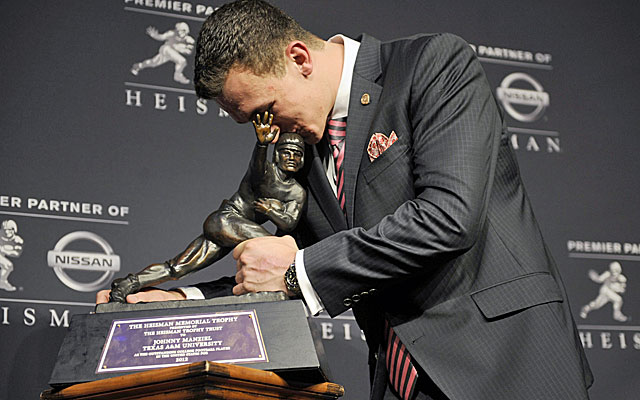 NEW YORK -- Johnny Football became Johnny Heisman on Saturday night.
And now for the rest of his career.
That's what worries me. America doesn't do child stars well. Texas A&M quarterback Johnny Manziel is no child but he is barely 20, the second-youngest Heisman winner in history. It's almost predictable, isn't it? Too much, too soon. Call it the Lindsay Lohanization of America. It's not that we want them to fail. It's that we can't help but gawk when they do.
That's why you hope Saturday didn't mark some sort of pinnacle for the Heisman Trophy winner. These awards are supposed to come at the end of a great career. Manziel's has barely started. He became the first freshman to win the award and now has to live up to his own hype before taking a snap as a sophomore.
Heisman Voting
Player, School
1st
2nd
3rd
Tot.
Johnny Manziel, Texas A&M
474
252
103
2,029
Manti Te'o, Notre Dame
321
309
125
1,706
Collin Klein, Kansas St.
60
197
320
894
There are three years of eligibility left. Three years during which -- history has proven -- he probably won't win another Heisman. Becoming the SEC total offense leader again will be a chore. It is certain he will never again be the first freshman to throw for 3,000 and run for 1,000.
And more than a few SEC defensive coordinators were likely motivated by Saturday's announcement. They've got those three years to make their own statement.
"There's always a chance," Manziel said, "that you can fail."
The thought has occurred to Aggies coach Kevin Sumlin. Standing onstage at the post-Heisman press conference with Manziel and offensive coordinator Kliff Kingsbury, it looked like either the future of the SEC -- or the future of college football.
"We're not the future," Sumlin said, "What kind of question is that?"
One that suggests that failure is not an option. We may be watching the hostile takeover of the SEC. And if that happens, yes, college football would be the next to follow. Sumlin is the one who has reminded me, among others, this was a program two games over .500 since 2007 coming into this season. There were a bunch of second-half gag jobs last season. There was no direction for Aggie football. It cost Mike Sherman his job.
Sumlin heard the whispers that he was taking a step up in competition coming from Houston, that he had no quarterback after the graduation of Ryan Tannehill. Now A&M football has a face. Actually three, the Tres Amigos onstage each with designer suits and pocket squares ready to take on the world.
"In terms of recruiting we came into a place where people said we're going to get our brains beat in and 'the system' can't do that," Sumlin said.
The coach uses the word "system" a lot. If it were a snowball, he'd throw it in the face of critics what derided his version of the spread offense succeeding in the SEC. In winning the Heisman, Manziel set the SEC total offense record. He became that first freshman ever and first SEC player to pass for 3,000 yards and rush for 1,000.
The offense not only succeeded, it produced the Heisman and Outland trophy winners. Left tackle Luke Joeckel this week got the award for best lineman.
"It's a big deal," Sumlin said, "and adds legitimacy to what we're doing."
What they're doing is using Saturday night to recruit the next Johnny Manziel. A bigger, faster, quicker Johnny Football. Just not right away.
Manziel hadn't been taken to the ground until the opener against Florida. After seeing his new quarterback play, offensive coordinator Kliff Kingsbury blamed himself for not seeing the potential but that's how modern practices go. Tackling to the ground isn't allowed in most programs and hitting the quarterback is especially a no-no.
"After the first game I said, 'That's on me,'" Kingsbury said. "I didn't know what we had in him. I've got to open things up with him."
All that stands between A&M, 10-2, and an undefeated season is two losses to top-10 teams by a total of eight points. It was after that second loss to LSU on Oct. 20 that Kingsbury realized he had something special.
"We can play at the elite level," he remarked. "Shoot, we're good."
The win at Alabama on Nov. 10 confirmed everything. Manziel was magnificent, free-wheeling, accounting for 345 yards in total offense. The entire Heisman race began to tilt in his direction.
What does Johnny Football now do for an encore?
"It's up to him," Kingsbury said. "People are going to put a bullseye on his back."
Manziel knows how lucky he is to be in this moment. He was cited after a fight outside a bar, then giving a policeman a fake ID. The details eventually emerged over time. This year's Heisman winner had to undergo drug and alcohol counseling and his subject to random drug testing, according to the New York Times.
"Without a doubt I definitely thought there was a time when I didn't really know where I was going to go from there," Manziel said. "My fate was kind of up in the air."
Kingsbury, Sumlin and Manziel realize this is half the battle.
"There's a lot of firsts going on at our place," Sumlin said. "Handling success is the best thing that we have done this year. Off the field stuff we have to get handled with every player."
The Kerrville, Texas, native whose high school games were a slice of Americana -- "Friday Night Lights," Manziel called them -- eventually captured the hearts and minds of everyone who mattered, including Heisman voters.
Before that 20th birthday -- Manziel's was Thursday -- the quarterback broke that single-season SEC total offense record held for only two years by 2010 Heisman winner Cam Newton. He became the fifth FBS player to go 3,000/1,000.
"I like being the face of the team," he said.
Maybe, but the best player in America visited Central Park on Saturday and was barely recognized.
That said more about New York than it did Manziel. Manziel became the third straight Heisman winner with Texas roots. Cam Newton (2010) won a national junior college championship in his only season at Blinn College in Brenham, Texas. Robert Griffin III (2011) is from Copperas Cove, Texas. This year's winner was once committed to Oregon, but had second thoughts and decided to stay home where his family and friends could see him.
"I'll sit here until I'm blue in the face and say Texas high school football is the best in the entire country. They put out a ton of recruits," Manziel said. "You see the movie 'Friday Night Lights'. Kerrville was a lot like that. The town was closed down for a high-school football game."
Now he is the toast of the Big Apple.
"Tell Chip [Kelly] he did all right," Sumlin said earlier in the season.
Without Manziel, Oregon's coach ended up with his own redshirt freshman at quarterback. Marcus Mariota should be a Heisman contender next season -- with Manziel in the mix, of course. His win also continued an underclassman trend. In fact, the last senior to win the award was Ohio State's Troy Smith in 2006.
"There is no barrier anymore, obviously," Manziel said. "I thought there was a great group of freshmen including Marcus Mariota. Freshmen are coming in early getting ready to play and taking the world by storm. It's there for the taking."
It's clear there are going to be more Johnny Footballs. Soon. The nicknames will be different, but they will come just as young. Thanks to YouTube anyone can scout players while they are in high school. There are agent runners trying to get their hooks into kids in middle school.
While that's a common practice in basketball, football is becoming increasingly young man's game. Manziel kept referencing Doug Flutie as an inspiration. Considering his age, the only place Manziel would have seen him play is on YouTube or ESPN Classic.
Sumlin refuses to fall under some SEC assertion that is program can't. Kingsbury is being mentioned for the suddenly-open job at his alma mater, Texas Tech, at age 33.
The town that embraced Broadway Joe now has Johnny Football to celebrate. A year ago he was a scout team quarterback. As of late August, he was locked in a quarterback battle with sophomore Jameill Showers. As of late Saturday, he was fighting back autograph seekers near Times Square.
Failure? On this night, nothing could be better.
"I always wanted to be in a fraternity," Manziel said. "Now I get to be in the most prestigious one in the entire world."