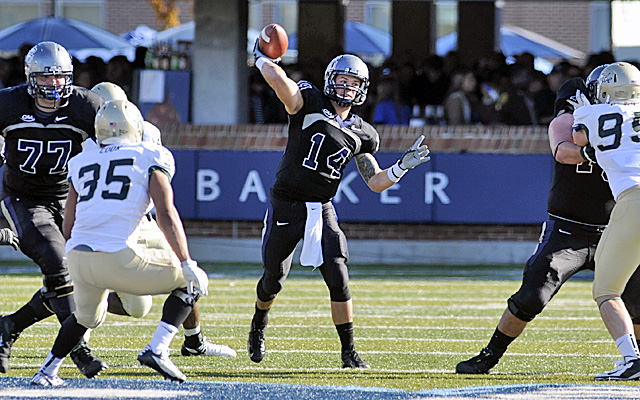 Statistically speaking, Texas A&M's Johnny Manziel wasn't the most prolific quarterback in college football this season.
Manziel broke the Southeastern Conference record with 4,600 total yards and accounted for 43 touchdowns in an unprecedented season, becoming the first freshman to win the Heisman Trophy.
Old Dominion quarterback Taylor Heinicke surpassed Manziel's production in 2012. Because Heinicke plays in the lower Football Championship Subdivision, however, he has not received the same publicity as Manziel.
Taylor Heinicke's Statistics
Year
Comp-Att (Pct)
Yds
TD-INT
2011
211-307 (68.7)
2,385
25-1
2012
398-579 (68.7)
5,076
44-14
Tot.
609-886 (68.7)
7,461
69-15
Heinicke eclipsed the late NFL All-Pro Steve McNair's FCS single-season passing record of 4,863 yards in a playoff loss Saturday to Georgia Southern. He finished the year with 5,076 passing yards.
Heinicke also registered 470 rushing yards, giving him 5,546 total yards -- second-best in FCS history behind McNair's record of 5,799.
"Steve McNair played in the league for a while and he was a very good quarterback there, so the fact that my name is mentioned with him is a huge honor," Heinicke said.
Steve McNair's Statistics
Year
Comp-Att (Pct)
Yds
TD-INT
1991
189-337 (56.1)
2,895
24-15
1992
231-427 (54.1)
3,541
29-11
1993
203-386 (52.6)
3,197
22-15
1994
304-530 (57.4)
4,863
44-17
Tot.
927-1,680 (55.2)
14,496
119-58
With two years of eligibility remaining, Heinicke has the opportunity to establish himself as one of the career passing yards leaders in college football history. Former Houston quarterback Case Keenum holds the record with 19,217 passing yards, while Heinicke's current mark sits at 7,461.
Old Dominion is moving up to the Football Bowl Subdivision and will join Conference USA in 2015. The Monarchs will play as an FCS independent through 2014, Heinicke's senior season.
Heinicke led Old Dominion to an 11-2 record this season behind his 55 total touchdowns and second-best FCS quarterback efficiency rating of 162.6.
Heinicke vs. Manziel
Cat.
Heinicke
Manziel
Age
19
20
Comp Pct
68.7
68.3
Passing Yards
5,076
3,419
Rushing Yards
470
1,181
Passing TDs
44
24
Rushing TDs
11
19
He started to garner national attention following a dramatic, come-from-behind 64-61 victory over No. 18 New Hampshire in September. In the game the sophomore threw for 730 yards and registered 791 total yards of offense -- both Division I records.
"The first word that pops into my head with what he's done is remarkable," Old Dominion coach Bobby Wilder said. "We thought he was good. But we didn't realize he would be that good.
"This year, he's just been remarkable. For him to do what he did last year and then to build on it this year, I don't want to say 5,000 yards was expected, but we certainly didn't see this coming."
The original plan was for Heinicke to sit out his freshman season as a redshirt, but a sprained ankle to starting quarterback Thomas DeMarco altered that on Oct. 1, 2011 against No. 20 Massachusetts.
UMass rallied from a 25-point deficit, eventually claiming a 26-25 lead in the third quarter. Wilder, who was thinking of the long-term future of his team, called upon Heinicke, then the third-stringer.
"And then he goes 8 for 11 for 119 yards and two touchdowns, and we end up winning the game 48-33," Wilder said. "I'll never forget: He threw a 56-yard touchdown pass to give us the lead and everybody -- myself included -- kind of watched him throw the pass and then looked at him and thought, 'Wow, this kid is everything we thought he was in practice, and he just went and did it in the game under pressure.'
"He just kept doing that time and time again to the point where you expected him to do that on a regular basis."
Heinicke finished his freshman season with 2,748 total yards and 29 touchdowns in only nine games. Through 22 games in his career, the sophomore has accounted for 84 touchdowns.
Out of high school, Heinicke didn't receive interest from FBS programs, and he attempted to earn a scholarship by competing in university-sponsored camps. The only offers he received were from Old Dominion, Richmond and Georgia State.
As Old Dominion moves up to FBS, it will face stronger competition. Heinicke will have to adapt to the improved opposition and make changes to his game.
Because of their similar statures, the comparisons to Manziel are inevitable.
"It's surreal," Heinicke said. "Johnny Manziel is an unbelievable player. To do that in his first year playing and also in the SEC is unbelievable. I wouldn't put myself on his level. He's playing a lot better competition, and I give all the credit to him.
"But at the same time, it's unbelievable. I never thought I'd account for 55 touchdowns in one year at the college level. I have to credit my coaches, receivers and linemen to let me do that."
With an offense that returns nine starters next season, more records could be in jeopardy.
"A lot of us are a microcosm of Taylor and his recruitment," Wilder said. "Whether it's me, whether it's coaches on the staff, or the players, none of us were quite good enough, yet here we are with an opportunity to perform at the highest level of football at the FBS.
"Our players, like Taylor, are excited to show people what they feel like they were capable of doing all along."
Follow Lorenzo Reyes LReyesCBS