The bowl season is referendum on the old cathode ray tube machine.
That's the reason there are 35 bowl games featuring varying degrees of football excellence. Even one losing team. They televise. We watch. The math doesn't add up sometimes, but apparently more people will watch a Beef O'Brady's bowl than will actually eat at a Beef O'Brady's. That's why our annual ranking of the bowls includes a watchability index. Just to save you some time, and perhaps some indigestion.
Get yourself to a 72-inch LED HD TV
1. BCS title game (Notre Dame vs. Alabama): What most folks don't know: ND's defense is better than Alabama's. Everett Golson's feet bear a striking resemblance to a certain Johnny Football. Brian Kelly was as good an offensive play-caller this season as Nick Saban was a defensive play-caller. Cue the hologram of Bear Bryant at the coin toss. A classic for the ages.
2. Cotton (Texas A&M vs. Oklahoma): The Future vs. the Big 12 co-champs. Johnny Football's first game since he became Johnny Heisman. His counterpart is the No. 3 passer in history (Landry Jones, whose first college game was at Cowboys Stadium three years ago). The Aggies want to prove the move from the Big 12 made sense. Check back with the Sooners on the worth of the Heisman finalists. They will have played all three.
3. Fiesta (Kansas State vs. Oregon): This was the BCS title matchup until the Wildcats and Ducks both lost on Nov. 17. Not a bad consolation. K-State won its third conference title in 99 years. Oregon is in its fourth straight BCS bowl. If none of that gets the juices flowing, tune in and see Chip Kelly's last college game. Maybe.
4. Rose (Stanford vs. Wisconsin): Wisconsin not only is the first five-game loser playing in the hallowed Rose, it is also the first five-game loser playing without its head coach. Barry Alvarez adds some juice to this game having gone all Alexander Haig with the departure of Bret Bielema. Stanford is one foot (vs. Notre Dame) from being in the national championship discussion.
5. Chick-fil-A (LSU vs. Clemson): Tajh Boyd is the Heisman finalist you never saw -- and never got invited. LSU's only two losses were to top-10 teams (Florida, Alabama) by a total of 12. Both teams think they deserved better. Atlanta is the place to prove it.
6. Orange (Florida State vs. Northern Illinois): Please stop with the Northern Illinois hate. What you have to ask yourself is whether the Noles will be motivated against the MAC champs. If not, the embarrassment factor will be high. You have been warned: Watch out for Huskies quarterback Jordan Lynch.
7. Capital One (Georgia vs. Nebraska): These are dangerous times for Bo Pelini. Word on the street is that he has fancied himself a candidate for high-profile openings in recent years. After having 70 hung on the Huskers by Wisconsin, Bo needs to develop some job security. Georgia has proven itself worthy of playing for a national championship. Is Nebraska worthy of playing in the Capital One?
8. Holiday (Baylor vs. UCLA): If these two schools play an average game, there will be 1,050 combined yards and almost 80 points. Baylor is No. 1 in total offense and 119th in total defense. For those of you who remember, the Holiday is getting back to its roots of wild, wacky shootouts. This is going to be one, book it.
9. Independence (Ohio vs. Louisiana-Monroe): You're asking yourself right now why this game is in the top 10. Both teams won eight games. The Warhawks had a better SEC winning percentage (.500) than six SEC teams. The Bobcats won their first seven games, including beating Penn State. Kolton Browning and Tyler Tettleton are worth the price of admission -- yes, that's right.
10. Outback (South Carolina vs. Michigan): You can spell South Carolina without "Outback" but you can't stage the game. The Gamecocks are here for the fourth time since 2001. Jadeveon Clowney begins his 2013 farewell tour by chasing Denard Robinson around Raymond James Stadium.
Worth meeting at a bar for a watch party
11. Alamo (Texas vs. Oregon State): Mack Brown can't find/develop/get any consistency from a quarterback. Mike Riley can't help from getting production out of Sean Mannion. The Horns have won six of their past seven bowl games.
12. New Mexico (Nevada vs. Arizona): What's not to like about a meeting of the nation's top two rushers, Arizona's Ka'Deem Carey and Nevada's Stefphon Jefferson?
13. Las Vegas (Boise State vs. Washington): Chris Petersen has lost eight games in seven years. Two of those have been to BCS schools (at the time of kickoff). Washington is one of them.
14. Sugar (Florida vs. Louisville): The NCAA says Florida had the toughest schedule in the country. Louisville AD Tom Jurich had the toughest road in the country -- getting his school to the ACC and retaining Charlie Strong.
15. Gator (Mississippi State vs. Northwestern): The Wildcats are still looking for their first bowl win since 1949. Yikes!
16. Russell Athletic (Rutgers vs. Virginia Tech): The Hokies needed to beat Virginia to go bowling for the 20th consecutive year. So there's that.
17. Famous Idaho Potato (Utah State vs. Toledo): Somehow Aggies coach Gary Andersen decided to stay at Utah State after a 10-2 season. Bad move? Ten-win seasons don't come along in Logan, well, ever. This was the first time it happened.
18. Pinstripe (West Virginia vs. Syracuse): Lots of confusing, conflicting angles. Old Big East rivalry between Big 12 and future ACC. If Geno Smith is the first quarterback taken in the draft, his last game will be in a baseball stadium (Yankee).
19. Buffalo Wild Wings (TCU vs. Michigan State): In an off year on the field filled with scandal off it, the Horned Frogs fielded a top-20 defense while moving up a class in the Big 12. Gary Patterson will be ready for Le'Veon Bell.
20. Heart of Dallas (Purdue vs. Oklahoma State): Purdue is changing head coaches. Oklahoma State is changing offensive coordinators.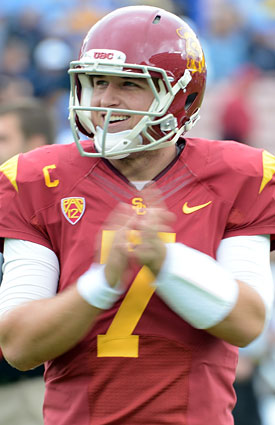 21. Sun (Southern California vs. Georgia Tech; CBS):
If Matt Barkley is healed, as expected, this will be his final college game. Too bad it is against a team that doesn't deserve to be there. That's saying a lot in this bloated bowl system.
22. Poinsettia (BYU vs. San Diego State): BYU is No. 3 in total defense but somehow lost five games. How? The Couugars scored 21 points or fewer five times.
23. Music City (NC State vs. Vanderbilt): The Vandy story just keeps getting better. The last time the Dores won at least 14 games over two seasons was 1947-48. Fifteen in two years would be the first time since 1928-29.
24. Belk (Cincinnati vs. Duke): Tommy Tuberville came to Cincinnati because, in his opinion, he had a better chance to win. It would help to impress the new coach by beating the Blue Devils, 10-point underdogs.
25. BBVA Compass (Pittsburgh vs. Ole Miss): Pitt threatens to hold on to a coach for a second consecutive season. Meanwhile, the Panthers are in this bowl for a third consecutive season.
26. Kraft Fight Hunger (Navy vs. Arizona State): Not a vintage Navy team, but still good enough to embarrass a Pac-12 squad. The Sun Devils were No. 2 in Pac-12 defense, but don't face many -- actually, any -- option offenses out West.
27. Military (San Jose State vs. Bowling Green): Do you know the nation's most accurate passer plays for the Spartans? (David Fales, 72 percent). Do you know Bowling Green is seventh nationally in total defense, lodged between Notre Dame and LSU? Now you do.
28. Liberty (Iowa State vs. Tulsa): Shame on the Liberty. It bypassed nine-win Louisiana Tech to arrange a rematch. Iowa State already beat Tulsa 38-23 on Sept. 1.
Bottom seven -- "We lost the remote? Good"
29. GoDaddy.com (Kent State vs. Arkansas State): Both head coaches who led these teams to a combined 20 wins have departed.
30. Hawaii (Fresno State vs. SMU): June Jones makes a triumphant return to the islands where he coached the Warriors for nine seasons. It won't be easy. Fresno's Tim DeRuyter, who tried like heck to get into the Colorado discussion, built an offense that averaged almost 500 yards per game.
31. Meineke Car Care (Minnesota vs. Texas Tech): Six years ago in this same matchup in the Insight Bowl, Minnesota blew a 31-point lead late in the third quarter and got Glen Mason fired. Mason is with the Big Ten Network, which showed Minnesota finish fifth in the Legends Division.
32. Beef O'Brady's (Central Florida vs. Ball State): The Cardinals, who have never won a bowl game, won six straight to finish the season.
33. New Orleans (East Carolina vs. Louisiana-Lafayette): East Carolina is giddy over joining the Big East, as long as it lasts. Ragin' Cajuns coming off their first FBS bowl win last year.
34. Little Caesars Pizza (Central Michigan vs. Western Kentucky): TV ratings just went up: Figure on plenty of shots panning up to a Ford Field club suite, where new Hilltoppers coach Bobby Petrino will be watching.
35. Armed Forces (Rice vs. Air Force): Rice's first bowl in four years. Troy "Howdy Doody" Calhoun (Caution: Explicit language) is trying to keep the Falcons at altitude. Both teams 6-6. Yawn.