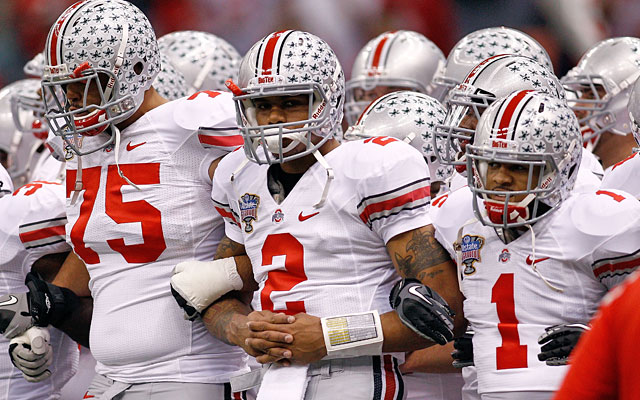 If you're going to play football at Ohio State, you're going to need a checking account. Don't insert an NCAA joke here, because this isn't funny.
Ohio State has been burned by NCAA violations over the years, and the Buckeyes aren't fooling around. They're going for complete compliance, and while they will fall short -- everyone falls short -- it won't be for lack of effort. Ambition like this requires an enormous outlay of resources, and the school is outlaying like you've never seen.
Not long ago -- only 15 years -- the school's compliance department wasn't a department, but a single person. Two years ago, when quarterback Terrelle Pryor was breaking NCAA rules and coach Jim Tressel was hiding it, Ohio State was up to seven compliance officials.
Now this football school has more full-time employees on its compliance staff (14) than on Urban Meyer's coaching staff (nine). They walk the players' parking lot, jotting down license-plate numbers. They watch the crowd before and after games, looking for agents or runners.
And then there's the checking accounts.
More on college football
Related links
More college football coverage
This one is going to rub some people the wrong way, but so be it. People love to get upset over stuff like this, Big Brother-ish stuff like seatbelt laws in a car, helmet laws on a motorcycle or smoking bans at a restaurant. If we want to kill ourselves, the government should get out of our way and let it happen!
Cue Mel Gibson in Braveheart: Freedom!
And without question, Ohio State is impinging on its football players' freedom. Invading their privacy. Treating them like rubes.
But here's something else Ohio State is doing:
Ohio State is helping -- itself, obviously, but its players, too.
Complain about that? Not me. I suspect that will put me in the minority, but I'm not an optimist when it comes to situations like this one -- I'm a realist. And realistically, there are college athletes all over this country who don't know how to manage a checking account.
There are non-athletes who don't know how to manage one, too. The line between being able to manage a checkbook -- and not -- isn't athletics. It's not gender. Not race, creed or religion.
It's maturity, and lots of college students don't have it. If a music major doesn't know how to manage her checking account, that's too bad. Really, it is. But there isn't a college class for that, and if her parents are unwilling or unavailable to teach her, she'll just have to figure it out on her own. Along the way it could mean bouncing checks, screwing up her credit score, digging a financial hole. Freedom! It's beautiful, right?
The terrain is more treacherous for a college athlete. Start running short on money, and there are ways to solve the problem. Sell a jersey. Turn your fame into a free meal.
Shave points.
It's a scary world out there, and Ohio State is trying to protect itself. Also, Ohio State is trying to prepare its athletes for the future. At a place like this, there are soon-to-be professional athletes on the football team. Future millionaires, in some cases. And every year the news is full of players like that, genetic lottery winners who spent their way into bankruptcy. Why? Because they had no idea how to manage a budget.
It's a skill, and Ohio State wants to teach it.
But Ohio State has gone too far. That's what some will say. Actually, that's what some already are saying. They're saying it here, calling the school "a hallmark of NCAA totalitarianism" -- synonyms for totalitarianism: dictatorship, tyranny -- and noting the school's "incredible invasion of [its athletes'] privacy."
I called Ohio State assistant athletic director Dan Wallenberg and asked him what he thought about that line of thinking. Loved his answer, too: What line of thinking?
"I've never been in a situation where we thought about that or are concerned about that," Wallenberg said of the Big Brother label. "What we're concerned about is educating 18-year-olds who have never had a bank account before and have never come into a large chunk of money before, like a Pell Grant. We're concerned with helping them learn how to budget their money. It's more of a life-skill education than anything."
It's self-serving, too. Ohio State knows a financially desperate athlete is a vulnerable athlete -- vulnerable to the temptations within, and to the leeches without. Ohio State athletic director Gene Smith told the Chronicle for Higher Education that football coaches, not compliance staffers, are the ones helping players manage their money. That adds another level of intensity to the mentoring. You can shrug off a compliance suit easier than a position coach.
"Some of our guys from low socioeconomic environments were getting a $3,000 Pell Grant, and all of a sudden they're spending it on an iPhone and whatever else today's bling is," Smith told the Chronicle. "Now, we're teaching them about their cars, their apartment leases, and how to have a budget. ...
"We want coaches saying, 'Help me understand why you have a [bank-imposed] hold on your account, why you're delinquent in paying your apartment lease.' It gives us a chance to see if they're going to get into financial problems, and that they don't go find another way to take care of it."
Another way to take care of it ...
Pryor, the Buckeyes' quarterback from 2008-10, drove loaner cars and sold his 2008 Big Ten championship ring. Running back Daniel Herron sold his football pants and cleats for $1,000. Receiver DeVier Posey sold his 2008 conference ring for $1,200, and tackle Mike Adams sold his for $1,000.
Those former OSU players needed money -- or maybe just wanted it -- and broke NCAA rules to take care of it. Ohio State is trying to prevent current and future players from doing the same. Keeping 85 college students out of trouble, athletes or otherwise, isn't easy. Ask a fraternity advisor. Ask a football coach.
Trouble will find an Ohio State football player again, of course. Trouble always finds a big-time program. But the Buckeyes are trying to prevent it.
Trying too hard? Maybe.
Beats the alternative, doesn't it?