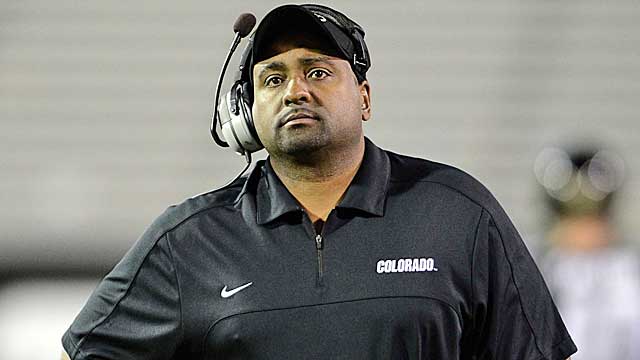 Skip Holtz did this to me. Skip Holtz and Louisiana Tech. When that school decided to hire Holtz on Thursday night, something in me cracked. I was reading Bruce Feldman's news story on the hiring, but I was hearing Jon Embree's words:
"We don't get second chances."
Jon Embree is African-American, and he is -- or was -- the football coach at Colorado. And he was speaking for the astonishing percentage of African-American football coaches who have been fired and never given another shot at running a Division I-A program.
All told, 41 African-American coaches have been hired at that level. Only one, Tyrone Willingham, has been fired and given a second chance like the one just given to Skip Holtz. Like the ones given to John L. Smith, Gerry DiNardo, Paul Pasqualoni, Hal Mumme and Ron Zook.
More on college football
Related links
More college football coverage
First, some perspective on that 40-of-41 statistic. For starters, it's not 40-of-41. Many of those 41 African-American hires are still in that job, men like Kevin Sumlin at Texas A&M, James Franklin at Vanderbilt and David Shaw at Stanford. African-American head coaches in college football? Once upon a time the number was an embarrassment, with just five such coaches among the 120 openings in Division I-A as recently as 2008. But this past season there were 15 (of 124). There has been much progress on this front, so much that it's easy to explain away what just happened at Louisiana Tech.
And I'm willing to give Louisiana Tech the benefit of the doubt -- sincerely -- and state unequivocally that Skip Holtz wasn't hired because he's white. He was hired because he's Skip Holtz. Because his father is Lou Holtz. Because he has a name the average college football fan will recognize, and that's how you win the news conference at a school like Louisiana Tech. You hire a coach your fans have heard of.
The Holtz hire doesn't have me thinking about what just happened at Louisiana Tech, but about what Embree said will never happen for him: a second chance. And overwhelmingly, the odds are he's right. The only African-American coach to be fired by one high-level program and hired by another was Willingham, and he'd been fired from Notre Dame. All coaches who get fired from Notre Dame get another chance, whether it's an overmatched high school coach like Gerry Faust (Akron) or an assistant like Bob Davie (New Mexico).
Willingham getting that second chance from Washington in December 2004 didn't show how far we've come, baby. It shows how powerful the Notre Dame brand is.
Charlie Weis got another chance, for crying out loud.
But Jon Embree won't.
And listen, maybe he doesn't deserve one. Definitely he deserved to get fired, even after just two years. Embree didn't like it, as well he shouldn't, but former Colorado coach Bill McCartney made a controversial situation worse by saying, "I believe black men have [a] shorter time," as if Embree was fired after two seasons for racial reasons -- and not because his first team went 3-10 and his second team went 1-11 with blowout losses to damn near everybody.
If I'm the AD at Colorado, I'd have fired Jon Embree after two seasons, too.
But if I'm the AD at Louisiana Tech, I wouldn't have hired Skip Holtz. Not after what he did at South Florida, which was lousy in the lousiest BCS conference in college football -- despite being located in recruiting-rich Florida. Skip Holtz was slightly above average in Division I-AA (34-23 in five seasons at pre-Big East UConn), and slightly above average at East Carolina (38-27 in five seasons), and then a failure at South Florida. He went 16-21 in three seasons there, and the needle was pointing down: 8-5, 5-7 and then 3-9. This season the Bulls lost nine of their final 10 games.
Skip Holtz was a disaster at South Florida, and South Florida -- given its location -- is the best job in the Big East.
So anyway, I wouldn't have hired Holtz at Louisiana Tech, but then I'm not much impressed with daddy's boys like Skip Holtz or Lane Kiffin or Derek Dooley. The current AD at Louisiana Tech, Bruce Van De Velde, obviously believes in the power of the silver spoon considering he chose Skip Holtz over Brian Polian (son of NFL executive Bill Polian) and Cale Gundy (younger brother of Oklahoma State coach Mike Gundy). And also, maybe he's just not good at his job. This is the same AD who misread Louisiana Tech's bowl discussions, leaving his 9-3 football program out of the postseason.
Whatever the case or cause, Skip Holtz was hired at Louisiana Tech -- 11 days after he was fired Dec. 2 at South Florida. Jon Embree was fired at Colorado on Nov. 26. Joker Phillips was fired at Kentucky on Nov. 4. Randy Shannon was fired at Miami in 2010.
How long will they wait before getting a second chance? And why?