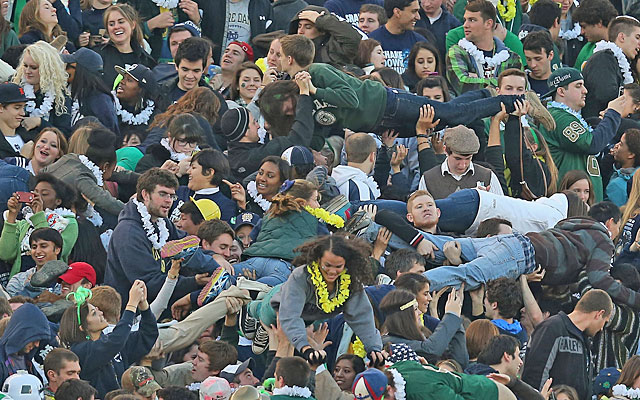 SOUTH BEND, Ind. -- Notre Dame's title run has affected members of the community in different ways.
Take four people, and you might get four stories, four separate emotions, with one common thread. Many feel they played a part, big or small, in the undefeated season.
Here's an outlet for those perspectives, told from South Bend on a lazy Saturday afternoon in December.
The AD: Unfiltered satisfaction
This has to work or I'm in the wrong job, Jack Swarbrick thought to himself.
Notre Dame's admissions office had to be as hard-nosed as the football team. The two had to work in harmony, and Swarbrick knew it, but for years only one side was doing the heavy lifting.
More on Notre Dame
Column

Related links
Video
More college football coverage
Notre Dame's alleged irrelevance for much of the previous decade was directly tied to stiff academic standards. Swarbrick sensed the criticism around him after being hired in 2008. Even one of the school's own radio analysts, IMG's Allen Pinkett, spoke out about the Irish's rigid standards, saying every good team should have a few "bad citizens."
Notre Dame lives in the same academic cul-de-sac as Stanford, Vanderbilt, Duke, Northwestern -- four schools that combined for a 34-15 record this year. Stanford has flourished with the football-geek model for the past several years, way before Notre Dame re-entered the party.
But, as Swarbrick said, "Everything plays a little bigger here."
Notre Dame didn't change its standards despite the outcry, Swarbrick says, and this year it became the first football program to couple a No. 1 BCS ranking with the nation's top graduation rate (97 percent).
The mid-interview smirk gave it away: Swarbrick was doing an awkward, middle-aged fist pump in his head.
"What you didn't want was people to say, 'Yeah, but they just did what everybody else did' or 'They are no different,'" Swarbrick said. "Vindication's too strong a word, but there's a satisfaction that, you know what, we proved you can use this model and it works."
Swarbrick believed it would work on the field eventually, if only the fan base gave the Irish time. After Brian Kelly started with consecutive 8-5 seasons, Swarbrick gave him an extension.
He worried the schedule -- Michigan and Stanford at home, at Oklahoma, at Southern California -- would mask the progress in Kelly's third year. Until that fourth-and-goal stop in October changed his perspective.
"After the Stanford game, I stopped worrying and said anything is possible with this team," Swarbrick said.
The legendary coach: A visit to past glory
On occasion, Ara Parseghian will pop a letter in the mail addressed to "Brian Kelly, head football coach, Notre Dame."
Most messages are pretty light, perhaps a few words of encouragement. But Parseghian made sure to flex his coaching muscle a few days after Notre Dame's momentous road win over Oklahoma in late October.
He remembered the letter including these six words: "Be careful after a big win."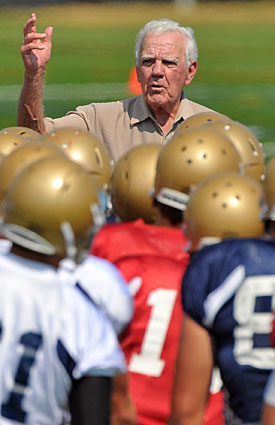 "I probably didn't have to tell him that," said Parseghian, 89, who led Notre Dame to national titles in 1966 and 1973. "But they played a perfect game against Oklahoma, and it's hard to keep them in the right high pitch after that. The next game, particularly in the first half, they were riding high."
Parseghian knew the Irish would be flat against Pitt. Notre Dame was down 10-6 at the half and needed three overtimes to escape Notre Dame Stadium that night.
Parseghian was waiting for the resolve and grit that his teams once showed, and that Irish squads of recent years sorely lacked.
Now he can't hear enough about those qualities with this year's team. During weekly trips to Papa Vino's Italian Kitchen, fellow diners stop him: "What about Notre Dame? They're back."
"It was disappointing," Parseghian said of the dry years. "I thought we would get back to a rejuvenated cycle sooner. But right now, we've got good recruiting, good coaching, good motivation, the right chemistry. That's what you need.
"And it lights up the whole town."
Parseghian never brought up the letter to Kelly after he wrote it. Kelly invited him to practice the final two weeks of the season, but Parseghian didn't "want to spoil anything."
He remains low key around town (he spends part of the year in South Bend). Nowadays, he's trying to let family and friends down easy after an avalanche of ticket requests.
He has asked the school for six tickets, for immediate family.
"I think I'm going to get them," he said.
Let's just say he has earned them.
The Leprechaun Legion president: A sense of inclusion
In the stadium era of pyrotechnics and excessive Jumbotrons, Notre Dame Stadium is as stuffy and traditional as it comes. A lot of sitting, and minimal dancing. Small video boards, and smaller voices.
Notre Dame junior Matthew Cunningham and the Leprechaun Legion aimed to change that.
The Legion is a conduit between students and Notre Dame athletics.
Cunningham is the president. He's also the son of North Carolina athletic director Bubba Cunningham, so he understands how to push corporate initiative.
The mission: Get music played in the stadium.
"The edge, energy, letting the crowd know it's a big moment," Cunningham said. "We wanted that for Notre Dame."
Last year, Cunningham went to the director of game-day operations, assistant athletic directors and ultimately Swarbrick. He and senior Kristen Stoutenburgh surveyed more than 900 students, and an overwhelming majority preferred game-day music. They compiled the survey data, utilized a focus group to build their case, then made a pitch to Swarbrick and the marketing department for approval.
The diligence worked. Before kickoff of last year's USC game, the Dropkick Murphys' Shipping Up to Boston blared from the speakers for the first time.
Some of the traditional fans looked confused, said Cunningham, who added the student section was "as rowdy as I can remember."
Music is now played before kickoffs that follow a Notre Dame score, key defensive third downs and toward the end of timeouts.
Of course, it's a stretch to say Notre Dame needed music to go 12-0. But if the subtle change helped motivate a player or two in between timeouts, then Cunningham would be happy.
"Among students, the energy has increased," Cunningham said.
The Linebacker Inn bartender: Pitchers all around
A box of Pall Malls rests on a bar decorated by dusty Christmas lights. Smoke fills the room. A beer the size of a football cost $3.25.
This is the Linebacker Inn, a South Bend staple about a mile from Notre Dame Stadium.
Bartender Ron Grahl is working the room, cracking jokes with the locals who filter in and out. He has been doing this for nearly 20 years. It's an intimate crowd on Dec. 1, about a dozen people, which gives Grahl time to reflect about Irish football.



Who will win the BCS title game?
Total Votes: 72,229
Suffering through a few subpar Notre Dame seasons is one thing. But indifference is far worse.
"For awhile, you'd hear people around here talking about Michigan football or other teams. They weren't talking about Notre Dame," Grahl said. "Now it's different. It's all about Notre Dame around here. Everybody's talking about how we're relevant again. And that's the word everybody uses: relevant. So we try to help customers enjoy that experience when they come in."
The way Grahl sees it, Kelly makes it easy to root for the Irish. Connecting with the community and embracing customs are in the job description of a Notre Dame head coach.
Like many coaches before him, Kelly gets his haircut from the deep, tan swivel chairs inside Armando's Barber Shop across the street. Grahl says Charlie Weis, Notre Dame's coach from 2005-09, didn't go to Armando's. Around here, people take notice.
"It helps when there's a nice guy, a guy who gets it," Grahl said. "Charlie Weis, he didn't come around this area. He didn't get a haircut at Armando's. People will give [Kelly] more of a break because he's a nice guy. They want someone to connect with."
The beer goes down a little smoother at the Linebacker, which Grahl hopes will spark good football conversation leading up to the Jan. 7 title game against Alabama in Miami.
"We'll be ready," Grahl said. "A lot of fans will be at the game. We'll be watching every play here."