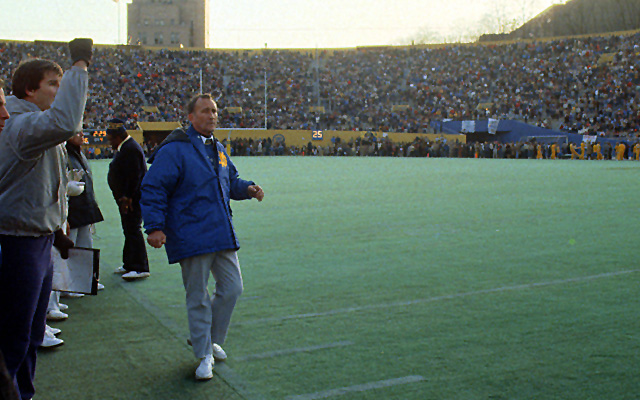 He's Gerry Faust and he still believes in miracles.
How else do you explain what happened during a trip to Our Lady of Lourdes in France in 1980? Gerard Anthony Faust was just a high school coach then, but a darn good one -- lost only 23 games in 19 years, won five state championships. If it was ever going to happen, it was going to happen at Notre Dame.
So he lit that candle at the shrine in Lourdes known for miracles and said a few prayers. Two weeks later Fr. Edmund Joyce called.
More on BCS Championship
Commentary

Related links
More college football coverage
That would be Fr. Joyce, Notre Dame's legendary executive vice president, offering the Notre Dame job. They called Faust's hiring in 1981 "The Bold Experiment." Faust called it a miracle. That experiment failed, spectacularly and agonizingly. But the gravelly voice and boundless energy has not been stilled 27 years after he left the job many said should never have been his: A high school coach with no major college experience leading the most visible program on the planet.
Faust -- Notre Dame's 24th coach, at the helm from 1981-85 -- will be remembered for being many things this holiday season, but one of them is not fake. These days he's the guy in the back of the Notre Dame press box. He's the guy screaming after every big play. He's the guy who never stopped gushing Irish.
He quit in that fifth season, the third-losingest coach (by winning percentage) in Notre Dame history. Gerry Faust was and is the shining reason why a major college program should not to hire a coach straight out of high school. A handful of schools have tried bold experiments and failed as well.
Todd Dodge went from Texas power Southlake Carroll to North Texas in 2007, then went 6-37 in four seasons as a college coach.
"There have not been very many," Faust conceded.
He is 77 now, a gregarious symbol for how bad it can be at Notre Dame and what a wonderful life it is. He remains the living embodiment of the Notre Dame honk in this undefeated season. As a child playing CYO football at Our Lady of Mercy, Faust would sing the Notre Dame fight song riding back and forth to school on his bike.
"So when I went to Notre Dame, I didn't have to learn it," he said.
Faust retrenched after Notre Dame and coached at Akron for eight seasons. A granddaughter goes to Akron's St. Vincent-St. Mary, LeBron's high school. Moeller just won another state championship, its first since Faust's last year at Notre Dame in 1985.
Faust's biggest win may have been retaining his dignity. When things go sour at Notre Dame, life can be miserable, not unlike a lot of schools. But Faust was that experiment, that on-off. It did not end well. The Irish players who have manufactured this undefeated 2012 were years from being born when Faust left.
Since his resignation, things have never been as bad. Lou Holtz replaced him. Three years later the Irish won a national championship.
Faust became a step stool to glory.
"I wouldn't trade it for anything in the world," he said. "If I knew the results were going to be the same, would I do it again? I sure would because there is nothing like Notre Dame. If I did it again, would I do some things differently? There's no question I'd do some things differently."
As another Christmas approaches, Faust's impact on Notre Dame history fades. Actually, it can't get much more invisible. Hiring a high school coach from powerhouse Cincinnati Moeller was controversial enough. Then the Irish -- predictably? -- played five years of uninspired football, never winning more than seven or losing more than six. There was only one bowl win -- only two bowls -- in those five seasons.
"It's like when Coach Holtz won the national championship with a lot of our kids," Faust of Brian Kelly, who's in his third season.
Except few Irish fans remember Faust as leaving the cupboard stocked for Lou Holtz, though he quickly got the program back on its feet. Holtz was everything Gerry Faust wasn't as a college coach -- experienced, organized, analytical.
If you thought the Davie, Willingham and Weis years were inconsistent, you're too young to remember the Faust years. Even Bob Davie, Tyrone Willingham and Charlie Weis each won at least nine games in a season at Notre Dame.
Still, Faust roots and prays, and returns about four times a year to watch games. He doesn't sit in the stands because of an incident a few years ago. Faust was with his family and heard a fan deriding Notre Dame's quarterback.
"If you can do better, go on down there," Faust screamed.
Ushers came rushing down his section. They were willing to eject the fan.
"No, no," Faust told them. "He's a Notre Dame fan. He loves Notre Dame, you can tell. He just wants to win."
An uncomfortable moment was averted. The game-day routine now consists of driving from his home in Akron and standing in the back of the press box. Just another fan going through the pregame spread.
"Once I get in the stadium I don't want to get in anybody's way," Faust said. "There's only one thing people should be thinking about and that's the team. That's what you should do as a coach -- an ex-coach."
Faust shares a birthday with Ara Parseghian. They speak each year on May 21 by phone, the 89-year-old Ara joking he'd gladly trade his two national championships for some of Faust's youth. Holtz is another close friend, one who imported one of Faust's old linebackers at Moeller as guest speaker this year at a golf outing -- House Speaker John Boehner.
Faust won't be going to South Florida for the BCS title game. Good thing. There probably isn't a press box big enough in Sun Life Stadium to hold the old coach. But Gerard Anthony Faust still believes in miracles.
"I went back to Lourdes, France in 1988," he said. "The first thing I did was light a candle and thank the Lord for giving me the job at Notre Dame."
Those votive candles work in wonderful ways. Nineteen eighty-eight was also the last year the Irish won a national championship.