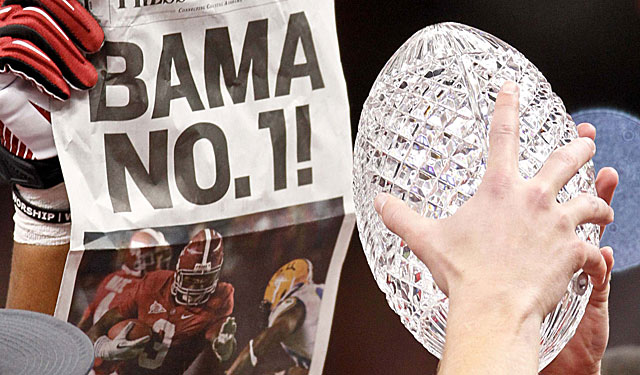 In the summer of 2012, the power brokers of the sport made seemingly the biggest 180 in college football history by voting for a playoff that is set to kick off with the 2014 season after years of offering countless reasons why it would/could never happen.
More on Top 10 stories
Related content
More from Eye on
ESPN subsequently paid $5.6 billion for the rights to show the playoff. For years we'd been told how the sport that has, by far, the best regular season of all would be compromised -- ruined even -- if a playoff was created.
That such a playoff would diminish the magnitude of October or November games, where a powerhouse was on the ropes and the rest of the college football nation giddily watched as its season effectively hung in the balance. (And the view from here is that was/is a valid concern, and certainly would be so with wide-ranging playoff where you had 16 teams getting in. Do we really think three or even four-loss teams merit being in a playoff?).
Instead, starting in 2014-2025, we will have a four-team playoff with a confusing bowl structure attached to it. Look for some kind of selection committee similar to the one used for the NCAA basketball tournaments made up of athletic directors and conference administrators as opposed to some group of old former coaches or media members to pick the teams.
Of course, without a playoff there have examples where there were clearly two "best" teams, just as there surely will be seasons where there are legit cases that can be made for six of even seven teams to get into the four playoff slots. In fact, this season is one of those. But as the power brokers of the sport have always told us, you can't please everyone.