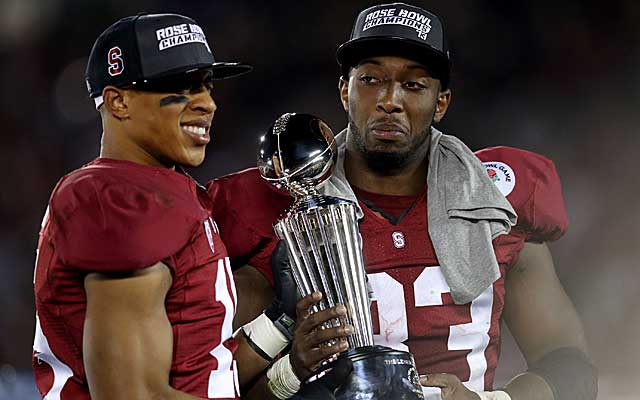 PASADENA, Calif. -- The program in major college football with the strictest academic standards just keeps leaving the rest of the sport dumbfounded. On Tuesday, in the most picturesque venue in football, Stanford outmuscled a rugged Wisconsin team to give the Cardinal its second 12-win season in three years.
In truth, the Cardinal have had a bunch of huge wins in recent years, whether it was shocking USC when the Trojans were a 43-point favorite, winning their first BCS bowl two years ago, thumping the Trojans in the famous 'What's your deal?!?' game or earlier this season when Stanford went into Autzen Stadium and knocked Oregon out of the BCS title race to get the inside track on the Pac-12 title. But those games were more about who the Cardinal beat. Tuesday night in the Rose Bowl was more about what Stanford won.
More on Stanford-Wisconsin
Columns

Related links
More college football coverage
David Shaw, Stanford's terrific young coach, wasn't even born the last time the Cardinal won the Rose Bowl in 1972.
"This truly is phenomenal," said Stanford athletic director Bernard Muir as he watched his team celebrate on the stage while a confetti gun shot paper scraps into the air. "We had 40,000 strong come here to see this. "The platform has been set now. It's a matter of building on that. We have shown a sustained level of excellence."
Stanford certainly didn't blow unranked Wisconsin (8-6) off the field. The Cardinal got the Badgers on their heels early with a few wrinkles, hitting on a pair of deep passes. But Wisconsin's defense settled in, holding Stanford to one first down in the third quarter. The Cardinal, though, kept grinding away and won 20-14 as its stellar defense shut out Wisconsin in the second half.
The Cardinal didn't have a 100-yard rusher or have a touchdown pass nor did their defense keep Badgers star Montee Ball from having a 100-yard game. However, Stanford did what it has done almost every time out this season, it out-gritted the opponent. Just like the Cardinal did to Oregon, and Oregon State and USC and UCLA and ... like Stanford almost did to Notre Dame.
A great example of that: Standout running back Stepfan Taylor didn't have a run longer than 10 yards all night but still averaged over four yards a carry.
"We knew this was going to be a battle, and we wouldn't expect it any other way," Shaw said. "We know it's going to be tight, it's going to be close, and we're going to find a way to win. That's the way it's been all year."
The Rose Bowl victory, coupled with last season's 11-2 mark where the Cardinal finished No. 7 in the nation and with 2010's 12-1 record capped off by an Orange Bowl win and a No. 4 ranking, should merit Stanford "powerhouse" status officially. There is nothing fluky about what this program has done.
In the past three seasons, Stanford has shown that it can replace Heisman runner-up Toby Gerhart and only get better, same after coach Jim Harbaugh moved on to the NFL the next season, and same with this year after the great Andrew Luck headed to the NFL. The Cardinal just keep rolling, somehow, proving that you can win big in spite of -- or maybe thanks in part to -- stringent academic standards.
"We have extremely smart kids, and that does allow us to do more schematically," Cardinal offensive coordinator Pep Hamilton said. "We have guys with high football IQs and laser-like focus. And, our guys have bought into it and now we're reaping the benefits."
The skepticism about whether Stanford can keep winning despite such significant departures has only strengthened the team's resolve.
"I think that did serve as motivation for us throughout the year," said DB Usua Amanam, whose fourth quarter diving interception sealed the win and helped earn him Defensive MVP honors. "A couple of a years ago we lost Toby Gerhart. Couple of years ago we lost Coach Harbaugh. This year we lost Andrew Luck. I think it is a testament to our program and how we train and how we prepare each week and every season."
Linebacker Shayne Skov, who had eight tackles, was more blunt: "It's doesn't matter. We go to work. That's all that matters."
Shaw's explanation for his team's success sounded very Zen.
"For us, its not the why, it's the how. ... It's not about playing perfect. It's about finishing strong, and that's what our guys did. So we knew in the fourth quarter if it's a one-score game and we're up or we're down, we know we're going to give ourselves a chance to win."
And Stanford just keeps on winning and keeps on leaving people shaking their heads how they are able to keep doing it.