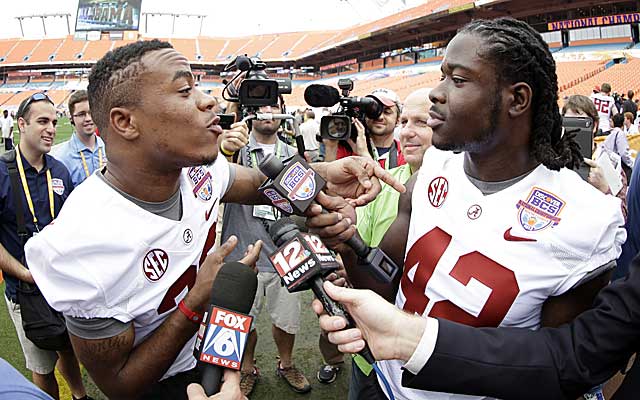 MIAMI GARDENS, Fla. -- After one of No. 2 Alabama's practices leading up to Monday night's BCS Championship Game lacked satisfactory effort, team veterans called a players-only meeting.
"I just wanted to see what those guys were thinking and where their head was at," senior defensive end Damion Square said. "I just told them we need to focus on the task at hand."
Speaking at Saturday morning's media day session before the Crimson Tide face No. 1 Notre Dame, Alabama's players attributed the lack of effort to the numerous distractions offered with the attention the national championship generates.
"At times, you can get caught up in the exterior things of what's going on," senior offensive guard Chance Warmack said. "I think everybody just had to revamp and get back to focusing to what we're trying to do. This is a business trip. You just have to stay focused and everybody here is human. At times, you can be distracted."
More on BCS Championship
Analysis

Related links
Video
More college football coverage
According to sophomore quarterback Blake Sims, who is emulating Irish quarterback Everett Golson in practice on Alabama's scout team, the most vocal Tide players in the meeting were Square, Warmack and senior linebacker Nico Johnson. However, anyone who had something to say was offered the opportunity.
"Everybody had a little thing to say this time," Warmack said. "Everybody was a little vocal this time. What I feel like this team has is that everybody cares very much about the success of this team."
The meeting may have come at a time to deliver a message to some of the team's younger players, as reports surfaced Friday night that two Alabama reserve linebackers have been sent home due to violation of team curfew.
Practices are closed to the media -- other that the first 15 minutes, which consist of stretching and warm-ups. According to Warmack, however, the meeting was well received.
"We told everybody what we needed to do and it clicked real fast and everything worked out fine," Warmack said.
Because of Alabama's experience in the BCS Championship Game, including championships in 2011 and 2009, the belief is that the Crimson Tide are approaching this as of a business trip. The players-only meeting may be just another example of savvy, veteran leadership necessary to keep players motivated.
"We've got a saying: Carry the water until it turns into wine," Sims said. "That way everybody knows that when we leave here, we want to have what we came for."
Zeke's new word
One of the most relaxed players at Media Day was Notre Dame safety Zeke Motta.
The senior was laughing with teammates, acting more like he was on vacation than getting ready to play in the national title game.
The reason? Aggressience.
Don't try to look it up in the dictionary, because it's not there.
"It's a combination of two very important words -- aggressive patience," said Motta. "I'm trying to throw that in for my defensive back coach (Bob Elliott). We came up with that word together."
Déjà vu
Alabama kicker Jeremy Shelley, who kicked five field goals in last year's championship game against LSU, has that same sort of feeling this year.
"I really feel like it was last week being back in New Orleans," said the senior. "Last year we had, in some people's eyes, anxiety. But going into this game, there is a lot less anxiety. But in the end it doesn't really change what we do and it didn't last year."
Shelley will be a part of his third BCS Championship game as he was a freshman in 2009 when the Crimson Tide beat Texas.
"It's almost surreal to do that as a program," added Shelley.
Tide instincts
After teammates have spent so much time together, they begin to develop habits that become difficult to break. In Alabama's case, the offensive line has fostered a sense of familiarity within the unit, which has yielded powerful results in the Crimson Tide rushing attack.
"It's like magic, man," Warmack said. "That's the best way I can put it. When you're doing things that you didn't even know you were doing and you watch it on film later and are like: 'I didn't even know I did that.'"
Alabama's offensive line includes Warmack, Rimington Trophy winner Barrett Jones and massive right tackle D.J. Fluker, all of whom project as first-round picks in the NFL Draft. Coupled with the running back duo of Eddie Lacy and T.J Yeldon, Alabama has built one of the most productive rushing offenses in the country.
"It's an amazing feeling to be a part of a group of guys that are connected," Warmack said. "You don't even have to say anything. The offensive line is like a team within a team because we're together a lot and we do some things on that field that we can't even explain."
J. Darin Darst contributed to this story.