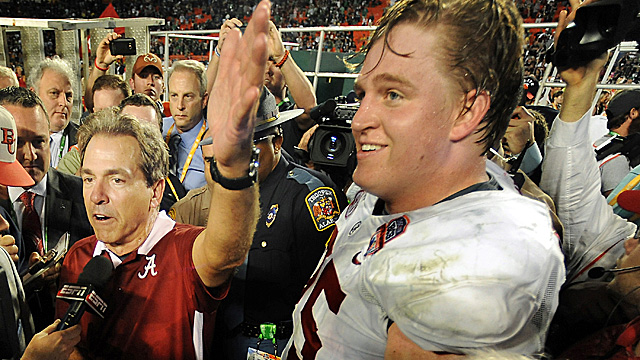 MIAMI GARDENS, Fla. -- In the days and weeks after the terrible tornadoes hit Tuscaloosa in April of 2011, a mountain of a man named Barrett Jones went door to door with his chainsaw helping neighbors climb out from under the rubble. Nobody had to ask him to do it. He just did it.
When his buddies spent their spring break in Daytona Beach, Jones was on mission trips to Nicaragua and Haiti.
When his teammates wanted to hit the night clubs and blow off a little steam, Barrett Jones studied just a little bit harder to maintain a 4.0 grade point average that eventually gave him the 2012 William V. Campbell Trophy, which goes to the best scholar-athlete in college football.
The record will show that the three-time All-American played his last game for Alabama on Monday night in a 42-14 win over Notre Dame for the BCS championship. The record also will show that Jones leaves Alabama with three national championships while playing three different positions (guard, tackle and center).
But Barrett Jones' legacy won't be all of those national championship rings. It will be the lives he touched and changed in his five years on campus.
"Barrett Jones is one of the smartest people I have ever met," senior guard Chance Warmack said. "He is a great football player and a great teammate. We had a great offensive line this season and he had a lot to do with that."
On the first drive of the night it became clear that Jones and his fellow travelers on the Alabama offensive line were going to overwhelm Notre Dame's defensive front seven. A defense that led the nation in scoring (10.3 points per game) gave up an 82-yard drive and a 61-yard drive in Alabama's first two possessions. A defense that was giving up 287 yards per game allowed 202 in the first quarter.
"We saw some things in the tape that we thought we could take advantage of," Jones said after his offense rolled up 265 yards rushing and 264 passing. "Notre Dame is a good team but if we played well, we thought we had a chance to dominate."
Yes, running back Eddie Lacy had a monster night (140 yards) and elevated his draft stock significantly. Yes, quarterback AJ McCarron (20 of 28, 4 TDs) picked up his second straight national title with another sharp performance. He has already decided to return to school and will be in the Heisman Trophy discussion when the 2013 season begins.
But make no mistake. Jones, the fifth-year senior from Memphis, Tenn., suburb of Germantown, was the most valuable player on Alabama's 2012 national championship team, which gave the SEC its seventh straight crystal football.
"I am getting emotional thinking about it right now," said Jones, who came back for his senior season because he wanted this moment. "I can't believe that I have played my last game with these guys. We have gone through so much together. I am truly blessed."
He came to Alabama in 2008, Nick Saban's second season in Tuscaloosa. Saban's first season didn't go so well (7-6) but the coach was selling recruits on "the process" that he was putting in place. It all made sense to Jones.
He redshirted in 2008, when Alabama went 12-0 before losing to Florida in the SEC championship game. He started at guard as a redshirt freshman in 2009 when Alabama went 14-0 and beat Texas for the national championship. After playing guard again in 2010, a 10-3 season, Alabama coaches asked Jones to move to left tackle in 2011 to protect the blind side of McCarron, their young quarterback. Jones won the Outland Trophy and Alabama went 12-1 won and beat LSU for the BCS championship.
This season coaches asked Jones to move to center. Alabama needed a reliable replacement for William Vlachos and sophomore Cyrus Kouandijo (6-6, 311) was ready to play left tackle. Jones became the signal caller for the offensive line and won the Rimington Award, which goes to the nation's best center.
Jones played over half of the SEC championship game with Georgia with an injured foot. His teammates didn't even know he was hurting until they saw him on crutches in the Alabama locker room. When questions were raised about his availability for this game, he calmly assured everyone that when the bell rang for Monday night he would be ready.
And he was.
"There was no way I was going to miss this game," said Jones. "I wasn't 100 percent so my guys had to pick me up a little bit tonight. I knew they would."
"Barrett is the man," right tackle D.J. Fluker said. "We knew he was hurting. Everybody else just had to play a little bit better."
In Jones' four seasons as a starter, Alabama won 49 games, two SEC championships and three BCS national championships.
Jones even gave fans a light-hearted moment at the end of the game. While Alabama was trying to run some clock, Jones made a late adjustment and allowed the play clock to run out. McCarron got a little testy with his center and Jones responded with a firm shove.
"That was not a big deal. That was just me and AJ," said Jones. "We are both perfectionists and want to get everything right."
Alabama coach Nick Saban was asked point blank if Barrett Jones was one of the greatest offensive linemen to ever play college football.
"I can tell you this," said the man who joins Bear Bryant and Frank Leahy as the only coaches to win four national championships. "I consider him one of the top people in the history of college football. You can't find a person that has more character, that's more willing to serve other people, that is a better student because he is a 4.0 and has accomplished all the things he has as a football player.
"He's very well-liked by everybody on the team. I'm sure that I don't know [anyone] on our team that doesn't like him. That's saying a lot. You could never say any of those things about me."
Jones' respect for Saban is mutual. At the end of the game he grabbed the Alabama coach and said, "I love you."
"Coach demands so much of us but he is trying to make us the best that we can be," Jones said. "It was a great moment -- one that I'll never forget."
At a school that has produced some of college football's best linemen, including the great John Hannah, Barrett Jones will be remembered as the bell cow for the first school to win three national championships in four seasons during the BCS era. Alabama has had two other dynasties in college football's modern era with national championships in 1961, 1964, and 1965 and then again in 1973, 1978, and 1979. Jones will be remembered as the leader of Alabama's third dynasty since Paul "Bear" Bryant returned to Tuscaloosa in 1958.
"I always wondered if we had a chance to build a dynasty while I was at Alabama," Jones said. "I don't know if that's the right word but what we've done is something special."
But Jones's legacy, the thing that will truly define his time at Alabama, will always be that of a big man, with a big heart carrying a chainsaw to help people who needed it.