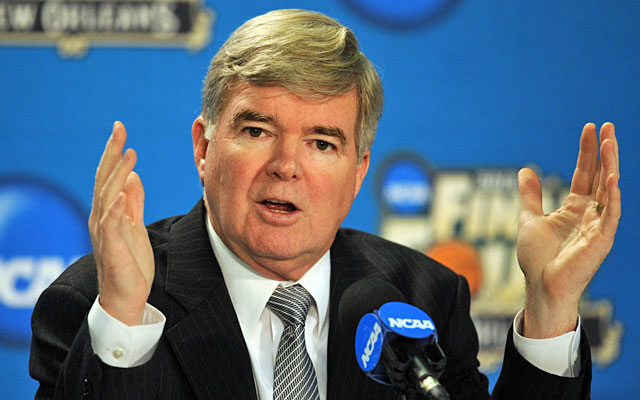 Mark Emmert was approached by a reporter during his annual address at the 2011 Final Four in Houston with a question about a new hire. With all its resources, couldn't the NCAA have perhaps considered bringing in someone else as its next general counsel?
The new guy, 44-year-old Donald Remy, had been vice president of litigation at Fannie Mae from 2000-2006. In 2006, the national mortgage giant revealed it had made billions of dollars worth of accounting errors. Some blamed Fannie Mae for the financial collapse.
None of that bounced back on Remy, an LSU grad. But when nominated by President Obama in 2009 to be Army general counsel, Remy was criticized by some members of the Senate Armed Services Committee about a lack of candor on his résumé about his time spent with Fannie Mae.
Remy reportedly summarized that portion of his professional life spent with a "major U.S. company." The administration contended that Remy had disclosed his Fannie Mae experience on other forms, but the damage had been done. Remy eventually withdrew his name from consideration.
"That was a mistake," Remy said in testimony to the committee. "I take responsibility for that bio coming to the committee."
Since that time, the NCAA has doggedly defended Remy's credentials and conduct in the Army nomination.
"His position at Fannie Mae was not a concern to us as we went through the search process," said an NCAA spokesman.
The committee criticism could be nothing more than partisan politics. The most vocal critics of Remy at the time were Republican senators John McCain and Mel Martinez.
If any of this seems like unfair criticism of the NCAA and its chief legal officer, the irony is obvious. This is the NCAA that -- it can be argued -- has convicted parties of wrongdoing in major infractions cases with similar levels of "evidence." This is the NCAA that demands full compliance and truthfulness of its members in enforcement cases. This is the NCAA that soon will demand head coaches know of wrongdoing in their programs or face suspensions.
Off to the side of the podium where he spoke to media that day, Emmert expressed full confidence in Remy.
Twenty-one months later, the annual NCAA Convention opens this week in Dallas with Remy solidly entrenched at one of the most litigious times in the association's history. The NCAA faces legal threats on several fronts, some to its current way of doing business.
"I can't recall a time when the NCAA has been under such heavy and consistent criticism for its enforcement actions as it has been in the last few years," said attorney Scott Tompsett, a veteran of more than two decades representing coaches in NCAA investigations. "The NCAA's credibility seems to be very low right now."
"The NCAA's risk management, it's nonexistent," said Sean O'Leary, an attorney who has been representing a former State University of New York-Buffalo (also University of Buffalo) basketball coach in a case against the NCAA for a decade. "If you look at right now, they've got a lot of balls up in the air."
Some of the balls Remy has inherited, some he has watched being thrown since taking his position in 2011.
• The NCAA is aggressively fighting the unsealing of documents in former Southern California assistant coach Todd McNair's suit against the association. Documents seem to show that at least three persons may have tried to improperly influence the NCAA infractions committee. Tompsett is representing McNair in that case.
• An ongoing lawsuit regarding players' rights to their likenesses threatens to become a landmark case not only in NCAA history, but legal history.
• The Penn State decision has opened up a legal Pandora's Box. Both the Pennsylvania governor and a state senator have sued the NCAA over the crippling sanctions applied to the school and football program in July.
• Tim Cohane, that former Buffalo coach, sued the NCAA in 2004 claiming that sanctions destroyed his coaching career. Cohane was found guilty of relatively minor infractions. The case that has spanned the terms of three NCAA CEOs and at least two general counsels once reached the steps of the Supreme Court. It may soon come to trial.
"I'm not particularly concerned on any of those," Remy said. "I believe we're right on the law and the facts."
But like a crack in a dam, it only takes one of these cases to collapse to create a legal catastrophe for the NCAA. The association basically gets its power to conduct investigative business from a 1988 Supreme Court decision involving former UNLV basketball coach Jerry Tarkanian. The court ruled 5-4 that the NCAA is not a "state actor," essentially meaning it is not compelled to use due process during its investigations.
Instead, the NCAA uses what is described as "administrative due process." Infractions hearings are more like civil cases -- administrative as opposed to criminal -- where only "clear and convincing evidence" is needed. While the NCAA Manual and the enforcement process are being streamlined, there is no reason for the NCAA to give up administrative due process -- guilt by a lesser standard.
The NCAA has argued for years that having to use due process -- cross-examining witnesses, etc. -- would hinder its ability to investigate cases. The investigative process has been speeded up over the years -- the average case lasts 11 months -- but flaws remain.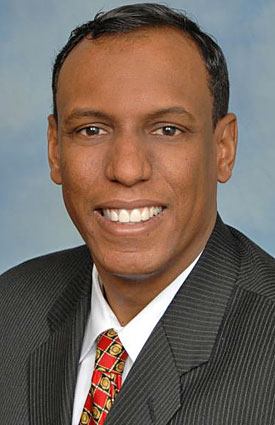 Example: Think of Remy and his past. He could have been a victim of the NCAA system if he were a suspected coach. In the Cohane or Pennsylvania Gov. Tom Corbett cases, if it can be proven that the NCAA is a state actor the existence of the association's investigative powers would be at risk.
"There are definitely cracks in the armor," said Ramogi Huma, president of the National College Players Association. The NCPA settled a lawsuit over the true cost of attendance with the NCAA in 2008. The settlement made millions of dollars available to players.
"The NCAA as a whole has lost much credibility in the eyes of the public," Huma added. "The public believed that the primary nature of the NCAA was educational, even charitable. But events over the last few years have exposed the NCAA as greedy, hypocritical, unreasonable and self-serving."
Critics were infuriated over the recent Abigail Grantstein situation at UCLA. Grantstein, an NCAA investigator, was fired by the organization after her boyfriend reportedly bragged she had told him UCLA star Shabazz Muhammad would never be cleared to play. Muhammad was reinstated last month shortly after the Los Angeles Times reported the boyfriend's comments.
Grantstein was the second NCAA investigator fired in 2012. Another, believed to be veteran Ameen Najjar, was relieved while working the Nevin Shapiro case at Miami. During that case it was revealed in November an NCAA assistant director of enforcement (not Najjar) wrote a letter to former Miami players saying they would be considered guilty if they didn't cooperate with the investigation.
"I've never heard of anything like this before," a compliance source told CBSSports.com's Bruce Feldman. "This seems like a total bullying tactic and sounds like a desperate move. They're basically saying they're taking the word of a billion-dollar ponzi schemer over some guys who may have taken a few steak dinners? It looks like the NCAA has spent a ton of money and time investigating this and they're trying to cover their investment."
In the Miami case, the NCAA is relying on a convicted felon Nevin Shapiro for information. Shapiro is serving 20 years in prison for his role in a $930 million Ponzi scheme. It wouldn't be the first time the NCAA used a source of questionable credibility. The association relied on the testimony of convicted felon Lloyd Lake to pin blame on McNair in the Reggie Bush case.
"It's simply not a fair process," O'Leary said.
At least Shapiro reportedly has receipts and records to back up his allegations. But if the case is so solid, why did the NCAA write that threatening letter? Is it really a case of "bullying" as the quote above suggests?
Emmert deserves credit. He is arguably the first NCAA president to have an agenda while in office. His is overall reform. A dramatic reform package could move forward this week at the convention. But some think it's too much, too fast. Smaller NCAA Manual? Absolutely.
Abusive enforcement? Never.
"There's a common thread with all these issues," said Michael Buckner, a veteran South Florida attorney who aids schools in NCAA investigations. "In each case, the NCAA has been accused of exceeding [its] procedures or ignoring [its] procedures. ... The NCAA is supposed to be objective."
NCAA power in these matters remains a function of its membership. If the schools wanted things to change, they would introduce legislation. The association distributes millions each year to funds that benefit athletes medically, financially and academically. It's also sometimes difficult to consider the powerful, monolithic organization as a tax-exempt, non-profit association.
The association may have taken a huge leap when it decided to prosecute Penn State in the Jerry Sandusky case. It had never previously used a criminal proceeding as the basis for violations of the nation's most powerful amateur sports governing body. It's hard to find a college administrator, six months later, who agrees with the decision.
Emmert has made it clear that the Freeh Report laid the foundation for the NCAA's actions. That report basically did the NCAA's work for it. That allowed Emmert to approach the NCAA board of directors for special authority to penalize Penn State.
Once Penn State signed the consent decree in the case, the door was opened for the NCAA's unprecedented intrusion. A nuclear deterrent was used to knock down what Emmert called "King Football." The move was so historic that Emmert said in September, "the authority I used in the Penn State case I never plan to use again."
"How you view what happened at Penn State depends on where you sit," Remy said. "There have been a lot of [discussion] and a lot of commentary. I can't speak for anybody else. I think that where we are is in a good space where Penn State is moving forward with corrective action and trying to move past it."
Corbett and state Sen. Jake Corman would disagree. They are alleging in their separate suits that the NCAA overstepped its boundaries. While political grandstanding by the parties cannot be ignored, the merits of the case are significant according to those who have poured through the mounds of paperwork.
"Keep in mind that the NCAA took unprecedented action to punish Penn State," Tompsett said. "It had to apply its bylaws in a way it had never done before and in a way that many people in the industry feel was never intended by the bylaws."
"We're preparing our defense for the lawsuit," Remy said. "We'll let our papers speak for themselves when they're filed."
The critics are arguing the NCAA ignored its own rules in prosecuting Penn State. The NCAA is essentially saying the penalties were a one-off. The coming legal battles could be fascinating.
"One thing I've learned is if you can get these things to trial, that's a victory in itself," said David Ridpath, an Ohio University associate professor and NCAA reform crusader.
The little-known Cohane case is a test of wills on both sides. That former Buffalo coach is a Naval Academy graduate, a Vietnam veteran with a Purple Heart and two Bronze Stars. His dad, Tim Sr., was the former sports editor of Look magazine. Hardly the profile of a serial cheater.
Cohane was accused in 1999 of relatively minor violations -– watching players play pick-up before the official practice date. Up until that point, his 30-year coaching career had been free of wrongdoing. At the time, school officials reportedly told players they wouldn't graduate if they didn't implicate their coach. One thing led to another. Cohane, now 70, didn't sit still and decided to fight back.
O'Leary decided to help out of a sense of loyalty and indignation. He had played for Cohane at Division III Manhattanville College in Purchase, N.Y. Now in March a judge will hear a summary judgment motion filed in the case by the NCAA. If denied, the case could go to trial.
That would the victory in itself that Ridpath spoke of. There may be more. One of O'Leary's expert witnesses against the NCAA is David Swank, former chair of the NCAA infractions committee.
"In one respect they've [NCAA] lost the war," O'Leary said. "Our view from the beginning is, we're going to get this case in front of a jury."
It will only have taken a decade.