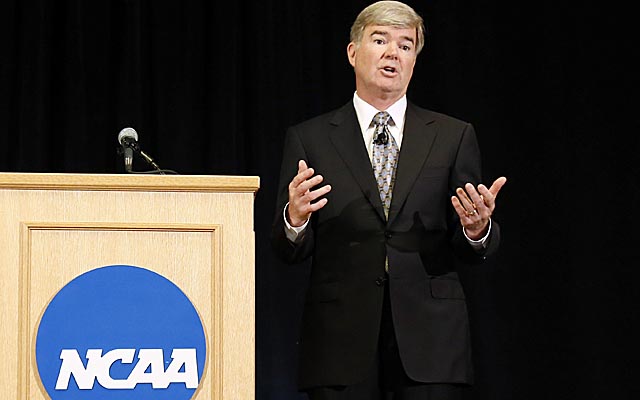 The day is coming when colleges will have to pay their players, and it will be the schools' fault. They've done this. They've crossed the line so greedily, so buffoonishly, that they're losing their allies in this fight.
They're losing me, for example. And I had their back as strongly as anyone. Check this story from September 2010, when I went into detail about the revenue available to college athletes. Given the money floating around, these young men don't need a paycheck, too. That was my position. Well, that was the schools' position -- and I agreed with it.
But now? They can fight this fight without me, these arrogant oafs, given two studies available this week as school presidents gather in Texas for their annual meeting.
More on NCAA
Related links
One, BCS schools are spending more than $100,000 a year per athlete, and that includes nonrevenue sports like gymnastics and wrestling and lacrosse. Most of that money (coaches' salaries, facility upgrades) isn't being spent on athletes from those sports, of course -- it's going to the football and men's basketball programs. So it's significantly more than $100,000 per athlete, per year, as if $100,000 weren't eye-popping enough. That's anywhere from six to 12 times more than schools spend annually on non-athletes. You know, the other 99 percent of the campus population.
Two, according to a study by the National College Players Association and Drexel University, the average all-expenses-paid scholarship doesn't pay all expenses, after all. Turns out, according to the study, the average college football or men's basketball player owes more than $3,000 -- $3,222 to be exact -- from his own pocket. Per year. Multiply that by four, and the free ride given to college athletes isn't remotely close to free.
But they're being taken for a ride, these athletes. And here I'm talking about football and men's basketball players only. The rest of you? Sorry, no money for you. I can't advocate paying a soccer player if the soccer team isn't generating the money for his or her salary. Do athletes in all sports bust their ass and devote 20 hours or more -- and it's more -- each week to Good Old State U? Sure they do. But they're not raising any money. In the real world a hunter eats what he kills.
Soccer players aren't killing it, financially.
But football and basketball players are, and they're being screwed. The school is spending well over $100,000 a year per player, and the coach is earning millions, and the stadium is getting bigger and the arena is getting nicer and the scoreboard is getting fancier. And the player -- the labor -- ends the year owing three grand?
Look, I've fought the notion of paying college athletes for years. But I can't fight that.
The same study by the NCPA and Drexel's Department of Sport Management did an analysis of what football and men's basketball players would be worth on the open market and concluded that a Division I-A football player was worth $121,048 per year. That's a small fortune.
But less than half the $265,027 a college basketball player is worth.
Read those numbers again. I know I had to. You're telling me a linebacker at Texas is worth $121,000 a year?
Actually, no. I'm not. A linebacker at Texas -- the average football player at Texas -- is worth $513,922. And that's a bargain compared to the average basketball player at Duke, who is worth $1,025,656 but ends up owing nearly $2,000 per year to cover what his scholarship doesn't.
That's according to the study. Now, to be fair, I don't take everything the study says at face value. The study undermines itself, in my opinion, by harping on the notion that the average college football and basketball player lives below the federal poverty line. Sounds harsh, but you're losing me there. These guys get food and housing covered, stress free, yet they're below the poverty line? Empty words. Lose them.
But the scholarship shortfall, the $3,222 these guys owe every year -- and at Texas, where the average football player is said to be worth more than $500,000, the average scholarship shortfall is closer to $4,000 -- is absurd. Stop asking if football players should be paid.
Ask: Should they graduate in debt?
Hell no. That can't happen. Lots of you are in college now, or graduated recently, and you're dealing with student loans -- which means you are, or will be, dealing with college debt. And that sucks. But a college football player isn't you. He's donating 20 or more (and it's much more) unpaid hours per week so the school can generate tens of millions of annual revenue. You and me, we went to school and got an education. Football and men's basketball players? Whether they get an education or not, they're getting their coach paid.
And they're going to owe money when they graduate? Awful. A kid like Anthony Davis from Kentucky or Andrew Luck from Stanford can afford whatever bill comes, but those guys are the exception. Most college players don't go to the NFL or NBA. They go into the same labor force as you and me, and after the fortune they helped generate for their school, the last thing they deserve is to owe that school another $14,000 for their years of free labor.
The facts are mind-boggling, which means the rules are changing. At the moment NCAA president Mark Emmert is talking about a stipend for athletes, perhaps on a need-based basis. That's how this starts, but it's not how it ends. The endgame is a regular paycheck for football and men's basketball players. How we get there from here, I have no idea.
I just know the day is coming.
And when it gets here, college administrators, understand something: This was your fault.