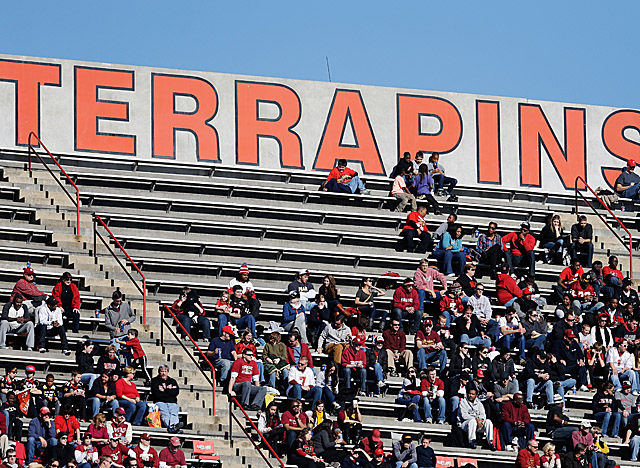 It hit Mark Hollis on a rainy Saturday last October. Michigan State's innovative AD couldn't quite figure out why there were so many empty seats at Spartan Stadium. Despite the weather, this was a Big Ten rival -- Iowa. The day was sacred, one of only six home football Saturdays –- the opener against Boise State was on a Friday -- the beloved Spartans could be seen.
The crowd of 70,000 was the smallest of the season.
"What can't you do in the rain?" Hollis asked himself. "Text. So they stay inside."
They being students who grow up to be the alums who form the foundation of any school's future financial base. And if they aren't going to games when they're in school because of smartphone issues, what does that bode for the future?
Average Attendance
Year
Avg
2012
45,274
2011
45,498
2010
45,912
2009
45,545
2008
46,456
2007
46,328
"That age group is going to be -- I don't want to call it a threat -- but a high concern," Hollis said. "If you lose that 10 years [after college] ... or they're watching it on TV, or they're tweeting about it. We've got to find a way to connect."
So does the entire game, based on recent numbers. Those numbers suggest the gold rush that has been college football for most of the last 30 years has peaked. Average FBS attendance in 2012 was the game's lowest in nine years, according to research by AL.com. Bowl attendance is down slightly, at least in the last two years. Even then, the Sugar Bowl (Florida-Louisville) experienced its lowest attendance since 1939.
And it wasn't because Louisville fans didn't turn out.
Back in living rooms the news wasn't much better. Sports Business Daily reported recently that regular-season college football ratings declined almost across the board in 2012. That included ESPN (down 3.7 percent), ESPN2 (13 percent) and CBS with the SEC (10.3 percent). (According to SBD, figures were not available for CBS Sports Network, Big Ten Network, Pac-12 Network and Fox College Sports)
"Like it or not we're making a lot of decisions for football and TV revenue," Hollis said. "This kind of plays right into that. Filling the seats will be secondary."
What we're left with is "studio football" -- a term coined (by me) to describe how far we've come in monetizing the game. Attendance, increasingly, doesn't matter.
"In-stadium attendance is a strong barometer of interest in a program, support for a program, enthusiasm," Big Ten commissioner Jim Delany said. "[But] you can't televise something with no one in the stands."
Best and Worst Attendance
School
Avg
Michigan
112,252
Ohio State
105,330
Alabama
101,722
Texas
100,884
Penn State
96,730
School
Avg
Ball State
12,930
Idaho
12,582
San Jose State
10,789
Akron
9,275
Eastern Michigan
3,923
No, but you can come close. Maryland's average attendance has declined from 52,000 a few years ago to 36,000 in 2012. The same reason the school moved to the Big Ten, increased revenue, is the same reason that an attendance shortfall is easier to absorb. TV revenue will make up for it.
There were empty seats for this year's Alabama-Auburn game at Bryant-Denny Stadium with the Tide rolling toward a second straight championship against their biggest rival. If fans can't get fired up for the Iron Bowl with Bama chasing another title, what will lure them?
"They're very concerned about the student section at Alabama," said Wright Waters, an Alabama alum and current executive director of the Football Bowl Association.
"Everybody from Alabama on down has had an increase in no-shows from students," Hollis said. "Students are buying tickets but they're not attending the games."
It's not just students. The secondary ticket market (think: Stub Hub) has taken a chunk out of ticket revenue, especially in bowls. Schools have responded with pricing plans that charge more for bigger games. The nation's second-most popular sport remains wildly popular. There has to be a day, though, when growth does stagnate.
"If you look at the trajectory of the growth of it, it's been terrific," ESPN CEO John Skipper said. "We were down a little on ratings, but there are a ton of games." Which may be part of the problem in the future. Former NCAA executive director Walter Byers fought to the Supreme Court 30 years ago to keep the association's grip on televising football. His argument was that free-market football on TV would impact attendance. History has proven he was incredibly short-sighted. After a downturn following the NCAA v. Board of Regents decision, college football rode the cable wave to unprecedented popularity.
This month's BCS title game was the second-most watched program in cable history. However, it fell short of expectations because viewers tuned out when Alabama started making it a rout. It ended up being the 10th-highest rated BCS title game.
"You can't not be on [TV]," Delany said, "but I think it's integral to a successful sports franchise to have people in the stands. The product on the field brings fans in. The support by the fans provides the resources necessary to recruit players in some cases.
"People compare attendance and ratings, but you have to be really careful about it because of the amount of programming there is and the amount of networks there are."
The majority of the game's power brokers will disagree that the game has peaked. TV rights fees are through the roof. ESPN made sure it won the rights to the new playoff. Fox is expanding its reach into college football, figuring to have college football as an anchor to its new Fox Sports 1 channel. The SEC is expected to launch its own conference network in 2014. Even the ACC is looking into the possibility.
The coming playoff will guarantee half a billion dollars per year to the FBS schools. The five BCS leagues alone will take in at least $90 million per year from that playoff.
However, the reconstituted Big East is struggling to find a windfall payday. The Catholic 7 basketball schools have already broken away. A football conference that resembles Conference USA (Big East) more than anything else may be worth only $60 million per year. Compare that to the Pac-12, which is pulling in an average of $250 million per year.
After the Big Ten hits the jackpot with its renegotiation in 2016, most of FBS will be tied up until at least the mid-2020s. TV revenue will be more or less static, but what about ratings? Attendance? Even Nebraska fans are grumbling about having to travel all the way to Maryland for a Big Ten game.
"I just think we have to be real careful and not knee-jerk and not panic," Waters said. "Let's treat it for what it is."
A blip on the radar, they say, not a trend. Waters provided attendance figures that showed cumulative bowl attendance was off only slightly, two percent in each of the last two seasons. It didn't help that Miami, North Carolina, Ohio State and Penn State were not eligible for the postseason. BCS bowls were a mixed bag. The Superdome was 20,000 short of capacity for that Sugar Bowl. Sun Life Stadium for the Orange Bowl between Florida State and Northern Illinois was 6,000 below capacity. The Fiesta and Rose were at or above capacity.
Eighteen of the 35 bowls had an attendance increase, Waters said.
"The question is: Have we gone too far with [too many bowl games]," Delany said. "I would say maybe we have, but [when] Vanderbilt hasn't been for a while and when Duke hasn't been for a while, it's nice. But does it do much good when Ohio State plays Florida State and both teams are 6-6? I think there is the fatigue factor."
"There are probably about 10 to 12 different reasons that we need to explore," Waters said. "Is it not necessarily compelling matchups? Is it the economy? Is it the ticket prices? I don't know. I think bowl attendance is probably like the market. It needed a correction somewhere."
What Byers failed to see back in the 1980s is that more televised games would actually enhance attendance. Fans wanted to be there to soak up the atmosphere, the tailgating, the experience. But technology has made it increasingly easier for those to stay at home in a Barcalounger with no crowds, cheap beer and a large HD screen.
"If I can watch it on a 48-inch screen, read about it here [on his phone], why do I have to go?" Hollis asked.
Hollis is an idea man. His innovations have improved ratings and attendance. Basketball games on aircraft carriers were his idea. So was the so-called "Basketbowl" between Kentucky and Michigan State played at Ford Field. The NCAA was so impressed 10 years ago with a single court in an indoor football stadium configuration that it adopted it for the Final Four.
His "Four on the Floor" concept to open the 2013-14 college basketball season was scuttled in December. The logistics had been worked out -- four games staggered 15 minutes part on the floor of Cowboys Stadium to replicate the NCAA tournament -- but TV was the problem. Four separate networks to do the games could not be found.
College sports needs Hollis' ideas. College basketball long ago was oversaturated with inventory on TV to the point that the idea of a 96-team tournament was shot down a couple of years ago. College football must proceed cautiously.
Fans are going to face hard economic choices in the coming playoff era. Do they save their money for the conference championship? National semifinals? Gamble that their team will be alive for the national championship game?
"Your fan base, other than your very hardcore, are going to be [asking,] 'Which one am I going to make the gamble on?'" Hollis said. "That's going to be a bit of a concern. How far are you jumping around?"
The playoff games themselves are guaranteed ratings and financial winners. As mentioned, the four-team playoff has been priced at $500 million per season. Would an eight-team playoff be worth $1 billion? That's where industry analyst say the game may reach the law of diminishing returns.
"How do you make it any bigger than it is?" Hollis said.