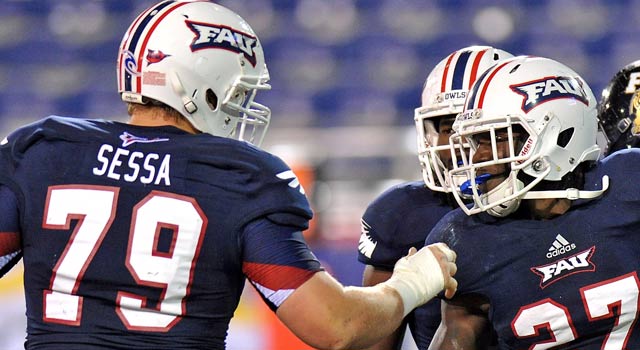 MIAMI BEACH, Fla. -- Although Tuesday's news focused on Conference USA's official inclusion of Florida Atlantic and Middle Tennessee, on Wednesday, Conference USA commissioner Britton Banowsky was looking to the future.
"Our deal is to be the conference that really represents the next generation of great programs," Banowsky said. "We target large markets, generally. We target growth markets. We find universities that have their best ahead of them in terms of potential, that have invested in facilities, that are gearing up and getting ready to go, and then we give them a stage and a platform to participate."
Addressing reporters Wednesday upon the conclusion of the 2013 Conference USA Winter Meetings at the South Beach Marriott, Banowsky offered an update of the conference's latest moves and expressed excitement over the new structure.
"That's our strategy," Banowsky said. "I wouldn't be looking for opportunities that didn't fit into that general bandwidth."
Conference USA
East
West
East Carolina
Louisiana Tech
FAU
North Texas
FIU
Rice
Marshall
Tulane
Middle Tennessee
Tulsa
Southern Miss
UTEP
UAB
UT-San Antonio
Old Dominion (2014)
Charlotte (2015)
According to a C-USA spokesperson, all current and future athletic directors of C-USA member programs attended the two-day meetings, with the exception of Tulsa interim director of athletics, Kevan Buck. Tulsa has widely been reported as a potential Big East or Mountain West target. According to the spokesperson, Buck cited personal reasons for missing the meetings.
"We want you to be a part of the conference and be respectful of the conference and participate as long as you want to be here," Banowsky said. "If you have a better opportunity, we understand that. That's life."
The Golden Hurricane (11-3) defeated Central Florida, 33-27, on Dec. 1 to earn the Conference USA Championship. Tulsa is guaranteed to be a C-USA member next season, but its future in the conference after that is uncertain.
"If they're with us for 2014, that's terrific because we love those guys and we have a lot of respect for them," Banowsky said." If they decide to realign with some of the private schools in the Southwest because of some connections there that have gone back a ways, that's all right, too."
In addition to FAU and Middle Tennessee, C-USA has also added Charlotte, Florida International, Louisiana Tech, North Texas, UT-San Antonio and Old Dominion.
"All eight schools have funded the initial payments toward the $2 million entrance fee," Banowsky said. "We've put those amounts into a reserve and we expect to have more funding, of course, over the next 18 months. It will be up to the schools to decide how they want to use those dollars -- whether to feed them back into distribution or whether to use them for capital for other purposes."
Banowsky and FAU director of athletics Patrick Chun confirmed the amount of the initial payment at $500,000. The rest of the entrance fee can be funded through a payment plan, some of which can come via television revenue. All eight programs added to C-USA were offered the same entrance fee.
Associate commissioner Alfred White said C-USA is "right on schedule" for next week's projected release of the full football schedule.
According to a press release, C-USA home markets next year will include "a little more than 14.5 million TV households," a 43-percent increase on the former market of 10.1 million homes. Banowsky said that television contracts with Fox Sports Networks, CBS Sports Network and ESPN are set to expire June 30, 2016, but added that C-USA will "probably be talking to them well in advance of that."
Also addressed at the C-USA Winter Meetings was the allocation of playoff revenue for the "group of five" conferences, valued at roughly $86 million. Although nothing has been finalized, there have been ongoing discussions between the conference commissioners.
"I think we have significant consensus already on how that should go," Banowsky said. "A lot of it is going to be in an equal sharing kind of mode, but then there is also going to be some performance elements to it as well."
There have been contrasting visions within the "group of five" conferences -- C-USA, the Mountain West, the Big East, Mid-American and Sun Belt -- about how to best approach the future in terms of marketability and competitiveness within the coming playoff structure. Some schools have favored a move to unify and combine resources to maximize market value and access to postseason opportunities and revenue; Banowsky and Mountain West Commissioner Craig Thompson at one time proposed an alliance between their leagues featuring 24 or perhaps even 32 schools. When the Big East rejected that overture, the proposal morphed into discussions of a full merger between C-USA and the MWC.
The Big East, meanwhile, restocked its ranks with an ill-fated approach at a national "best of the rest" league with a western division featuring the likes of Boise State and San Diego State and unsuccessful efforts to woo, among others, BYU, and it braces for the departure of its non-football members.
Banowsky said C-USA's negotiations with the Mountain West broke down due to "complications" but he did not rule out the possibility of future conversations.
"We're both trying to grow and we're both trying to grow in a way that's stable growth, so we don't do too much too fast," Banowsky said. "I know for them to have Boise [State] and San Diego State come back into their group and get them to 12 is a lot of movement for them. My sense is that we're all set for 2013 -- in fact I know we're all set for 2013. What happens in 2014, I don't know."
He also said he expected further cooperation as the landscape becomes clearer.
"Our view is, in this world if you're not collaborating with people, you're not performing at your optimum," Banowsky said. "I'm a collaborator. I like to collaborate with television people, I like to collaborate with my conference colleagues and I like to collaborate with bowl folks to try to put us in a place where we can grow our business together. If that collaboration with the other conferences that are in this 'group of five' means we all get better and we all have better marketing platforms and we all have better media platforms, that's good. That's healthy.
"The boats are rising in college athletics. You can see it all around here. Everything is getting bigger and more valuable. Some value is off-the-charts at the top of the system. But that raises us as well. The key is just to not be our own worst enemies and figure out a way to work together."
Follow Lorenzo Reyes @LReyesCBS