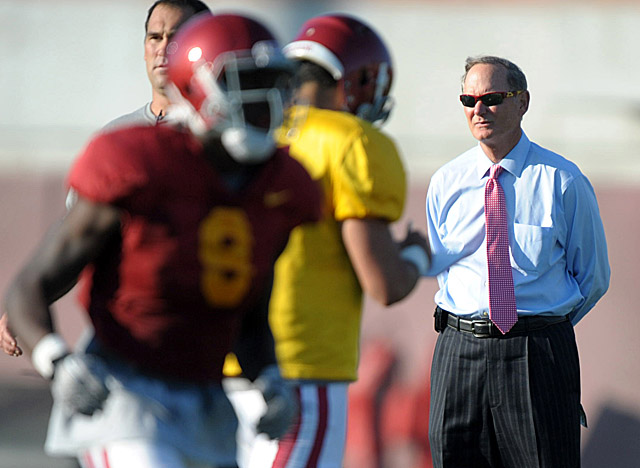 PASADENA, Calif. -- During a quick 7 a.m. breakfast at the Langham Huntington Hotel, two things are on Pat Haden's mind. One, he expects a call from his grandchildren, which he will proudly put on speaker. Cuter than cute, they sing Happy Birthday to their grandpa. The other is an early text from the USC athletic director's football coach. It is a signal the business of the day has begun.
Make that the business of the year at USC. Haden, who recently turned 60, knows that 2013 may define his term in office. The coach in question is the 800-pound Kiffin in the room. Haden cannot ignore it. Following a 10-2 season in 2011 that set the stage for a preseason No. 1 ranking, the Trojans had a historic 2012. Historic, if you consider USC became the first AP preseason No. 1 to finish unranked since Mississippi in 1964.
The offseason already has become Speculation Central about how long Lane Kiffin will last. The recruiting restrictions still have two more classes to run. Last season's slide to 7-6 could be little more than those restrictions -- 30 lost scholarships over three years -- finally beginning to take hold.
But will Kiffin be around when the penalties end in 2014? This is the coach whose quirky, sometimes grating, style works only when USC is winning. Which is as it will/should be at this football power. Bravado, self-assuredness and cockiness have been backstopped by a 30-28 career record (25-13 at USC).
More on USC Trojans
Analysis

Related links
More college football coverage
"In August, I was trying to hold people's expectations back," Haden said over oatmeal. "It was, 'Gosh, you guys have beaten the system. You have beaten the NCAA. You figured a way around it.' The NCAA doesn't penalize you with the most severe penalties since the SMU case hoping that you're going to win 10 games. There's a purpose given the sanctions they gave us."
Las Vegas made the Trojans a 1-6 favorite to win the Pac-12 South. Haden, though, was prescient. A mediocre defense combined with a lame running game -- 71st nationally, seventh in the Pac-12 -- and the loss of Matt Barkley made the hype die an excruciating death.
"We got off to a 6-1 start and then it really kind of fell apart," Haden said. "I think the attitude was, 'We're not going to play for the national championship,' and then after we lost the second game, [we weren't going to play] for the Rose Bowl. That became a factor."
A factor that manifested itself in an ugly -- and USC sources say inaccurately portrayed -- situation at the Sun Bowl. The Trojans were ripped in the El Paso paper and nationally for being late to a team dinner with Georgia Tech. Haden and others say the Trojans got into El Paso late to begin with for a dinner with staggered arrival times for both teams. Their late arrival was approved by bowl officials and USC stayed for the entire dinner.
It's fair to say the Trojans were lethargic in a forgettable 21-7 loss to the Yellow Jackets -- bowl-eligible only because of an NCAA hall pass.
Star receiver Marqise Lee later said "most" of his teammates' heads were in the effort.
"We should have been into it," Lee added. "We hadn't been to a bowl game in, what, two years? I was going to be into it no matter what."
Reports of a postgame brawl among USC players were not true, Haden said.
The Trojans lost five of their final six -- making it a long, slow descent into an offseason of conjecture. After saying he was "150 percent" behind his coach after the UCLA loss, Kiffin recently told the Los Angeles Times that number was "137.5 percent."
"I was disappointed with the football season, but not discouraged," Haden said. "There's no reason we can't get this thing going next year ... It was a disappointing season but there no reason to panic.
"We've had a good recruiting class. Notre Dame went from 8-5 to the national championship game. Florida was 7-6 and turned it around. Texas A&M turned it around."
Haden recounted his quarterback days under John McKay. USC was coming off back-to-back 6-4-1 seasons before USC played in three Rose Bowls and won two national championships (1972, 1974). It's possible, but is it possible under Kiffin where the battle cry is: "Our 75 scholarship guys will beat your 85?"
In a down season, the coach's antics were amplified:
• Suspending a reporter the week of the Stanford game.
• The number snafu against, of all teams, Colorado.
• Deflated footballs against Oregon were were blamed on a student manager, but came on Kiffin's watch.
Sometimes Kiffin didn't have to say or do a thing. Oregon set several opponent records in an embarrassing 65-51 win over the Trojans last season. That was a year after USC won in Eugene traveling with only 53 scholarship players.
Which is the real Trojans?
"He is the opposite of Ronald Reagan," Haden said referring to the old Teflon President. If no controversy stuck to Reagan, then everything sticks to USC's coach.
"There's nothing we can do about that," Haden added. "He'll get blamed one way or another with what's going on with Manti Te'o."
Haden's guidance since taking office two months after the Reggie Bush penalties in 2010 has been subtle and effective. A lot of those Olympic sports are flourishing, but he knows his term will be judged by a football coach he inherited.
Haden's charge is two jobs -- football/basketball and the rest of the athletic department where Haden says there are no issues. "You never get calls at two in the morning," about the Olympic sports. But football and basketball "works all your revenue and all your heartache."
Haden recently showed his heart and will, firing basketball coach Kevin O'Neill 17 games into the season. Asked if that was a warning shot for a certain 37-year-old visored son of a defensive legend, Haden demurred.
"I'm trying to give some coaches the benefit of the doubt," Haden said. "[O'Neill] inherited a mess, OK? So I felt this was the first year we could really evaluate. I feel that once you reach a decision, don't [hesitate]. Move forward …
"The great thing about this Lane situation is we didn't know what the NCAA was going to do [in 2010]. He has shown some loyalty to USC. I think there is something to be said for loyalty and giving a guy a chance."
Haden pointed out that under Kiffin the Trojans have been largely well-behaved. There haven't been many of those two-in-the-morning calls. The AD also knows that sometimes that doesn't matter.
"I get letters now that say, 'Haden, quit talking about graduation rates and all that you're doing right in compliance. Just win,' " he said.
It is a USC and AD in flux as Kiffin reaches his fourth signing day with the Trojans. Due to a wind storm that damaged his home, Haden is living at the Langham. Due to campus construction, his Heritage Hall office has been moved to what amounts to a nearby strip mall on land owned by USC.
"I'm right above a cigar shop," he said.
From there, Haden oversaw what he called the athletic department's best academic semester in 20 years. In the past two years, the NCAA has allowed him to recruit with the Trojans down a coach. The Rhodes Scholar says he got only one of 30 questions wrong on a recruiting test required by the NCAA.
"I was 0 for 2 last year," Haden said of the players he recruited. "They were never going to ask me to do it again."
Toward the end of breakfast, Haden turned philosophical. USC has to stand for something more than Saturdays. Marqise Lee, that receiver, recently apologized out of the blue for not doing his best academically during his first semester. The AD has reached out to NCAA president Mark Emmert, who will visit in March. Al Michaels will moderate a conversation between the AD digging out from NCAA probation and the CEO of the association that applied the probation.
"What does winning mean?" Haden asked in an unguarded moment. "At the end of the day all of our coaches are in the winning business, but it's not entirely, entirely, entirely tied to numbers on the scoreboard. It has to be something bigger or else we're kidding ourselves."
While that question was asked over oatmeal, another will soon be considered in that office above a cigar shop: Does Trojan Nation know that Kiffin is going to dig out or can they merely hope that he will?