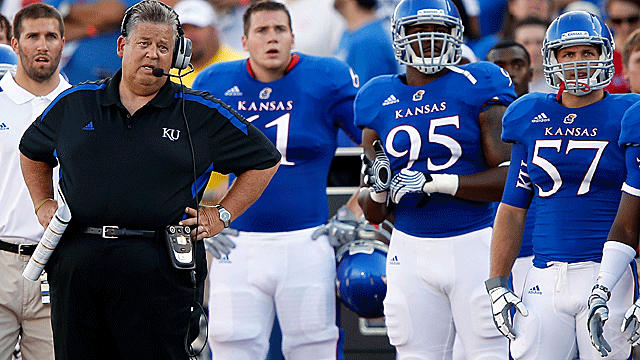 LAWRENCE, Kan. – This is how it's going to go down this week and beyond in Charlie Weis' world:
The Kansas coach will have signed 18 junior college players by Wednesday (out of 25 total scholarships). Upwards of 15 jucos might start next season. The moribund 1-11 Jayhawks of 2012 are going to get up off the mat. KU then will beat the man on the field who refined junior college recruiting off of it, Kansas State's Bill Snyder.
"He chuckled more than anything else," Weis said describing the moment Snyder was told his juco recruiting tactics would be copied in Lawrence. "He realized that we are now a competitor in recruiting in a market he had dominance in."
More on College Football '13
Related links
More college football coverage
Ah, this is vintage Charlie. Success is just around the corner and he wants to let you know it. Snyder is coming off an 11-2 coach-of-the-year, Big 12 championship season. Kansas? Really good in basketball. Never mind that Weis never signed a junior college player until this recruiting season. How could he? With his background rooted in the NFL, Notre Dame (no jucos) and Florida (offensive coordinator for one season), he has no experience charming those 14th graders.
Never mind that bringing in that many junior college players is the ultimate recruiting risk/reward. Eighteen jucos is among the highest total in FBS this recruiting season. If a few guys bomb out in the classroom or underachieve on the field, that's more than a black hole. That starts to get into job security.
And it might just make perfect sense.
"If you're Kansas right now, shoot, good luck and throw up a Hail Mary there," said J.C. Shurburtt, national recruiting director for 247Sports.
Weis' optimism is boundless. You have to give him that. Don't call it a comeback for a man with four Super Bowl rings and two BCS bowls in his past. Call it a throwback. Snyder has used similar tactics for two decades at K-State. The man has become perhaps the best there ever was at procuring and developing juco talent. For Weis, there are worse coaches to imitate.
KU's coach, then, is all in during his latest reincarnation -- with this recruiting class, with copying Snyder, with his job. If Weis whiffs on a few it could ruin his depth -- and the program. If he hits on most of them, KU is going to be a factor in the Big 12. Soon.
"I have to break through the barrier of us being Kansas," he said.
Don't let Bill Self hear that, but part of the statement rings true. KU football is an afterthought here most of the time. Part of the reason Weis took the job was seeing the possibility of that 2008 Orange Bowl, the program's second BCS-level bowl in 39 years.
"Are they any good?" Weis'wife Maura asked her husband in December 2011 when KU AD Sheahon Zenger made the offer.
"No," he replied, "That's why the job is open."
Weis took the risk. Just don't call him complacent.
"Why not take a page from [Snyder]?" Weis said. "I told him that. Before the K-State game this year I wanted him to know: Unlike the rest of the Jayhawk fans who would never give kudos related to the Wildcats … I respect what he's done."
Kansas State started eight jucos on defense last season and had 12 such players in the two-deep. But there is a fine line -- maybe it's a chasm -- between Snyder and everyone else when it comes to squeezing every last drop out of jucos.
Former K-State coach Ron Prince went down a similar path. In 2008 he signed 19 jucos.That brought his three-season total to 37.
"This," Prince said, "is a strategy for us."
Nine months later he was fired.
Weis has openings at center, left guard and left tackle. The returning right guard, Randall Dent, was a nose tackle last spring. The starting right tackle, Aslam Sterling, came in at 400 pounds. The entire secondary could be populated by jucos in 2013.
"If you have to ask about a depth chart, you must not think you're that good," Weis said.
Let's cut through your natural skepticism. Weis can be a lightning rod but the man can recruit. That much is certain. Those 29 seniors who helped Notre Dame to the BCS title game were his guys. Coming to South Bend late following the Patriots' 2004 Super Bowl season, his first class was ranked 40th by rivals.com. His next four classes at ND finished eighth, eighth, second and 21st. The first KU class was ranked 74th but that was understandable.
This year's class has moved up to No. 47 in 247Sports, two spots ahead of Kansas State -- if you believe in such things, which is a good starting point at Kansas. In an incredible case of irony, those 29 Irish seniors equal the number of Kansas players that have left the program since Weis arrived.
"Let's face it," he said unsolicited in the middle of the interview. "People are really questioning whether [I] can get this done at Kansas, or whether I'm worth a crap as a coach, as a head coach."
Sooo -- black hole, be damned -- why not go down this rabbit hole? Weis has his quarterback -- BYU transfer Jake Heaps -- and a hard-pounding ground game taking shape.
"The juco mentality isn't different from the high school mentality," Weis explained, "except their clock is already ticking."
That clock can be a powerful motivator. Those jucos have two years of eligibility remaining. Some are late bloomers, some are academic hardships. Some just didn't get that DI scholarship out of high school. None of them are stars -- not on the FBS level.
A Kansas core four who call themselves the "Juco Dream Team" have emerged. Defensive tackle Marquel Combs has been sort of a ringleader. Combs is the nation's No. 1 juco player out of Pierce College in California. Pierce's teammate, linebacker Marcus Jenkins-Moore, came along with Cassius Sendish, a corner from Arizona Western College and safety Isaiah Johnson from Iowa Western Community College.
Weis says he went head-to-head with Snyder going coast-to-coast to sign the jucos. The players have come from seven states ranging from California to New York. They are being recruited to a program that was historically bad in 2012, beating no FBS teams. The only win came against FCS South Dakota State. Only 10 teams were worse defensively than the Jayhawks. They lost half their games by at least two touchdowns.
Weis says he'll back off juco-heavy recruiting as the roster ripens. That philosophy is now based on this basic question: How many top high school players will come to a program that has won one game?
Clock ticking, the pitch is simple for jucos.
"If you can't play here," Weis said, "where can you play?"