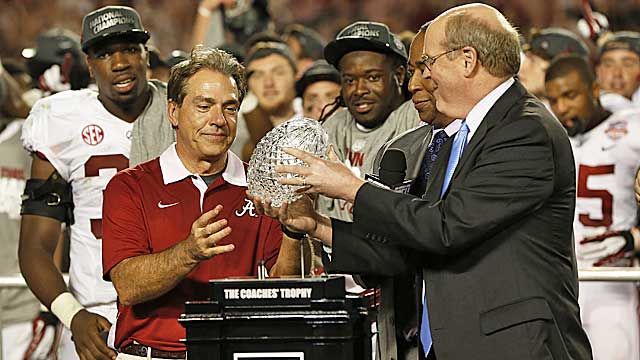 There's lots to be decided before college football's first final four. Starting with the fact that a playoff will not have the words "final" or "four" in it. Something about upsetting the NCAA and its trademarked-to-the-teeth, lawyered-up grip on those otherwise publicly accessible words.
The commissioners are still busy naming their new toy, but one element is becoming clear: the polls are in danger. Their relevance to be diminished by a selection committee that will have its own members, stats, numbers -- and agenda.
The goal is to be transparent but let's be honest. The NCAA basketball committee -- the best comparison to its playoff counterpart -- has yet to let a media member into the room to see how the bracket sausage is made. BCS executive director Bill Hancock suggested in July that could happen, with limitations on what could be reported.
That's progress, but there is so much we don't know about what they don't know about running a playoff, the future is murky. The only certainty is the polls are about to become game garnish, nothing more than conversation pieces in a sport they have influenced for parts of nine decades.
The NCAA has given us the best glimpse of the future with its annual bracket seminar that began six years ago. But in the end it can't tell you for sure why Kansas was a No. 2 seed or why VCU made it into the bracket over anyone (see 2011).
As the old ways die out, the coaches' poll has the most to lose. It has its identity and relevance the past 15 years thanks to the BCS. With the system going away after this season, what use will there be for the coaches' controversial measuring stick?
First, it won't be a measuring stick. The football committee will distance itself as far as possible away from any comparison to any poll. There are rumblings that the coaches themselves are fed up with the aggravation. Those who do vote (when their SIDs don't cast ballots for them) complain of voter fatigue. Arkansas coach Bret Bielema told me last week he'd have no interest in voting in a poll that doesn't mean anything.
"There might be somebody who says, 'Let's keep doing it just so we can have our own poll,' " said veteran pollster Tommy Tuberville, also on the board of the American Football Coaches Association, whose members produce the poll. "The comparison [to the selection committee] would be a conflict of interest."
The coaches' poll already is a conflict of interest -- a massive one. I've written so many times on that subject my fingers are sore.
In the playoff age, the coaches' poll will wither, if not die, due to irrelevance. If it is smart, that new selection committee will release one set of midseason "rankings" then head back into its bunker. The basketball committee doesn't even do that. Its chairman emerges for a series of media conference calls.
Don't be surprised if the football committee gives us an idea where their heads are at, but not much more during the season. Anything more risks comparison to the human polls and more controversy. This is their playoff, their system, their opinion. One only they will have to justify -- with as little outside influence as possible.
"They're going to have to have a poll during the year just to keep people's interest, to see what people are thinking," Tuberville said.
And "they" will. There's AP, which will continue to produce the most objective, neutral poll in existence. Objective and neutral because it doesn't want to be part of the process. It's been that way since 2005 when AP pulled its poll out of the BCS. You've got to admire that stance. Just don't tell me that the coaches' poll is more relevant.
Not with salary bonuses still out there based on final rankings. Not with a poll manipulated by the participants.
You've got to look at the future as a postseason manipulated by a committee rather than a football poll. That has its own set of issues but none of them involve Nick Saban suspiciously voting Oklahoma State fourth in 2011. We're being told the football committee will probably be made up of a representative from each FBS conference (10 in all) -- perhaps an athletic director. There will be a few other ex-officio members, perhaps retired administrators. (Two suggestions: retiring Florida president Bernie Machen and retired former Texas A&M AD Bill Byrne.)
Whoever participates, they haven't grasped how their lives will change. They won't be able to go out to eat with their wives. Really. All it would take is one wise-ass snapping an ill-timed cell phone pic of Roy Kramer raising a glass of wine. Next thing you know it's on Deadspin and one of the most respected figures in the game is defending his honor.
That's why Kramer -- innovator/BCS inventor/father of the modern SEC/college football genius emeritus -- is out as a committee candidate. He told me so in September.
It won't end there. In this age of Freedom of Information Act requests, committee members will get the ol' media colonoscopy. Don't forget criminal background checks. There will be those too. All we need is the public airing of some unfortunate 30-year old college prank by one of the members. And heaven forbid if a committee members gets a DUI or is sued -- for anything.
And you want the polls to count? They won't in the future. They're about to become that game garnish, conversation pieces. The real sausage will be made in a bunker somewhere by a group of august individuals who can't go out in public, have nothing to hide from Deadspin and can't so much as endure a traffic ticket.
And somehow, that will be progress.