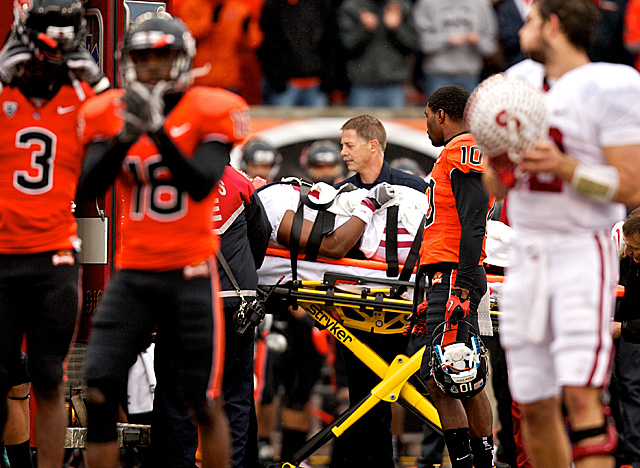 When the verdict from the Big 12 came down two falls ago, David Flowers was sitting around with his Bushland (Texas) High School coaches. Their former player, Andrew Hudson, had been a loyal, tough, hustling kid in his days with the Falcons.
At that moment in October 2010, though, mere sunlight was able to floor Hudson, then an Oklahoma State defensive end. He had been knocked unconscious by Nebraska's Eric Martin with a head-to-head hit that lit up both the Cowboys redshirt freshman and YouTube.
Martin was not flagged during a 100-yard kickoff return for a touchdown. Hudson never played again, the victim of a severe concussion.
"They didn't do enough to the guy that hit him and it ended Andrew's career," Flowers said recalling Martin's eventual one-game suspension by the Big 12.
More on NCAA
Related links
More college football coverage
"As a coaching staff, we said, 'You've got to be kidding me.' "
There was a day not too long ago when such hits were unheard of. Now the occasional mission to split the opponent's head in two has gained gruesome momentum.
"This play, this targeting to the head area, hasn't been in the game all that long," said Rogers Redding, national coordinator of officiating and secretary-editor of the NCAA rules committee, "inside the last six, seven years."
Redding and the rules committee are rushing to slow that grim momentum. For now, the severity of Hudson's injury thankfully remains an anomaly. He missed school for six weeks, forgetting the name of his girlfriend and large chunks of his life.
"During that six-week period my parents were worried if I was going to be 'me' anymore," Hudson said.
The determination to return to football ended when a bout with vertigo caused Hudson to stumble and smash a door in his apartment.
The rules committee moved this week to flush the Eric Martins -– at least his kind of conduct -- out of the game. Their proposal to eject any player who targets an opponent above the shoulder area faces only one significant obstacle -– the common sense that must be used by an oversight committee later this year to approve the measure.
The race between football, the NCAA, player safety and the specter of the next Andrew Hudson is on. The NCAA recently hired its first chief medical officer, and Brain Hainline's top concern has to be head injuries. The stakes –- financially, physically and morally –- are too high.
Crystallizing the current climate, one football game official said, "I don't know how they [players] keep getting up."
"The fact of the matter is, the game is under attack," Redding said.
He is speaking as much about the dangerous hits as the potential for litigation. You know that's coming to the NCAA, sooner or later, and in waves. These head injuries have to accumulate somewhere. The average NFL career lasts less than four years. By the time players graduate college, some of them have been playing for 16 years.
The intent, at least on Redding's end, is to change a growing culture of wanton violence.
What makes this latest rule change credible is that such plays can be reviewed. The replay official must have "conclusive evidence" to eject a player. The violation will be treated like fighting. If the hit occurs in the first half, the player is ejected for the rest of the game. If it happens in the second half, the player is out for the remainder of that game and the first half of the next game.
Redding is right. Something has happened recently and tragically. It was only five years ago that the NCAA rules committee felt compelled to add a "targeting" rule to protect players' heads. There isn't a helmet in existence that can completely protect the head. The fear is that with improved technology, players believe they are indestructible.
"I used to teach physics," Redding said. "There is double the speed, quadruple the amount of energy [in football]."
The NFL is dealing with monstrous lawsuits from players who have endured years of monstrous blows to the head. There is pushback from current NFL players against fines and rules and suspensions. They want keep their edge, keep the border open to borderline hits.
Ravens safety Bernard Pollard famously said during Super Bowl week that the specter of death hovers over his sport.
"It's a different situation, a different mission there [in the NFL]," Redding said. "They can hit them in the pocket book. For us, the coin of the realm is playing time."
Taking it away is a significant way to change that culture. Conduct was changed a couple of years ago when the controversial taunting rule was added. Players on their way to a touchdown who taunted opponents were subject to having their score taken off the board. While there was much national discussion about an overreaching rules committee, the players complied. There were three such flags thrown the next year in the entire country, Redding said.
Concussions have been reduced by 50 percent from 2011 to 2012 after kickoffs were adjusted. Redding noticed complaints about the helmet rule. Beginning in 2012 players had to sit out one play if their helmet came off. The same players and coaches who initially complained simply made sure those helmets were buckled on tight.
Conduct can be modified. Now on to this next, more imposing, challenge.
"Chest bumping, high fiving like they won the World Series [when the] reaction [after head hits] needs to be, 'My goodness, what have I just done?' " Redding said. "The football community has to come around to the side of safety."
By their nature, college players grow up admiring and imitating their heroes. Maybe they were taught to tackle the wrong way. Or maybe they just lost their way somewhere between testosterone and hubris. But a culture that never existed perhaps a decade ago is now deeply rooted. It is up to men like Redding to wipe it out.
"I got sick to my stomach," Flowers said recalling Hudson flat on his back for several minutes after the Martin hit three falls ago. "I was going, 'Please Andrew, move.' "
Hudson eventually did, but as part of his recuperation spent two days in the dark, with no stimulus. Two weeks after suffering that concussion his memory was a fraction of what it had been. Within a short time he connected with the family of Nathan Stiles, who had died in a Spring Hill (Kan.) High football game due to a brain bruise.
"Next thing I knew," Hudson said. "I was hugging with his dad, praying with his sister and crying with his mom."
Three months after the hit, Martin reached out to Hudson on Facebook.
"I know a lot of people can look at that video and have opinions on whether that was an intentional hit," Hudson said. "Eric is a great football player who reached out and apologized to me. He was very remorseful."
But wasn't it, in the end, a dirty hit?
"Yes, I do I think it was dirty," Hudson admitted, "but I think he was trying to play the game as well as he could."
It can't help him now but on Thursday, Hudson was informed of the new NCAA proposal. He approved. The same reason those kids are young and impressionable is the same reason the game -– and lives -– may be saved.
"Football is a gladiator game. It's supposed to be," he said. "That's why guys love to play it. Protection, safety is one of the top priorities, but we're not able to do that all the time. This will eliminate some of the targeting."
If Hudson seems like a benefit-of-the-doubt guy, he is. Deeply religious, he sees the hit as having led him in a new, inspirational direction. Hudson has changed both his school (to Abilene Christian now for track) and his major (to pre-med).
Healing seems to be a theme. Both parents are doctors. Mother Arlene works with AIDS victims. Dad Curtis works in an emergency room. Andrew is fully recovered and has moved on from Martin's devastating blow. But the game has not moved on from him. That once-shaken brain cannot be shaken loose from the past.
"I have a dream about [football]," Andrew Hudson said, "every week or two weeks."