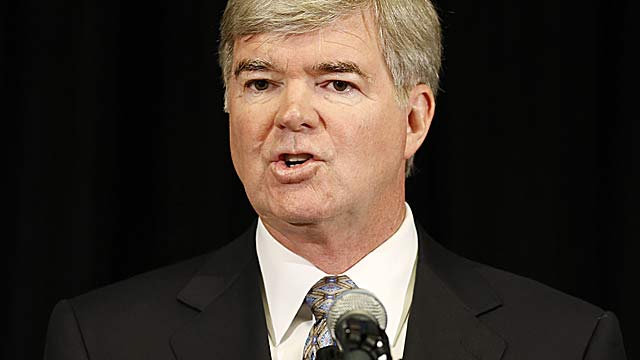 INDIANAPOLIS -- The NCAA office has jeans days. They are arbitrarily enforced. There are no subcommittees or 52-page internal investigations involved.
Sometimes employees donate $10 to an NCAA-supported charity for the right to wear jeans to work.
David Berst has been here 41 years. He wore jeans last Friday, a proud NCAA member. Denim isn't quelling the mental distress in the Indianapolis office stemming from the Miami mess. At least comfort helps.
More on NCAA
Analysis

Related links
More college football coverage
"I think people even in the building are anxious about what's going on," said Berst, a former vice president of enforcement and now Division I vice president. "I think they are hopeful. But they are a little disoriented as well. I think people have confidence (president Mark Emmert) has the ability and the brains and the support of the presidents' leadership."
The NCAA has been excoriated from nearly every angle since Emmert announced the 'shocking' developments of the NCAA paying the lawyer of booster Nevin Shapiro for subpoena power.
More than 400 employees work for the NCAA, and many of them are just trying to do a good job. But the actions of one division -- enforcement -- often define the NCAA publicly.
Within the headquarters' bleach-white walls, the NCAA clings to the normalcy of a daily routine.
Director of customer service Mike Massa heads a call center that fields more than a half-million inquiries per year. He left a pharmaceutical job with Eli Lilly to join the NCAA. He has three kids -- Emily, 8; Annabelle, 6; Owen, 3.
"Behind every question is a student athlete," Massa said.
With more stringent standards starting in 2016, the NCAA has sent out hundreds of posters to high schools brandishing the slogan "2.3 or take a knee."
Jenn Fraser, the associate director of the NCAA Eligibility Center, is seeing an impact in her work. She spoke to the American Football Coaches Association, which she felt was receptive to the changes (minimum 2.3 GPA in 16 required core classes).
She also knows her department isn't the story.
"I hurt and feel for colleagues in enforcement," Fraser said. "I wish there was focus on some of the really great aspects of the office as a whole, including enforcement, that would be featured."
Meanwhile, employees aren't exactly sure where the Miami case will go -- or where it takes the NCAA. Emmert might not know, either.
Emmert was traveling and unavailable during CBSSports.com's trip to the offices on Friday, as was new vice president of enforcement Jon Duncan, who begins a 12-to-18-month trial period on March 11. In the statement Saturday, Michigan State president Lou Anna K. Simon highlighted Emmert's academic reforms, enhanced fiscal accountability and organizational transparency. The statement cited the NCAA's transformational change being "bumpy and occasional controversial."
Four days after CBSSports.com's Dennis Dodd revealed a memo circulating among Mountain West presidents questioning NCAA leadership, the Mountain West released a statement expressing appreciation for Emmert's leadership and a commitment to "working within established governance channels." If a league has future concerns with the NCAA, it will express them through "appropriate channels within the formal NCAA governance structure."
Carefully crafted statements won't help the NCAA enforcement regain trust of the membership, which will be the hardest part, while restoring its own confidence.
Outsourcing investigative work will likely be a consideration internally at some point, according to an NCAA source. Mid-American Conference commissioner Jon Steinbrecher says he's not convinced yet that the enforcement model is broken.
"None of the conferences want enforcement. None of us is set up for it," Steinbrecher said. "The NCAA is a disinterested third party handling that. We can debate tactics and what's ethical and what's not, and that's probably a robust debate, but that's part of the purpose of the association. We've expected that of them. We've asked them to do that."
Steinbrecher says Emmert deserves at least some credit for publicly announcing the problem in late January.
The goal, two college officials say, should be returning the NCAA to an association run by its members. A bevy of NCAA working groups and subcommittees create a lack of ownership on several issues as the buck gets passed.
Ohio State athletics director Gene Smith says college athletics has created a "bureaucratic monster" because of all the NCAA's rules, which Emmert is trying to streamline by condensing the rule book.
"Whoever's in that seat, that's a tough job," said Smith of Emmert. "You have those of us who want changes, those of us who want change fast, and those of us who aren't interested in change. You have to work through that, which I think is the problem. With this layered rep form of governance, frankly there's not a lot of practitioners [athletic directors] in the process. I think that's a problem. I know that's being looked at."
As the public takes the flamethrower to the NCAA, Berst wants to broaden the scope a bit -- that the NCAA works with more than 465,000 athletes but generates headlines for the few hundred tied to investigations.
Sending 1 percent of students to the professional ranks has become more important than "turning people into society as good individuals," he said.
Berst, who handled the SMU 'death penalty case' 25 years ago, isn't ready to dissect the internal enforcement problems. He understands the recent criticisms are in some ways deserved.
But he believes the blueprint should not be torn up.
"I don't think people I'm aware of are saying let's start over and do it differently," Berst said.