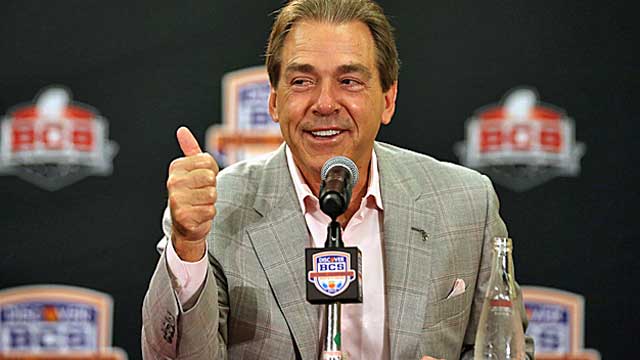 Bashing the NCAA is all the rage. A monolith has never done a better job imitating a piñata.
Take your pick: Miami, Penn State, Mark Emmert. They're all on the cutting board, ready to be filleted. Scrutiny and criticism have already been served raw. But the association doesn't deserve any mud baths over the current "discussion" regarding recruiting deregulations. Actually, the discussion is more like screaming from finely appointed coaches' offices.
"I hate them," Maryland's Randy Edsall said of deregulations that were approved by the NCAA board in late January. "It will be a nightmare," Arkansas offensive line coach Sam Pittman said.
The rest of the SEC looks to be freaking out as well.
The deregs already have been referred to as the Wild, Wild West -- unlimited texts and phone calls to recruits, 600-page media guides, possible player personnel departments.
But there is a difference between speaking out and speaking smartly. So far, the critics haven't.
If you hate the proposals, Coach Edsall, where were you last spring -– a year ago -- when the Rules Working Group first proposed the changes? Or when the actual language in the NCAA Manual was released in mid-August?
Being a member of the American Football Coaches Association, you could have called your professional organization for an interpretation (assuming the AFCA was on top of the legislation's progress). Being an ACC guy, you could have easily gone directly to Clemson president Jim Barker, one of the 15 members of the working group, for an update.
The group's roster isn't exactly exclusive -- or a secret. It is made up of commissioners, ADs, presidents, administrators and student-athletes from nine conferences and a law office. The point is that none of this should be a surprise. The legislation has been in the pipeline for a while.
Hate? Wrong emotion, Randy. It should be fear. Fear of what Alabama could do with the relaxed recruiting rules. Fear that Maryland -- for example -- is down 31 percent in attendance since 2005 and basically accepted the Big Ten invite to swim out of a lake of red ink. Fear the Deficit, indeed.
That's really what this is about. The coaches themselves might not admit it but sometimes they don't know what they don't know. If these deregs are going to be the ruin of college football, you'll excuse some skepticism.
Based on past performance, Edsall and his peers are partially to blame. They haven't been able to figure out Alabama and its dynasty, why should we trust them on this?
For a while now, Nick Saban has been the smartest man on the field. You can practically hear the murmuring, read between the bleats: What he doesn't need is more help. The Tide already have a monopoly on the crystal football market. Saban made two outstanding assistant hires in getting director of player personnel Kevin Steele and offensive line coach Mario Cristobal to fortify the dynasty.
So this isn't so much about protecting the parents or the kids or the coaches' workloads. This is about ending the Alabama Nicktatorship.
"Some school is going to want to get on the high dive with this and go all in and spend and spend," Georgia AD Greg McGarity told the New York Times.
Some school? One school already is quicker, faster, bigger and better. Unleashed from recruiting restrictions you bet your assistant director of quality control Alabama is going to get stronger. Its 14 coaches allowed on the recruiting trail -- up from seven according to the new legislation -- are better than your 14.
Everything else being equal, it's been a while since Alabama was anything but equal.
Hate? Hate starts with lack of knowledge. The recruiting changes had their beginning in August 2011 when Emmert convened a presidential reform summit. Part of the idea was to be "smarter" about regulation. Shrink that manual and get rid of stuff that was superfluous, unenforceable or just plain stupid.
Alabama never won any of its national championships because of the size of its media guide.
What Edsall may forget or never know is that these "reforms" used to be how coaches did business. They screamed long and loud about any NCAA limitations that kept them from relentless pursuit of five star recruits. Ask Rick Neuheisel.
Now that a working group has worked for more than a year on sensible changes, they protest? That might be called hypocrisy in some circles. A working group member pointed out the logic of unlimited texts. On most iPhones, the text icon is either close or next to the email icon. Texting is currently regulated. Emailing is not. What's the use of distinguishing between pixels on a phone desktop?
And coaches are worried about bombarding kids' iPhones? No, they're worried about having to bombard kids' iPhones because Alabama does a better job at recruiting than anyone else. More logic: "Bombard" might be too harsh. Last I checked, we can mute our phones and ignore the vibrations.
With a little research, Edsall could have asked if these new rules will actually work. National Association of Basketball Coaches executive director Jim Haney was part of the working group. Basketball recently adopted many of the same recruiting guidelines.
Yeah, football staffs could grow when the legislation takes effect Aug. 1. Alabama -- or any other program -- could establish a personnel department that does nothing but evaluate talent. (Hello, Kevin Steele.) Sounds kind of NFLish. Also sounds about where we are with college football. Why deny it?
The monolith looks almost cuddly on these particular points. It is listening to the membership. Edsall's Army can override the recruiting changes before they go into effect Aug. 1 if enough schools protest. It would take 75 Division I presidents to weigh in with an override vote by March 20.
That's fair. This kind of change never comes easily. Emmert has had his original idea for paying players -- OK, OK, a stipend -- all but shot down.
In this case, Emmert has recognized a brutal truth, one that is guiding the legislation itself. Some schools have more resources than others. Why not a 600-page media guide or a player personnel department? How is that going to change the point spread?
Why make Alabama work within the same economic boundaries as ... Maryland?