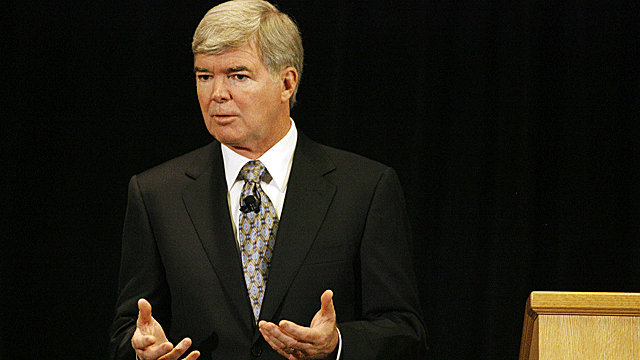 Jon Duncan should be prepared for his first day on the job. If prepared means being hit between the eyes with a (figurative) two-by-four.
Before Duncan formally took over as the NCAA's interim enforcement director on Monday, he met the enforcement staff following the firing of Julie Roe Lach. According to a source familiar with the meeting, that initial session was rancorous.
"There was everything from shouting and yelling to crying," the source said. "It was pretty ugly. People are pretty upset."
A second source confirmed the tone of the meeting that took place at some point after Roe Lach's firing was announced on Feb. 18. Duncan -- formerly a Kansas City attorney -- did not respond to an email and phone calls to both his law firm and the NCAA seeking comment.
No matter what you think of the NCAA at this moment, there are parallel narratives defining the sense of scandal enveloping the association. The primary one you know: The NCAA has overstepped its boundaries in the Miami case -- at least -- making it flypaper for criticism that loops in everything from transparency, to unprecedented legal challenges to the Penn State decision.
The second story line exists within the walls at NCAA headquarters in Indianapolis: Why, some enforcement types have wondered, have we been discredited? How can we move forward from this mess in other cases with a sense of credibility?
"They look at this as [NCAA president Mark] Emmert has absolutely decimated enforcement," the source added. "Whatever reputation we had before is now -- not in the toilet -- but it's been flushed."
This seems to be the environment Duncan stepped into Monday. It's not so much about him but about the future of the department and its ability to conduct its business. It is about what it means for the NCAA to police its own. Roe Lach was only the sixth enforcement director in the six-decade history of the enforcement department, the only woman. Duncan has never processed a case.
Roe Lach was an NCAA lifer, well respected, just coming off maternity leave when she was fired. Separate from her departure, it has never been fully explained what -- if any -- blame belongs to Roe Lach's boss, NCAA vice president Jim Isch. Isch approved the money for Roe Lach to pay outside attorney Maria Elena Perez.
How enforcement moves forward with any sort of credible authority is up for debate. In the best of times, the department shares the same status in the public's eyes as the IRS and BCS. Three times since the 1980s, the enforcement process has been reviewed on Capitol Hill. Each time improvements have been made to the process. There was a time when investigators didn't use tape recorders, weren't even required to take notes. There wasn't an appeals process until 1992.
The challenges are different this time. A Florida state senator told CBSSports.com last week that "the whole system needs to be revamped."
A memo circulated last month among Mountain West presidents that questioned NCAA leadership.
"There's talk [at the NCAA] all the way from cleaning house to getting rid of enforcement," said the source of the current climate. "There's all kinds of wild [stuff] going around."
It's a safe to assume that Duncan will be involved in the department's next iteration. In the past year, at least four enforcement officials have been fired or resigned. Miami president Donna Shalala said adamantly the school deserves no additional penalties. A lawsuit by a school against the association in an enforcement case would be precedent-setting.
Despite his lack of investigatory experience, Duncan has represented the NCAA in court cases and served as a legal advisor since 1998. Although his title is "interim," the NCAA stated in a press release he will work "full-time" in Indianapolis. Duncan has resigned his position as partner at Spencer Fane Britt & Browne in Kansas City. Upon being named in Indianapolis, he was removed as lead attorney for the NCAA in a lawsuit by a former University of Buffalo basketball coach.
Duncan will encounter a subset of hard-working people within those NCAA walls who believe in the mission. That mission has always been difficult and difficult to define without due process or subpoena power to compel witnesses to cooperate. The media first got a sense for the process two years ago.
But how far have we come when convicted felon Nevin Shapiro can simply corroborate his own testimony by repeating himself?
At a base level, it's difficult for brother to investigate brother. That might be why only two conferences -- the MAC and Pac-12 -- use some sort of in-house enforcement process.
What will be the climate greeting enforcement cops when the next major infractions case breaks? How will an NCAA investigator be greeted when he/she arrives on campus burdened with the recent past? Forty-one year NCAA veteran and former enforcement director David Berst used the words "anxious" and "disoriented" describing fellow employees recently to CBSSports.com's Jeremy Fowler.
"Obviously people are freaked out a bit ..." the source said. "I don't think Emmert anticipated how this could unravel and affect him. I don't think he thought through this at all. It's just stupid."
Shortly after Emmert announced that external review in the Miami case, that secondary narrative took shape in Indianapolis. It was expressed by an NCAA investigator who spoke to Sun-Sentinel columnist David Hyde on Jan. 30: "A lot of us are asking, 'Why was such a big deal made of this one situation?' And no one can answer the question. It's all strange to us. We're confused."
To the outside world, paying an outside attorney (Elena Perez) to obtain information otherwise not attainable in the Miami case seems obviously unethical. Inside the walls of enforcement, the feeling is something different.
Enforcement officials have sat in on depositions in the past. Current NCAA investigator David Zonder legally sat in on this October deposition obtained by CBSSports.com regarding a Nevin Shapiro bankruptcy proceeding.
Without subpoena power, NCAA enforcement normally cannot compel the average citizen to cooperate. Its powers extend only to school administrators, coaches and current players. As we've seen in the Miami case, the department sometimes goes to extraordinary means to get information. Former FBI agents have been used. An assistant enforcement director wrote a threatening letter to former Miami players. If they didn't cooperate, they would be considered complicit in Miami wrongdoing.
Before you judge, remember there are two points of view, two narratives regarding enforcement. One exists among us, on the surface of what seems like the biggest scandal in NCAA history. The other, Jon Duncan is just beginning work inside those walls in Indianapolis.