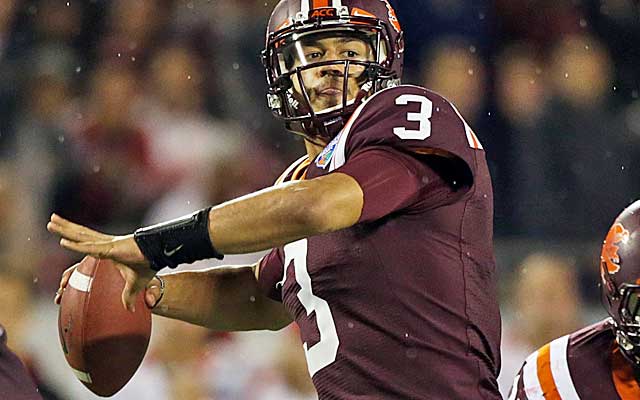 It's going to be an interesting/weird season for ACC football in 2013. Syracuse and Pittsburgh come on board to make it a 14-team conference. Maryland, a charter member since the conference was founded in 1953, plays its last season before bolting for the Big Ten. Then Louisville, a growing football power, joins in 2014 and brings its considerable basketball gravitas to the league.
There doesn't appear to be a team that can challenge for the BCS national championship, but the ACC will get shots at SEC teams that all finished in the top 10 last season as Clemson plays Georgia and South Carolina, Florida State plays Florida, and Georgia Tech plays Georgia.
Accordingly, here our five burning questions about the ACC for the Spring of 2013:
1: Can Noles repeat after coaching exodus?
With a great defense and a better schedule, Florida State was projected as a team that could make a run at the national championship in 2012. The Seminoles did win the ACC Championship, their first since 2005, but the hopes of playing for the crystal football ended after an inexplicable 17-16 loss at North Carolina State on Oct. 6. Florida State didn't lose again until it faced Florida on Nov. 24 (a 37-26 loss). Florida State then beat Georgia Tech in the ACC championship game and Northern Illinois in the Orange Bowl.
More on ACC
Related links
More college football coverage
Still, it was a 12-2 season that left fans thinking their team had missed a real opportunity.
Then the coaching exodus began. Defensive coordinator Mark Stoops left to become head coach at Kentucky. Offensive coordinator James Coley bolted for Miami (Fla.). Running backs coach Eddie Gran, one of FSU's best recruiters, left to join Tommy Tuberville at Cincinnati. A total of six moved on.
But head coach Jimbo Fisher hired two former Alabama assistants, Jeremy Pruitt (defensive coordinator) and Sal Sunseri (defensive ends). He dipped into the SEC again to hire Randy Sanders as his offensive coordinator. Sanders is a former offensive coordinator at Tennessee and Kentucky.
"I appreciate what the other coaches did, but we really like the people we've added to the staff," Fisher said.
But the reality is that seven starters are gone from a top-five defense and quarterback EJ Manuel has moved on after a record-setting career.
Those new coaches have a lot of work to do.
2: Is Clemson ready to take the next step?
Everybody knows the Clemson offense will be among the best in the nation with quarterback Tajh Boyd and junior wide receiver Sammy Watkins. The Tigers won 11 games in 2012, their first back-to-back seasons with double digit wins since 1989-90. They kicked a field goal at the buzzer to beat LSU (25-24) in the Chick-fil-A Bowl, which gave the program a huge shot in the arm.
"It meant a whole lot for us to beat a team like LSU," said head coach Dabo Swinney. "Now it's time to take the next step."
The next step for Clemson is playing the kind of defense that wins championships. Brent Venables, the former Oklahoma DC, is in his second season with the Tigers.
"We feel pretty good about where we are," said Venables, whose first Clemson defense held five of its last seven opponents to under 25 points and held LSU to just 219 yards in the bowl game. Seven starters return as do 10 players who started at least five games.
"The thing that separates the good teams from the great teams like Alabama is that they play great defense," said Swinney. "We need to get there."
3: Can Hokies QB right the ship under Loeffler?
Virginia Tech quarterback Logan Thomas and his new offensive coordinator Scot Loeffler have a lot in common. Both had 2012 seasons they would rather forget.
Thomas, the mammoth 6-foot-6, 260-pound quarterback, was projected by some NFL experts to be No. 1 at his position going into the 2012 season. Thomas, however, struggled to run an offense that didn't give him the supporting cast he had enjoyed in previous years. Four new starters on the offensive line certainly didn't help. He completed only 51.3 percent of his passes for almost 3,000 yards, but had 16 interceptions to go with his 18 touchdown passes. His decision making was average at best. Virginia Tech finished 7-6 after being picked to win the ACC's Coastal division.
Loeffler, whose resume includes solid work with quarterbacks like Tom Brady, Chad Henne and Tim Tebow, was hired at Auburn last season to turn the Tigers offense back to the blue collar, power running days of Pat Dye. It was a disaster and Loeffler was soon looking for a job when Gene Chizik and his staff were shown the door.
Loeffler's hire by Frank Beamer, who is a little under the gun after last season, came as a surprise to some in the football community. We'll see if it works out.
4: Which new coach will find most success?
Syracuse (with new coach Scott Shafer) and Pittsburgh (Paul Chryst) are the new teams on the block. Boston College (Steve Addazio from Temple), and N.C. State (Dave Doeren from Northern Illinois) are starting over with new head coaches.
And only one of the four, Boston College, returns a starting quarterback. Chase Rettig thew for 3,075 yards and with 17 touchdowns and 13 interceptions. But he is learning a new offensive system under new OC Ryan Day, who likes his quarterbacks to be mobile. Josh Bordner, the backup quarterback, was recruited by Day out of high school. Rettig will probably be the guy when the season starts but don't be surprised if Bordner gets snaps because of his running ability.
Syracuse lost Ryan Nassib, who threw for more than 3,700 yards and 26 touchdowns last season. He's expected to go no later than the second round of the draft.
Tino Sunseri has used up his eligibility at Pittsburgh after 39 consecutive starts for the Panthers. Tom Savage is a fifth-year senior who spent time at Rutgers and Arizona before landing at Pitt.
N.C. State loses Mike Glennon, the Wolfpack's 6-6 quarterback with the rocket arm. Doeren has a conventional drop back passer in Pete Thomas and a more mobile guy in Manny Stocker. Doeren got great results at Northern Illinois with the very mobile Jordan Lynch, who passed for 3,138 yards and ran for an incredible 1,815 more.
Boston College returns the most starters with 16 followed by Pittsburgh (15, 10 on defense), Syracuse (13), and N.C. State (11).
5: Could this be a breakthrough year for Miami?
I will say this. Al Golden could have left Miami last year and nobody would have blamed him. The school has already self-imposed two years of bowl bans. The Hurricanes could have played Florida State for the ACC championship last season but took themselves out of the game as part of their penalties. And there is still a date to come with the NCAA's Committee on Infractions. No one knows if additional penalties are coming down.
But Golden is staying put and this season he could be rewarded. The Hurricanes return 18 starters -- nine on each side of the ball. Quarterback Stephen Morris returns after throwing for 3,345 yards and 21 touchdowns last season. Sophomore running back Duke Johnson was third in the ACC in rushing (947 yards). The offense is going to be fine.
The defense, however, has to be better -- a lot better -- after finishing 2012 dead last in the ACC and No. 116 nationally at 486.82 yards per game.
Still more questions
•  Ted Roof returns to Georgia Tech, his alma mater, in hopes of improving the defense. Will he be successful?
•  How much better will North Carolina be in year two under Larry Fedora? QB Bryn Renner is back but RB Giovanni Bernard is not.
•  Does Randy Edsall get it turned around in Maryland's last season in the ACC? This will be Edsall's third season in College Park and there is pressure to show some improvement after going 2-10 and 4-8. The last tour around the conference will be interesting for the Terps. A bowl game would be a big accomplishment.
•  Can Duke go to its second successive bowl? Duke went to its first bowl game since 1994 last season. The Blue Devils lost to Cincinnati, 48-34, so they still haven't won a postseason game since the 1961 Cotton Bowl. But here is the great stat you probably don't know: Duke has never, EVER, gone to bowls in consecutive seasons. This is David Cutcliffe's sixth season in Durham and each year his team has gotten better. But Coach Cut has to find replacements for quarterback Sean Renfree and WR Conner Vernon, the ACC's all-time leading receiver.
Tony Barnhart is in his fifth season as a contributor to CBSSports.com. He is a college football analyst for CBS Sports and The CBS Sports Network. He is the host of "The Tony Barnhart Show" on the CBS Sports Network. Prior to joining CBS he was the national college football writer for the Atlanta Journal-Constitution for 24 years. He has written five books on college football.