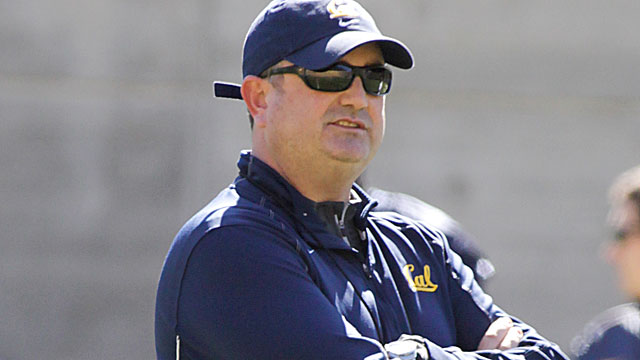 BERKELEY, Calif. -- There's a mounted flat-screen television in Sonny Dykes' office with Cal-Oregon on pause. He'll get to the game film. But first he's got scholarships to save, academic meetings with higher-ups to conduct, calls to make about the status of former players with plans to graduate.
Cal-Berkeley is the country's top public university according to U.S. News. It also has major Academic Progress Report issues in football because of what athletic director Sandy Barbour describes as "a few missteps" and upperclassmen leaving school with credits on the table.
Dykes vows to improve Cal's score of 936, which ranked 11th in the Pac-12 and 12 points below the national average in the Football Bowl Subdivision. Scoring below a 925 can result in a postseason ban or scholarship reductions.
"We're in a bind here," said Dykes, who in December took over for Jeff Tedford. "It's going to take everyone in this building to get it fixed." That doesn't mean Dykes is afraid to take a chance on a player.
The APR challenges coaches to recruit players who plan to graduate and perform on the field. Sometimes, coaches are faced with judgment calls in recruiting -- especially at Cal because of its standards.
Local defensive end Takkarist McKinley is one of those calls, and the evaluation process stretches beyond grades and test scores.
In many ways, McKinley, a standout with John F. Kennedy High School in nearby Richmond, fits the Cal football profile. He has the grade-point average to qualify (around a 2.7 overall, according to JRF dean of athletics Mike Bobino), he's eager to learn, he wants to be at Cal, he stayed committed to Cal despite Tedford's firing and he's got upside on the field.
A four-star recruit according to 247Sports.com, McKinley owns a personal best time of 10.58 seconds in the 100 meters, according to JRF track and field coach Carl Sumler, stellar for a 6-foot-3, 235-pounder. School officials say he once beat former teammate and UCLA wide receiver Kenny Walker to a tackle from clear across the field. His 10.71 time recently won the boys' 100-meter final of the Stanford Invitational.
But his first ACT score didn't match the minimum NCAA requirement. He took the SAT in late March and awaits the results. He's scheduled to re-take the ACT this weekend.
With plans to eschew the junior college route, McKinley is taking two test prep courses on top of his six-class workload and his 7:30 a.m. school leadership committee meetings.
"I'm going to pass," said McKinley, 17.
Signing players who struggle to qualify post-signing day can set a tricky precedent for an APR-strapped school.
But to Dykes, and especially to McKinley, the test score isn't an absolute when forecasting a player's promise at Cal. Ask McKinley about favorable learning environments, and he'll tell you about bouncing from home to home because his parents weren't around.
He'll tell you about the times he skipped school to tend to his ill grandmother.
Cal has a plan to help athletes succeed, Barbour and Dykes said. Cal examines backgrounds and curriculums of incoming athletes and, with a primary advisor, creates a support plan to maximize potential.
With widespread diligence in the football offices, Cal wants to rejoin the group of academic-minded schools such as Northwestern, Notre Dame and Stanford that are flourishing on the field.
Dykes' message to McKinley is simple, McKinley said: I want you to be a Cal Bear. But if you don't pass, it won't work.
Wake-up call
When Cal got word that McKinley was late for a meeting during his official visit in January, a staffer went to check on him.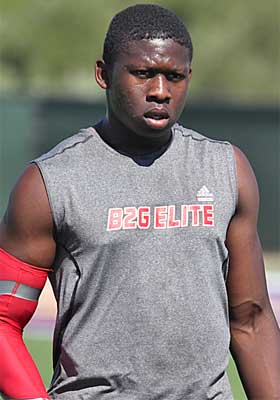 McKinley later explained to assistant director of player personnel Kevin Parker that he overslept in his Claremont Hotel bed. He hadn't actually slept in a bed in a while, he told Parker.
"That's what blew me away, like wow," Parker said. "I knew he had a tough upbringing."
"It was a nice bed," McKinley joked two months later.
With both parents leaving at an early age, McKinley has spent parts of his life sleeping on the floors or couches of relatives.
Aunt Peggy Wiggins and cousin Sylvester "Tuffy" Wiggins gained legal guardianship of McKinley in May 2012, according to Contra Costa County court records.
McKinley's grandmother lost her Oakland house when McKinley was 5, forcing him and his older brother and sister to move into Peggy Wiggins' house in nearby Richmond. Grandma moved in, too. Wiggins' children used the bedrooms, said McKinley, who vaguely remembers living on the street for a few days before the move-in.
McKinley doesn't remember meeting his father, he says. His mother stayed with Wiggins for a short time but hasn't been a figure in his life for several years, according to the family.
When McKinley was young, his mother dropped him off with a man in Mississippi that was believed to be his father, but the family says a paternity test revealed he wasn't the dad. Peggy and Tuffy traveled cross-country to get him.
McKinley's family tree reached 60-plus in the Oakland-Richmond area, so potluck dinners on Sundays provided enough leftovers to get through the week, McKinley said.
When his grandmother, Myrtle Collins, got sick, McKinley was often responsible for keeping her comfortable during the day. He also helped Peggy run a local thrift shop in Richmond, moving furniture and loading heavy boxes for her. Collins died in 2011 of heart complications.
Early in high school, McKinley said he missed several days of school and practices while tending to his grandmother. The family believes this held him back academically.
McKinley went through phases of anger with his surroundings, sometimes confronting other middle schoolers for commenting on his missing parents. He said he wondered whether he'd end up in jail or dead while living in Richmond, which is high in crime.
"There's not too much that fazes me anymore," McKinley said. "It's made me stronger."
At age 15, the Wiggins family decided it was best for McKinley to live with Tuffy, who could be a male influence in his life. Tuffy's wife, daughter, son and mother-in-law lived in the home, McKinley said, so he slept on the couch or the floor most nights.
To the family, McKinley has been selfless.
"He deserves to have his own space," Tuffy said. "He's always given up his space for someone else."
McKinley and the Wiggins family told this story to CBSSports.com from the track and field house at John F. Kennedy High School. Bobino and Sumler also were present.
Dykes doesn't know McKinley's entire background, but Parker has briefed him on McKinley's challenges. Cal incorporates McKinley's story into its academic evaluation and recognizes his study environment was not ideal. Through recruiting research, Cal discovered McKinley was a hard worker and felt he might respond well to prep courses.
If a player takes a test six times and still doesn't qualify, Dykes knows it's time to move on and he can revisit the recruitment after a junior college stint. But McKinley still has chances. "You look at all the factors and you say, 'Hey, let's take a chance on this kid,'" Dykes said.
Work in progress
While on the recruiting trail for his first signing class at Cal, Dykes heard about a Pac-12 school -- "somebody from the Pacific Northwest," he says -- using Cal's APR problems against the Bears when talking to Pac-12 prospects.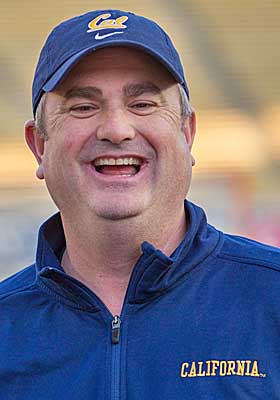 Dykes wasn't surprised. The former Louisiana Tech coach knew what he was facing when accepting the job because Barbour was blunt during the interview process.
Perspective coaches heard these seven words, Barbour said: We have a problem. We have slipped.
In theory, schools get rewarded for keeping players in school and on track to graduate. Cal is far from that reward.
Dykes still embraced the challenge.
"The resources and the institutional will are there," Barbour said. "Quite frankly, under Jeff Tedford's leadership, we did this and we did it very well. Jeff cared very deeply for people in his program. We had to hire someone who was committed to that."
Tedford finished 3-9 in 2012 and was fired after 11 seasons. Cal sported better APR rates in previous years -- ranking 19th in the Football Bowl Subdivision with a 969 score as of 2010 -- but Tedford told the San Jose Mercury-News in February that he was "as troubled by (the APR dip) as anyone." The scores had dropped for four consecutive years. The latest APR analysis covers the 2007-08 to 2010-11 school years.
Barbour makes clear Cal's issues were not fueled by a rash of flunk-outs, but mostly players not finishing degrees with a few classes left.
Barbour said she believes there were a few missteps, "perhaps from a recruiting standpoint."
"There's no doubt there's a lot of pressure to win," said Barbour, who also makes clear she plays a prominent role in the APR struggles and improvement will be a collective effort.
Efforts to reach Tedford were unsuccessful.
No FBS teams faced penalties from the June rankings. But schools are on notice for 2012-13, when the threshold for postseason participation rises from 900 to 930.
According to Cal officials, former players who have spent time on NFL rosters -- receiver Jeremy Ross (Packers), defensive back Sean Cattouse (Chargers), linebacker D.J. Holt (Redskins) -- are back in school this semester with plans to graduate. This should pump life into Cal's future APR.
"I can say with almost certainty we won't have any issues," said Dykes about potential punishments for the program.
Cal football has augmented its staff of learning specialists from two people to four, Dykes said. Current players have signed non-binding pacts to complete necessary credits to graduate. Academics and APR were primary topics during his introduction to the team, and his recruiting takes a similar tone. "You're always better off with a little less of a player who is a little bit better of a program guy than you are with a better player who's less of a program guy," Dykes said.
'Tremendous upside'
Cal football has a three-tier qualification system for recruiting eligibility: Gold, blue and red.
Dykes' 24-person recruiting class included four reds -- either close calls or players who still had work to do at signing day -- but most of that group has qualified, Dykes said.
The system considers test scores, GPA, core classes, most effective learning environments, motivation and work ethic, among other factors. Red athletes still can reach the blue by improving test scores before the summer.
Dykes signed these players because he thinks they can succeed at Cal and perform on the field. If a player doesn't qualify, he can recruit that player out of junior college in two years.
According to Dykes, this logic doesn't apply to all schools.
"I think coaches will sign five or six guys a year to get their recruiting class ranked -- most of those kids never get on campus," Dykes said. "They know there's no chance that guy's going to make it."
With an administrative career that includes stops at Tulane, Northwestern and Notre Dame, Barbour believes students without typical admissions criteria can thrive at Cal.
"I'll take a kid who's taking a relatively challenging high school curriculum, done well and doesn't test well any day of the week over the opposite," Barbour said.
McKinley hopes to follow this plan. His course load ranges from physics to statistics/probability to theatre, he said. Once he realized his athletic potential and felt like he belonged, his academics started improving, he said.
McKinley didn't start playing football full time until high school, and his recruiting didn't take off until he ran the fast time in May -- while 50 pounds heavier than his track competition.
"After that, every coach was calling him that next day," JFK track and field coach Carl Sumler said. "No one knew who he was. The school didn't know he'd be a star, so they were scrambling to get him ready academically."
Bobino worked to get McKinley exposure. McKinley played in the Cal State All-Star Game, where 247Sports.com labeled him a top performer. The 247Sports.com player database ranks McKinley as the country's fifth-best weakside defensive end, while the site's composite ranking (incorporating other recruiting sites such as Rivals and Scout) rank him No. 19 at his position.
Dykes' scouting report on McKinley is classic coach speak but also parallels McKinley's journey: Tremendous upside. From Sumler's track and field house, McKinley burst in laughter as Tuffy reveals pictures of his childhood.
"We thought he was going to be a gangster," jokes Tuffy, pointing to a picture of McKinley giving a mean look while in diapers. "Even as a toddler, he used to challenge guys on the street like, you want some?" He has a quiet demeanor now, but that doesn't stop several students from greeting him in the hallways and on the track.
An elder man walking the track stops him.
"Do you play football?"
"Yes I do," McKinley said.
McKinley is mild-mannered, but he doesn't mind a little attention, too.
He plans to get a lot of it because of his play in college.
"This is my dream," he said of football.