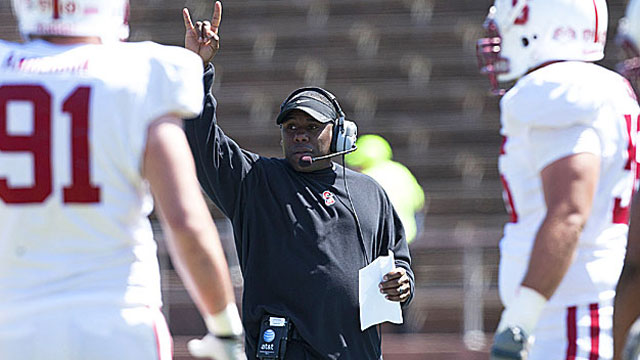 PALO ALTO, Calif. -- When people talk about the new Stanford, they might as well be talking about Noor Davis. The blue-chip prospect is emblematic of the Cardinal's upgrade in athleticism -- a trend that has been fueled by a run of BCS bowls -- to match the school's prestigious academic standing.
Davis is the chiseled 6-foot-4, 227-pound nephew of Pro Football Hall of Famer Andre Tippett. A year ago, he came to Palo Alto after having won the 2011 High School Butkus Award given to the nation's best prep linebacker. He is also an honor student and so impressive that he'll be interning this summer with former Secretary of State Condoleezza Rice, who has an office at Stanford. But early in an afternoon practice this spring, Noor Davis drew the attention of the last guy anyone on the Cardinal defense wants to let down.
"YOU GOTTA RUN, SONNNN!!!" rumbled a booming voice that could probably be heard clearly at the water polo practice 1,000 yards away after Davis didn't turn and sprint in a team pursuit drill.
More on Stanford
Related links
More college football coverage
You'd have expected such a voice to emanate from deep in the gut of a 300-pound former nose guard, not a compactly built, short ex-cornerback, but Derek Mason's presence is anything but small at Stanford. The Cardinal defensive coordinator is not about to let anyone loaf on his watch.
"He's got a hell of a growl," senior linebacker Shayne Skov said of Mason, who has emerged as a rising star in the business after consecutive seasons where Stanford has finished in the top five in run defense while leading the nation in sacks and finishing second in TFLs in 2012. "He's intense, man. As groups improve, sometimes they kind of lose that hunger, he keeps everybody on point at all times."
For his work with the Cardinal defense last fall, Mason was selected as one of the five finalists for the Broyles Award, honoring the nation's top assistant coach. Given that Stanford only has to replace two starters from the defense, while a young secondary has gained experience, the Cardinal should be even tougher in 2013 although Mason isn't taking anything for granted.
"2012 had nothing to do with 2011," Mason said while sitting in his office on a Monday night in early April. "2013 has nothing to do with 2012. With each year, you have to tear it down and build it back up. The fight starts now."
• • •
The son of a former Arizona State player under noted grinder Frank Kush, Derek Mason never lacked for grit. All of his uncles played for Kush at ASU too, and his stepdad was a military man, he says. Mason was an undersized cornerback at Northern Arizona, who spent his first decade of coaching bouncing all over the country, from Weber State to Idaho State to Bucknell to Utah to St. Mary's College to New Mexico State and then to Ohio U.
His oldest daughter is 14 and she's already lived in nine states. Most of that time in his career, Mason worked as an offensive coach even though defense was his passion. His first big break came in 1995 when he got an internship with the St. Louis Rams under defensive coordinator Willie Shaw, the father of Stanford coach David Shaw. The Rams D-line coach promised the elder Shaw he'd love Mason's work ethic and demeanor, and the guy was right, says Shaw.
"Being there really opened my eyes to the teaching and the level of excellence you have to aspire to," Mason said. "It defined how I was going to work."
Mason got back on defense and with an NFL team in 2007 when one of his former coaches, Brad Childress, then the Vikings head coach, hired him as an assistant secondary coach. Mason worked with DB coach Joe Woods, who taught him the key to getting NFL players to perform at a high level, which actually helped reinforce some maxims of the profession.
"The secret is understanding what they need personally," Mason said. "Everyone talks about how the NFL is a business. Well, yes, it's a business, but remember they're still grown men with problems, issues--bills to pay, marital problems and everything else -- and to get them to know and understand that you care is huge. Guys play on trust. Guys want to be coached by guys that they trust. Joe has been at Minnesota as long as anybody there because they trust him. He's good with people. He understands how to find what makes a guy tick."
Woods not only saw a quick learner in Mason, but also a guy with a knack for tweaking defensive schemes. Woods fondly recalls a December road game in 2008 against an Arizona Cardinal team that would eventually go to the Super Bowl. During the week, Mason convinced defensive coordinator Leslie Frazier to implement a disguise package, where the Vikings would stray from their norm by showing blitz with one of their safeties coming down pre-snap before every play. The ploy worked. Minnesota blanked Kurt Warner and the Cards in the first half to jump out to a 28-0 lead and won, 35-14.
After three seasons with the Vikings, Jim Harbaugh hired Mason as Stanford's secondary coach. In Palo Alto, Mason was reunited with David Shaw. The two had briefly coached together at Idaho State for about a month in the late 90s before Shaw took a quality control job with the Philadelphia Eagles.
"Coaching is about communication, motivation and teaching, and the first day I met Derek I realized that's who he was," said David Shaw. "He relates to kids so quickly. Coaching is such a specific skill because a lot of times there is a lot of emotion. Sometimes you can scream and yell and be agitated but he does it in a way where it's never confrontational. He lets the kids know he's their biggest advocate. He lets them know 'here's what you need to do to become that much better, and I need you to do it this way, and Coach Shaw needs you do do it and your defensive teammates need you to do it.
"It's tying everybody together. One of the best things as coaches we can do is tie the players to each other: 'If you don't do your job, yes, I'm going to be upset at you, but more importantly, if you don't do your job, Shayne Skov is not going to be able to do his job.' So they're thinking, 'I don't want to let Shayne down. Don't want to let [safety] Ed Reynolds down'. And that environment is such a good environment to have."
After the 2010 season when Harbaugh left Stanford for the NFL and took his defensive coordinator Vic Fangio with him, Shaw was promoted to head coach and named Mason and Jason Tarver as his co-defensive coordinators. Under the two younger DCs, Stanford's defense still bottled up offenses. Tarver left following the 2011 season for the NFL, while the Cardinal defense proved to be even better last season.
"He's very consciencous," Willie Shaw said of Mason. "Very down to earth. He really studies the game in an old-time, throwback fashion and he's always looking for a better way to do things. Old school means we weren't blackboard coaches. We were teaching. He is a great teacher."
The bond between Mason and the Shaws took a sweet turn this week. The school informed both men that its defensive coordinator position has been endowed by a very generous gift from an anonymous donor, named in honor of Willie Shaw.
"The honor of being the Willie Shaw Director of Defense has special meaning to me because of how he has believed in me and empowered me, through a relationship of nearly two decades," said Mason. "Coach Shaw has profoundly helped foster my growth and understanding in what it takes to lead young men, with lessons that extend to and far beyond the field of play. In the last two years, coach Shaw has spent countless hours walking me through 40-plus years of experience and accelerated my development and leadership, which has translated into the everyday exhaustive progress and growth of our young men."
David Shaw said gifts such as this endowment "make it possible for us to attract and retain the best coaches in America. Also, it is important to recognize how vital our defensive performance has been to our recent success, helping to elevate this program to the upper echelon of college football."
• • •
One of the mantras that Mason harps on with his players is "Top Down." To David Shaw, that means Stanford doesn't give up the big play, and rallies to the ball on the short plays to make sure they stay short. Having two gifted, rangy safeties in Reynolds and Jordan Richards helps too. Last season Stanford, despite playing in a prolific offensive league, only allowed one play 30 yards or longer in its four games against ranked opponents.
"Top Down means making sure we protect the defense at all costs," Mason said. "Force the ball down. The big play is what offenses live on. If they have to go 16 plays to score, that's great. Now we've made for ourselves opportunity for error and earned the right to rush the passer on third down. When we got here with Vic Fangio, we inherited a defense synonymous with giving up big plays."
It looks like Mason just licked a battery as he spoke about a defense surrendering big plays.
"Can't give it up. Won't give it up," he said. "Football is not a mistake-free game. You're going to give up some big plays. The one thing we want to do is minimize those opportunities. When you're taking about becoming a pretty good tackling defense is when you get 11 guys to run to the ball."
The same principle works when it comes to getting turnovers.
"It's tips and overthrows is how you create turnovers," Mason said. "This is where we need to be. It's different coaching here. You don't come to Stanford to be good. You come here to be great. You can't walk into an engineering class or a mathematics class and just do average work because everybody around you will smoke you. We apply the same philosophy on the football field. You say you wanna be talked about in the same vein as an Alabama, LSU or an Oregon, that comes with a high price. It's been amazing to watch. We look to stop the run first and then from there we look to defend the pass. And maybe that's where we're different from many. I don't care if we give up 285 yards in the air. I'm not an ego guy when it comes to stats. What it comes down to is if you can stop the run and make them one-dimensional, you can be different."
Selling the team approach is easier given the vibe at Stanford, according to Willie Shaw, a guy who spent more than three decades in coaching and worked at three Pac-12 schools.
"Lots of coaches would say when they found out I'd coached at Stanford, 'That had to be the toughest job. You know those smart guys that are not committed to football. They're 'too smart,'" Willie Shaw recounted. "I said, 'Do you know how competitive you have to be to go to Stanford and compete for an A?' They are really competitive here. They're really smart, so you know when you teach them something, they retain it. And they're very team-oriented. The biggest thing they do on this campus is they team-teach. You have more teams working on projects here. They come down here (to the practice fields) and they understand team concept. And the teams that win the most understand team concept. That is very unique here."
Shaw's son, David -- a former Cardinal wideout -- echoed the point.
"This is a community that is about community," he said. "All of the great businesses that were started here were started by groups of people. Google, Yahoo, Instagram. It started with someone saying, 'I have an idea. Let's work together.' That's what the spirit of this school is. I tell people all the time, we're going to win football games based on the unity of our locker room."
Towards that end, the Cardinal team has embraced its NerdNation persona, which seems to mesh well with the message Mason preaches.
"We get guys to believe in running to the football and that football is an 11-man game," he said. "It sounds so cliché and so old school, but football hasn't changed that much. The guys coaching it may have changed, because sometimes it becomes scheme-based versus fundamental-based. I'm a fundamentalist. Let's try to re-establish the line of scrimmage and play top down."
While Stanford's defensive stats were impressive, Mason's reputation grew in football circles exponentially for the way the Cardinal bottled up the explosive Oregon attack last November.
The then-No. 1 Ducks had been averaging 55 points a game. Stanford, a three-touchdown underdog, held Chip Kelly's team to 41 points below their average in a 17-14 upset at Autzen Stadium. It's Exhibit A of why NFL teams want Mason to come in and clinic with their staffs to cope with the spread attacks that have been incorporated into the pro game.
"Here's what I learned from playing Oregon: Oregon does what it does all year-round," Mason said. "If I try to make a defense for Oregon in one week we're gonna lose because they're so good at what they do. In order for us to find success versus Oregon, it started a year ago at this time of year. We said we can't keep trying to line up versus Oregon and our guys aren't in position. Do we have too many calls? Are we trying to do too much?
"We were trying to be smarter and we were putting our kids at a disadvantage. We had to give our kids a chance to play. Let's align fast. Lets have less calls. Let's let less be more. Our guys weren't mired in defensive calls. We practiced working to beat Oregon. Every week we dedicate an hour of time working to defend spreads. We played nine different spread offenses last year. We also saw gun read from San Jose, Arizona, Duke. There were precursors."
During that weekly hour of practice devoted to Oregon and other spread teams, Mason prepped his team for playing in space at a high tempo as they continued to stress their year-long emphasis in their fundamental rotation on tackling, setting an edge and getting off blocks.
Referencing the example of young Noor Davis' not sprinting to the ball is something that strikes at the biggest core value of his defense.
"So many coaches get caught in scheme nowadays," Mason said, "but really as a coach, I can look at assignment football and I can coach it off film, but really what we're talking about is getting him in pursuit, and if I allow him not to run to the ball now, that's a rep that he can't get back and I just reinforced bad habits. I'd rather coach mistakes off film. They're going to make mistakes. That's why it's called practice. But you can't reinforce the idea of not running to the ball. That's a big picture thing."
That reminds Mason of a breakdown that cost the Cardinal a game last season. Stanford had held Washington to just two plays over 20 yards for 55 minutes of the game before the Huskies threw a quick swing pass to Kasen Williams. The Cardinal cornerback missed the tackle and 35 yards later, the Washington wideout scored the game-winning touchdown.
"I saw four guys not run to the ball because they assumed our cornerback was gonna make the tackle," said Mason. "I must've shown that play 16 times to help our guys understand that there is no assuming. They all have to believe that that is my play. My tackle. In my mind, pursuit is a DNA thing.
"Fast forward to the Oregon game, (Duck QB Marcus) Mariota takes off down the sideline. Our safety from the backside runs him down." [Stanford's defense inside its 20 stiffened and the Ducks didn't score on that drive despite Mariota's 77-yard scamper.] "That one play changes the game."
It might've kept the Ducks from reaching the BCS title game. And who knows -- it might help spur Stanford to make a run at this year's BCS title game.
"I wanna be the subconscious guy sitting on their shoulder," said Mason, "always saying to them, 'Is it enough?' Is it going to be good enough for us to win? Let's let the film tell the story."