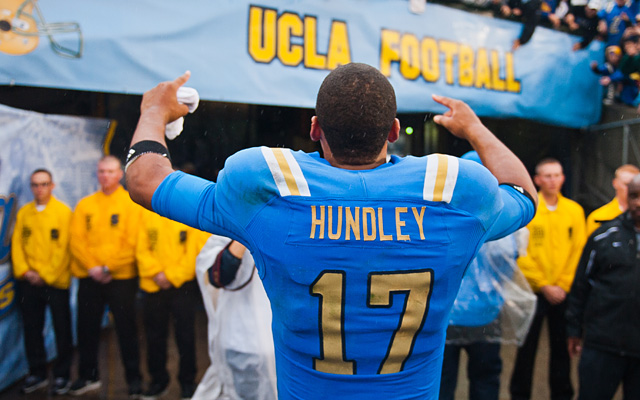 LOS ANGELES -- They're called the Santa Monica Stairs and UCLA quarterback Brett Hundley had a major problem. He was about to climb them -- several times.
The Stairs -- or Steps if you prefer -- start at the top of a serene, upscale neighborhood near the Pacific Ocean, descending into the Santa Monica Canyon. That's the easy part. The views are stunning. The workout population is dedicated, from locals to celebs to personal trainers to tourists.
Now try heading back up, about 200 steps worth. There are two sets -- one wooden, one cement. Your choice. Your body. You're all but dead.
More on UCLA
Related links
More college football coverage
"First time I've ever done it," Hundley said, settling in a seat inside UCLA's J.D. Morgan Center, "and probably the hardest [workout] of my life."
That's saying something for the quarterback of this workout warrior team. It was noon and already Hundley had climbed the steps as well as thrown with personal quarterback coach Steve Clarkson. Sipping on a concoction that was two-thirds water and one-third Gatorade, Hundley paused for an on-campus interview before heading for his third workout of the day -- this one with more conventional exercise at the nearby Wooden Center.
"My legs," he said, "feel like jello."
Oh, and did we mention this scene was played out in late March?
It has been a while since UCLA was this fit, this aggressive, this optimistic. For the first time in about a dozen years, the city is up for grabs football-wise. Southern California is down. UCLA has beaten the Trojans for only the second time since 1999. The Bruins are coming off their first nine-win season in seven years, only the second such accomplishment in 15 years.
After Oregon's Marcus Mariota, Hundley might be the Pac-12's best quarterback in 2013. That's a good place to start in a conference that, at the moment, isn't centered in L.A. The Pac-12 is currently ruled by the scholarly (Stanford) and speedy (Oregon).
UCLA is on the periphery, having played in the league's first two conference championship games. In 2011 the Bruins were a stunt-double because USC was on probation. Last year, the game marked the middle of a season-ending three-game losing streak. The resulting vibe in 2013 is equal parts anticipation and trepidation.
"They just needed to be shown the way," coach Jim Mora Jr. said.
It has been such a long, silent descent into its own canyon of despair for UCLA that dominating the city for the first time in a long time is a start. But like those workouts, such goals are only for today.
"I don't think we even understand how big our upside is," Hundley said.
Follow the stairs up, down, around town, perhaps into a new era in L.A. football ...
San Bernardino
The 50-year old man at the bottom of the Santa Monica Stairs has little to do with UCLA. Erich Nall is a former Division III sprint champion and local strength and conditioning guru who works with about 80 current NFL players. Some of them are former UCLA players. Who knows, Hundley might be a future client.
Nall -- better known as "Coach E" -- knows this much about the current state of L.A. football:
"It's beyond shifting," Nall said of the USC-UCLA rivalry, "because Mora has created the environment of excellence. All athletes want to win, but he's also creating a mindset of competition. That's what Pete Carroll did at USC. When a player is earning his job every day, that's what Mora has done. He's going to keep winning. He's going to always win because they're always going to play hard for him."
A dozen years ago, Carroll came from the pros and brought USC back largely because his teams were intimidating. They played defense. The Heismans were nice but mostly those Trojans weren't something that was whispered about the Pac-10 -- soft.
Recreating Carroll's rapid ascent is Mora's intent. It helps to have the buy-in right away. For whatever reason, Rick Neuheisel's philosophy never caught on in Westwood. A lot of it had to do with an offense that was listless. And the one thing you can't be in L.A. is boring.
Mora says all the right things about Neuheisel. The old coach, now a Pac-12 Network analyst, comes around now and then. His son Jerry is a candidate to back up Hundley. But it's clear that when Mora -- a man whose only college experience was a quarter century ago as a grad assistant -- arrived, some sort of pressure release valve blew within the ranks.
"It was the first day of [2012] spring practice," Mora said. "It was one of the most exhilarating days I've had professionally. I blew the horn to end practice and the whole team came up. They were screaming, jumping and just dog-piled me. It was this emotion that just came out. I had just killed them for 2½ hours.
"At that point I said, 'These kids really want to win.'"
Thing is, they didn't realize how much they wanted to win. Mora took them to the campus of Cal State-San Bernardino for fall drills. Eighty miles east of the UCLA campus, in the middle of nowhere to pay the price. The get-away-from-it-all tactic has been used previously. You know it if you are familiar with the Junction Boys or Camp Cochise.
The isolation is meant to bond, forging will out of sweat, muscle and exhaustion. The average San Bernardino high in August is 96.2 degrees. By the time the Bruins left, they would have killed for that kind of respite. It was frequently over 100. Hell, it was frequently over 105.
"Once we made it past fall camp we understood what it meant to be a brotherhood," Hundley said. "We finally understood the purpose behind what football really is and what it takes to be great."
On the first offensive play of the season -- the first of Hundley's career -- the quarterback broke free for a 72-yard touchdown run against Rice. His father -- Brett Sr., a former Arizona running back -- sitting in the stands cried like a baby. A week later the Bruins beat Nebraska 36-30 at the Rose Bowl.
"When we were able to beat Nebraska in a tough, back-and-forth game on a national stage, then I think they said, OK, 'We can do something here,'" Mora said.
All that was mentioned last week when Mora's second spring practice began. The Bruins have one of the nation's best trio of linebackers -- Anthony Barr, Eric Kendricks and Jordan Zumwalt. Jonathan Franklin, the 1,700-yard rusher, has to be replaced. This is the year in the rotation when there are only four of nine conference games at home. There are trips to Nebraska and across town to USC.
Before any of it happens though, Hundley thought enough to bring his teammates together after a workout to remind them. Yes, they were going back to San Bernardino. The two weeks feel like two months. Cell phones get taken away. There's nothing to do but eat, sleep, sweat, burn and practice football.
"It's something that you don't want to do, you have to do it," Hundley said. "It's like a test. When you're in it, it sucks. Once you're out of it you understand how much it takes."
The Green Mile
It's easy to call Mora a disciplinarian. San Bernardino ... 7 a.m. practices ... accountability at every turn. The man threw the media out of practice last season when a film crew wandered into a restricted area. After more than a quarter century in the NFL, this is what he knows. Besides, he has fallen in love with the place.
"I'm happy," Mora said, 14 games into his college head coaching career at age 51. "I landed. I like college. I like being on campus. I like cheering the other teams. 'Did we win?' ... This just feels right."
Defensive line coach/recruiting coordinator Angus McClure has been here since 2007 and is on his third UCLA head coach. Essentially, McClure is good at what he does besides having a lot of institutional knowledge. You have to understand what beating USC last season meant. The year before in 2011, the Trojans won 50-0. From 2005-2011, the average margin of victory was nearly 24 points. That included a 13-9 UCLA upset in 2006 that allowed Florida to sneak into the BCS title game and the SEC to begin its run of seven straight national championships.
Last fall, the Bruins jumped on the Trojans early and won 38-28. They knocked out Matt Barkley, ending the quarterback's USC career as it turned out.
"Nationally, it opened up a lot of doors," McClure said of recruiting. "Nationally, kids are considering us."
On his first recruiting trip with McClure, Mora wore a suit. Overdressed? You might say so, considering the typical setting in living rooms is recruiting pitches slung in equal doses with beef stew -- or whatever is being served for dinner.
"To see him recruit this class, it's been totally different for him," McClure said.
It's all polo shirts now on the road for a coach who has landed consecutive top-15 classes in his first two seasons.
"This is UCLA's best chance to really turn the corner," said Clarkson, Hundley's QB coach. "I think Jim Mora has done a tremendous job of revitalizing that program. It's very similar to what Pete did when he was at USC, even a little bit better."
Back to that disciplinarian. Mora has a motive. He has seen too many players crash and burn during and after their pro careers. You know some of the stories. Mora has lived them. That's why UCLA players are required to sit in the first five rows of class. No hats. Pen and notebook must be on the desk even if not required.
At the beginning of each quarter, those players are required to meet their professors one-on-one, shake their hands, look them in the eye, introduce themselves and declare, "I'll be taking your class."
"I want them to make that personal connection with their professors," Mora said. "If they're not in the first five rows, there are penalties."
The coaches refer to it as Roll Call. Mora and strength coach Sal Alosi [the infamous ex-New York Jets employee behind "Tripgate"] came up with it. Violators are typically texted the night before. Be on the practice field at 5 a.m. First infraction, the player pays. Second infraction, all the players at the violator's position pay. Third infraction, everyone on that side of the ball pays.
Hundley calls it The Green Mile. Players are required to bend down and push a 2x4 50 yards at a time. That equals more than 35 pushes of the board if you divide 50 yards into the 1,760 yards that equal a true Green Mile.
"Once you get that text, it's the only thing you can think of," Hundley said. "Your whole day goes in the trash."
Another indication that Jim Mora has landed.
The bowl game
By all rights, Hundley should have been yanked in the Holiday Bowl.
"I just watched the film of it yesterday," the quarterback admitted. "It just killed me to watch it."
That's saying something, because today Hundley is a film junkie. When he got here two years ago from Chandler, Ariz., Hundley didn't know a Cover-3 from a zone blitz. No one ever taught him. Maybe he didn't care to learn. One of Neuheisel's assistants had to sit him down and review.
Now at 6-feet-3 and 227 pounds, Hundley is what everyone wants.
"The category now for quarterbacks is that they execute the play that's called," Clarkson said. "They extend the play that's called. And when all hell breaks loose, they can create a play on the fly. He is that modern-day quarterback."
Hundley became the first Bruins quarterback to throw for 300-plus yards in three straight games. As a freshman, he set the school record for total offense (4,095). But no one was thinking of that last Dec. 27. That night in the Holiday Bowl, Baylor went up 35-7. Mora thought about removing his redshirt freshman quarterback at some point during the carnage to spare the kid's body and psyche. It's a good thing he didn't.
"I would never do that," Hundley said, "to your team, your teammates, your coaches. It's a respect level. No matter what you're going through, I don't care if you're losing 80-0 you've got to fight through it."
There is no heroic ending here. Baylor won 49-26. At the conclusion of a promising season, UCLA stunk. Hundley had to throw 50 times and was sacked twice. But he did hang in there, throwing two of his three touchdown passes in the fourth quarter.
"If I had tried to take him out," Mora said. "I probably would have gone out there and had to pull him off the field. We didn't want to give him an easy way out. If you put somebody else in there, you're done."
It was a start, a 9-5 start that everyone has been drilled to think wasn't good enough -- even though it was.
"I feel like I could be 100,000 times better than last year," Hundley said.
Before departing for that third workout of the day, the quarterback savored one thing one last time. It's not the Stairs or San Bernardino or the Green Mile or surviving Baylor. It's USC. In that game he accounted for three touchdowns. In that game, he saw people weeping with joy. In that game, he made everyone in Westwood feel 100,000 times better about themselves.
"Do what you need to do in this moment," Hundley recalled the first-time college head coach telling his first Bruins team, "and you'll remember this for the rest of your lives."