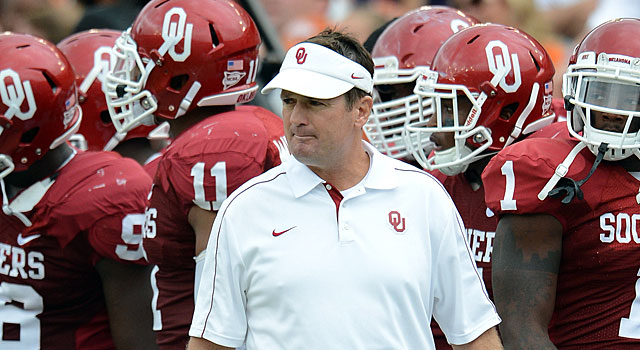 NORMAN, Okla. -- Turn that Seger up, Bob. You might hear Bob Seger's
Still The Same
thump out of the BMW that Bob Stoops drives into the Oklahoma Memorial Stadium lot for work.
The easy listening drowns out the mild grumbling from OU fans that he refuses to hear, an oblivion that would be hard to believe from a first-year coach but believable when the coach's office is bigger than a strip mall. Twelve years without a national title. People around here must be really bored, he figures. But back in 1999, Stoops made a promise with himself: He'd worry about what he thinks needs to be done.
No one will know the program better than him. He doesn't need that reminder anymore. He knows Oklahoma got a little soft at the end of last year. You think he doesn't already know that? So he turns the car volume up about eight levels -- one for each of his Big 12 championships.
"You think I'm driving around listening to [the criticism] -- there ain't no way," said Stoops in an interview with CBSSports.com. "I've got Bob Seger or Toby Keith on my deal. I've got two people that read my email before I ever read it. "That isn't my world. My world is doing what I do."
Here's the deal: Stoops isn't taking any real heat. A lukewarm bath might be unfamiliar to Stoops, the prodigious defensive coordinator out of Florida who took the right job at the right time and stomped right to a national title in 2000.
Joe Castiglione is one of a few athletic directors in the country who doesn't need 'the list' of potential replacements saved in his iPhone. He has a coach. That coach wins a bunch of games. But parts of 2012-13 served as a serious chin check for a team that usually does the checking. The Sooners defense ran into two top Big 12 offenses, plus Texas A&M, and simply was not equipped. The defensive scheme was heavy on the back end and the rushing defense suffered as a result. Those Gerald McCoy and Tommie Harris clones up front? Yeah, Oklahoma is still waiting on those. Former coach Barry Switzer even pointed this out publicly last year.
The 41-13 loss to A&M in the Cotton Bowl set the program back, defensive coordinator Mike Stoops said. "For whatever reason, we kind of lost a little bit of our edge," Mike Stoops said. "Our defensive personality hasn't been what it needs to be to win a championship the last 2-3 years." Bob Stoops, a well-known loyalist who rarely makes coaching changes, won't touch the subject of why three assistants from last year's team are gone. The simple assumption: Back-to-back three-loss seasons aren't celebrated in OU's Legends Lobby, even if last year produced a co-Big-12-championship with Kansas State.
Stoops understands that. And he's working on it. But he's not about to light flames on the empire he's built just to quell displeasure.
"Our people here are bored with winning the Big 12 championship," Stoops said. "But ask the other [nine] teams if they wouldn't like to have eight of them. I'm not complaining. I get it. I expect more. I want the national championship. In the years we don't, I don't like it either. Realistically, too, the other parts of it are pretty solid and good. Not many other people are doing it."
Now that's ball security.
"It's happened so much that [a Big 12 title] has become, in a way, mundane," he added. "I never look at it that way. I think that's absolutely wrong. ... Careful what you wish for sometimes." For a guy who says he has his emails read for him and drowns out the talk-radio noise with music, he seems at least mildly aware of what's said around him. Castiglione says, "people try to turn the speakers toward him quite often."
Stoops jokes when he blames timing, but there's probably some truth to that. Winning a national title in year two set a serious precedent. Had he steadily built toward a title in year seven or eight, he wonders if there'd be less restlessness in Norman.
After winning the title with Florida in 1996 and appearing in two title games in his first five years as a head coach, he started to believe it would be easy.
Then Switzer tripped him up at a Christmas party at Toby Keith's house years back.
"I was shocked in 2003 when it didn't happen," Stoops said. "Barry said, 'you young [expletive], you think you can win every one of them.' At the time I had."
That changed. And Stoops is making changes because of it. Mike Stoops said change can be difficult for the family from Youngstown, Ohio, because "we're as loyal as loyal can be."
For most of Stoops' 14 years in Norman, he hasn't had to change much. He has been with the same athletic director and president his entire tenure. He hadn't fired an assistant before secondary coach Willie Martinez's departure last January. Well, careful with the word firing around Stoops. According to Mike, he probably prefers 'mutual agreement to part ways' if something isn't working.
"He's very sensitive about that," Mike said.
Losing Brent Venables to Clemson a year ago was a big deal for OU, Mike said, because Venables provided continuity for the head coach and players. Mike, who took over last offseason, admits the job is still a bit uncomfortable because he and Venables always thought alike when it came to football. He's gone now.
Bob worked hard to cultivate a winning environment on and off the field that wouldn't be penetrated.
"He likes to keep camaraderie and keep families close to him and in a close-knit environment because it's very pressurized out there," Mike said.
Now Mike and Bob are retooling of the defense together, keeping the traditional 4-3 scheme with some 3-4 formations available when necessary. Turns out these two former defensive backs learned they overstuffed their backfield last season.
The Sooners had one less guy in the box about 80 percent of the time as a way to combat pass-happy Big 12 offenses, Mike said. This worked for a while, but eventually the good offenses took advantage. OU didn't play the league's best until late in the season, causing a false sense of security, Mike said.
The Sooners finished ninth in the Big 12 with 193 rushing yards allowed per game, including a say-what 326 yards in the Cotton Bowl loss to Texas A&M.
Oklahoma was a respectable fourth in the league in total defense and second in pass defense, but make no mistake: Stoops' next great challenge is taking a shoulder to the proliferation of no-huddle offenses, or at least trying.
The Sooners are recruiting quicker defensive linemen for the cause -- think 240-pound defensive ends that rush the passer, contain scramblers and get downfield in a hurry.
Out is defensive tackles coach Jackie Shipp, in his former Michigan defensive line coach Jerry Montgomery. The Sooners also let go of offensive tackles/tight ends coach Bruce Kittle and offensive line coach James Patton.
The no-huddle, the read option -- they aren't going anywhere, and disguising a few defensive looks "ain't going to do it," Stoops said. "You need quicker everybody. Quicker, but still have to be physical. They are very methodical with what they are doing. It's tough to defend. Ask everyone to play A&M with a freshman quarterback that'd never played before. Those (Southeastern Conference) defenses didn't seem to beat him up too much."
Oh yeah, Oklahoma needs a quarterback -- it's between Blake Bell, Kendal Thompson and Trevor Knight -- but Stoops isn't rushing a decision. As he points out, Oklahoma has had success molding young signal-callers. Excuse Stoops if he's reflective and proud. He has spent nearly a third of his life at OU, and he might go for another.
Other schools have called. Some he considered more than others, he said. Mike guesses Florida would have been the only real contender. But Bob's still in Norman, sipping a sport drink after a workout, pointing to a newly built $80 million dorm facility for underclassmen athletes. When he's not talking or coaching football, he's railing against pay-for-play and leaving his chest open to Twitter dissection.
These days, he doesn't seem worried about mincing words. Maybe that's what Oklahoma needs.
"We're coming off 32 wins in the last three years," Stoops said. "But I want more. Expect more. Working for more."