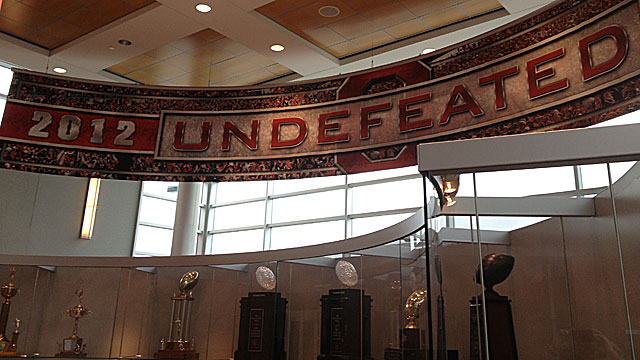 CINCINNATI, Ohio -- You can't turn a corner inside Ohio State's Wexner Football Complex without being visually assaulted by the obvious: The Buckeyes were 12-0 last season.
You may have heard. Now you can't help but see:
•  A giant "Undefeated 12-0" banner in the lobby populated with the scores of all the 2012 games.
More on Ohio State
Related links
More college football coverage
• Huge jewel-encrusted "12-0" rings commissioned by Urban Meyer, bigger than Alabama's for winning the national championship.
• A ginormous 12-0 plaque on a wall of the indoor practice field wedged between those honoring past national champions.
Twelve-and-oh, you might recall, with no place to go.
When the Buckeyes were handed a bowl ban 22 days after Meyer took the job his first thoughts were: "We're going to lose our seniors. Our recruiting was gone. I'm going to start my career 4-8 and then you can't crawl out that hole."
The implications were -- like the rings, banners and plaques that came later -- huge. Ohio State in 2012 turned out to be one of the best teams you'll never see win a national championship. The resulting undefeated season left holes in the schedule -- no bowl game -– and in Buckeye hearts.
"We'd have won, 100 percent," former tight end Jake Stoneburner said of a possible national championship matchup with Notre Dame. "I think if we played Alabama we would have won. Something about last year, we weren't going to lose." That's what everyone associated with Saturday's spring game here at Paul Brown Stadium would like to believe. Urban Meyer is big on visuals, which means the visuals have to be big. He's calling this season "The Chase."
Sounds like a Fox reality show. In reality, the words are hanging on another giant banner, this one at one end of the indoor facility.
The rings, still to be distributed, need their own zip code.
"I don't know how often I'll be wearing it," said Stoneburner, only hinting at the bling's gaudiness.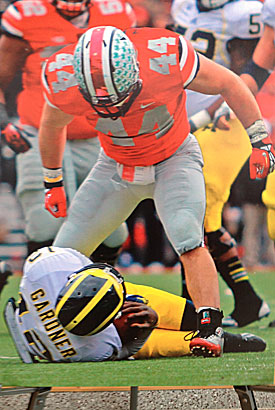 The swag is legit after watching Saturday's spring game at Paul Brown Stadium. The Buckeyes figure to start the season ranked in the top five, armed with the nation's longest winning streak (12). There is the usual smashmouth mentality that comes with getting within 30 yards of having two 1,000-yard rushers (Carlos Hyde, 970 yards). Thousand-yard rusher, quarterback and Heisman candidate Braxton Miller has the hair -- a blonde stripe dyed down the middle of his scalp -- to match his game.
Which is to say quirky, wild and outlandish. Depending on which Saturday it is, those can be good things.
Cornerback Bradley Roby has his heart set on the Thorpe Award (nation's best defensive back) -- at least.
"I believe I can win it," Roby said of the Heisman.
Meyer has both players in a weekly leadership class that is filled with visuals. As two of the 19 players gathered Thursday in a Wexner conference room, they weren't bad guys, they just weren't complete leaders.
"Our leadership is very poor," Meyer said. "Instead of whining about it and bitching about it, we're going to do something about it."
The urgency for Meyer is palpable. The man has either forgotten he is undefeated or he has realized how hard it will be to repeat that feat -- ever. Meyer has two national championships but his only undefeated season came nine years ago at Utah. Mighty Ohio State has only six undefeated seasons in its 123-year history.
"You get two years," Meyer said of the lifespan of the modern coach, "and if it ain't going good, you're out."
It's going good for Meyer right now. Real good. The man's famous drive is evident. He doesn't want to slip, even for a second. Sure, the 12-0 reminders are a salute to the seniors who sacrificed so much. But they're also a reminder for recruits that last season was a reasonable facsimile of what is to come.
So for 30 minutes on Thursday, those 19 players were shown inspiring videos featuring Kobe Bryant, Dwayne Wade, Steve Young, Bill Belichick and JP Morgan Chase CEO Jamie Dimon. The ultimate visual, though, was the man in the back of room.
Asked to speak to the players, former Buckeye receiver Joey Galloway told a 13-year old practice story. For the only time in his 16-year pro career Galloway was "jammed" off the line, had a hand stuck in his chest by a defensive back while with the Dallas Cowboys.
"I fall on my butt," said Galloway, recounting the story later. "I told the coaches, 'We're going again.' I killed [the defender]. I told him, 'I plan to decapitate you. I'm going to take your head off.' "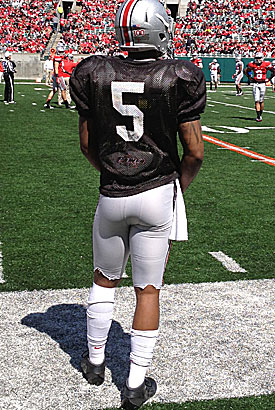 That, from a 5-foot-11, 197-pound receiver. The implication: If Galloway can lead from his position, why can't the likes of Miller -- Big Ten Offensive Player of the Year -- be so much better?
"I think he lacked the preparation skills necessary to be an elite quarterback in the country," offensive coordinator Tom Herman said bluntly. "It was my fault as a coach. It was his fault as a kid. I didn't teach him well enough to how to prepare. You've got to teach him how to learn."
Miller knows it, admits it. It's just a process to fix it. As a freshman two years ago, he was subdued in the huddle. As a sophomore in 2012, he led an undefeated team, completed 58 percent of his passes and ...
"It seemed like he wasn't reading his progressions," Stoneburner said, "wasn't comfortable throwing it."
That's the dichotomy. After throwing for 2,000 yards, running for 1,200 it's hard to criticize the kid. Yet they do. Herman called him a four on a scale of 10 at the end of last year, a six right now with the possibility of becoming an 11.
But programs, cultures and civilizations have crumbled on unrealized potential. Roby may have nailed it when he called last season a movie trailer.
"It was," he said, "a sneak preview."
It may be, then, that Miller is finding his game at the right time. This year the games "count".
"If we can figure that out," said Meyer after watching the Miller-led Scarlet team thrive in a 31-14 win over the Gray, "I would be disappointed if we're not the best offense in the Big Ten."
In Saturday's spring game, the best news was that the quarterback didn't regress. In a vanilla offense against a vanilla defense -- hey, Michigan is always watching -- Miller was set up for success completing 16 of 25 for 217 yards and two touchdowns. Some of the Gray's seven touch "sacks" -- Miller wasn't allowed to be tackled -- were easy to dismiss in the mid-April sunshine.
Miller's feet remain his biggest asset, which can make him both brilliant and troubling to his coaches.
"It's like being Albert Einstein," Herman said. "You think he did his homework? No, he just showed up and took his tests. He didn't study. To smell the rare air, you've got to prepare like those elite, elite guys.
"I think Braxton had a minimal understanding of the concepts of the plays but never understood the why. He relied on athleticism rather than preparation."
Herman and Meyer had to be secretly thrilled earlier this month when defensive end Noah Spence hit Miller in practice. The quarterback, wearing the black no-tackle jersey, was furious at least for a second. He stayed on the ground briefly, then popped up and approached the sideline to admonish Spence and the defense.
"Be careful next time, man," Miller said. "You don't want to hurt anyone out there."
"The rest of the day, he was just furious," offensive tackle Jack Mewhort said. "He didn't just let it go."
"It's good," linebacker Ryan Shazier said, "to have fight in your quarterback."
Miller can be great(er). Meyer went entire games without speaking to Florida's Chris Leak.
"He had a similar problem [to Miller]. Chris Leak was not a good leader," Meyer said. "I didn't say bad kid, but he wouldn't say a word."
In 2006, Leak came out of his shell -- backed up by one Tim Tebow -- and won a national championship. Tebow, also a dual-threat QB of some note, ended his career No. 2 all-time in pass efficiency.
"I've been so lucky," Meyer said, "The quarterbacks I've had have been absolute monsters."
His latest?
"The problem is, he breaks down fundamentally," Meyer said of Miller. "He's had a couple of great days where you can see glimpses of what could happen. If it comes together, watch out."
Actually, if it comes together for Ohio State, there may be a knock on the SEC's door regarding that dynasty thing. All those jokes you hear (from SEC land) about Big Ten speed? Sophomore end Adolphus Washington had four sacks Saturday coming off the edge. Fifth-year senior Chris Fields (four catches, 29 yards and a touchdown) clinched a starting spot. Roby did not play but runs a 4.26 40 and rejected a second-round NFL Draft projection to return after that movie trailer season.
"I feel like we do deserve a ring," he said. "We won every game. What are you supposed to do?" Back to those visuals. Going into Game 5 last season, Meyer sensed a malaise. His team was 4-0 but he said the team was still questioning the new staff.
"It was a panic button," he said.
In times of stress, Meyer retreats to strength coach Mickey Marotti's black couch to brainstorm. This time he came up with the idea of a toast at the pregame meal prior to the Michigan State game on Sept. 29. A toast where Meyer asked players to "rip your chest open. Hand us your heart. Let us coach you."
"I ain't going to lie," Roby said. "First I'm like, 'What is this dude talking about? I just want to eat, go back to the hotel, chill out.' But it was a serious conversation. 'If you're all in and really believe in what we're saying, toast with me.' "
So they did, at 11:22 a.m. that day -- a time the coach and his players have burned into their memories. Meyer has one of the glasses on a shelf in his office. A reproduction of a glass is painted into the corner of one of the giant murals in the football facility.
Something changed that day. Sure it was only September and it's hard to credit a toast with a one-point win on the road. But it's also hard not to.
"I remember throwing that touchdown pass to Devin Smith," Miller said.
That would be the eventual game-winning score in a 17-16 win. Seven months later, Ohio State is once again eligible to play for a national championship. Is Miller ready to lead them?
"They want a vocal leader and that's what I'm becoming this year," he said. "Coach sees something in me that I don't see in myself."
Something ... big.