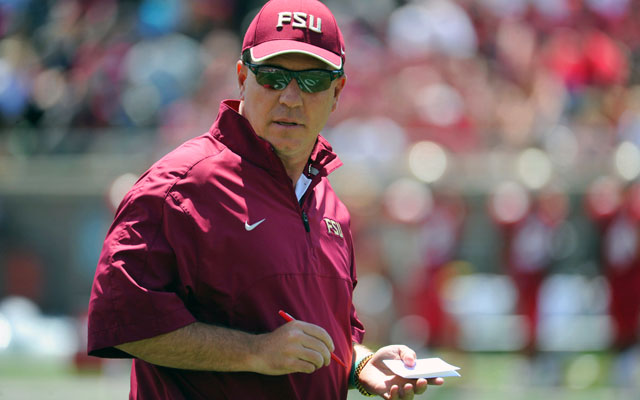 TALLAHASSEE, Fla. -- The 2012 Florida State football team:
• Won 12 games, tying a school record held by the Seminole teams of 1993 and 1999, which both won national championships;
• Won the ACC Championship, its first since 2005;
More on Florida State
Related links
More college football coverage
• Will have four players (Bjoern Werner, Xavier Rhodes, Melenik Watson, EJ Manuel) in New York for next week's NFL Draft;
• Averaged 7.01 yards per play, third nationally behind Georgia (7.09) and Texas A&M (7.08);
• Was No. 2 nationally in total defense (254.14 ypg) behind Alabama, the BCS national champions;
• Went to the Orange Bowl, its first BCS game in seven years, and won it.
Still, there is a sense here that the season was a disappointment and, given the talent and the schedule, the Seminoles underachieved in 2012.
"Yep, I've heard that," quarterback Clint Trickett said. "Some people were not happy [with last season]. You're not going to make everyone happy unless you win the big one.
"But for a team that had not won an ACC championship in a long time it was a big step."
Incremental steps to success never have been a popular concept for Florida State fans, who got used to being in the national championship discussion on an annual basis under Bobby Bowden. And when fans looked at the 2012 schedule, made considerably easier when West Virginia bailed and was replaced by Savannah State, and with Florida at home, winning them all seemed like a real possibility.
But that Florida State team was removed from the national championship discussion by two particularly galling losses:
• On Oct. 6 Florida State was in control of a game at North Carolina State with a 16-0 lead. But the Seminoles' offense went flat and N.C. State quarterback Mike Glennon got hot in the fourth quarter. The Wolfpack blocked a punt and put themselves in position to win and Glennon made three fourth-down completions, the final one with 16 seconds left to give N.C. State a 17-16 victory.
• On Nov. 24 Florida State knew it could possibly get in the big game with a win over No. 4 Florida in Tallahassee. The Seminoles led the Gators 20-13 late in the third quarter. But Florida dominated the fourth quarter -- scoring 24 unanswered points in only nine minutes -- on the way to a 37-26 victory.
After those losses it was hard to get the fan base back up for an ACC championship game over a 6-6 Georgia Tech team. Even the Orange Bowl was a bit of a letdown because the opponent was Northern Illinois of the MAC. Northern Illinois certainly had earned the right to be there but the 31-10 victory rang a little hollow for Florida State fans who, last summer, thought the Seminoles would be playing for a national title.
"The reality is that we had two bad halves of football," said Jimbo Fisher, set to begin his fourth season in Tallahassee. "But the reality is also that nobody here had won anything. Our guys had not played in a meaningful game with some kind of championship on the line. We are learning what it is like to be back in the limelight."
This Florida State team is going to have to move forward without several key components.
The most important of these is EJ Manuel (3,397 passing yards), who was the perfect quarterback to run Fisher's system.
"Losing EJ is big," offensive tackle Cam Erving said. "He made me feel comfortable. He calmed me down and had faith in me."
Trickett said: "EJ became a great leader for us. He was much more vocal. I am trying to jump into that role."
Trickett, the son of offensive line coach Rick Trickett who threw 34 passes for 272 yards as a backup last season, played in nine games in 2011. Against Clemson that season, starting his first career game for an injured Manuel, he threw for 336 yards and three touchdowns in a 35-30 loss.
"Clint knows the offense and he is doing well," said Fisher. "He's proven what he can do. Our guys have confidence in him."
But on the horizon is the man many people believe is the next EJ Manuel. Redshirt freshman Jameis Winston is a dual-sport star out of Hueytown, Ala. This spring he has been practicing football while also playing on Florida State's baseball team. Fisher insists Winston has not missed any meaningful practice and in Saturday's spring game it showed: On his first pass Winston threw a 58-yard touchdown to David Tyrell. Playing against the first-team defense, Winston completed 12 of 15 passes for 205 yards and two touchdowns. In five possessions against the first-team defense, Winston led the Florida State offense to three touchdowns.
"Jameis is really talented and mentally he gets it," said Fisher.
So the quarterback competition will be continued this summer. Sophomore Jacob Coker also will be in the mix. Fisher likes to pick one guy and stick with him. But Trickett's experience and Wilson's obvious skill set may force Fisher to use two quarterbacks.
The other issue for Florida State is incorporating seven new assistant coaches.
Defensive coordinator Mark Stoops left to become the head coach at Kentucky. Offensive coordinator James Coley went to Miami. Eddie Gran, the running backs coach and one of Florida State's best recruiters, left to join Tommy Tuberville at Cincinnati. Fisher responded by going back to his Alabama roots, hiring former Crimson Tide assistants Jeremy Pruitt as his defensive coordinator and Sal Sunseri as his defensive ends coach. He also hired Randy Sanders, a former offensive coordinator at Tennessee and Kentucky, as his running backs coach.
As good as Stoops was as the defensive coordinator, Fisher looks forward to having an element of Nick Saban's aggressive defensive structure in his program. Florida State was minus-6 in turnover margin (21 gained, 27 lost) last season. Those numbers need to change.
"It is the nature of the business that guys are going to leave for different opportunities," Fisher said. "We feel really good about the new coaches we have. Every new person you hire brings something different to the table. It makes you better."
Again, the schedule for Florida State looks very manageable with non-conference games against Nevada, Bethune-Cookman, Idaho, and Florida (at Gainesville). The Oct. 19 showdown at Clemson probably decides the ACC Atlantic.
Fisher is confident because the Seminoles have recruited well the past four seasons.
"We feel we have gone from being a good team to a good program," Fisher said. "We lose some great players, but we have guys who are ready to take their place. Our older guys teach the younger guys how to work and how we do things. Last year we were close. We knocked on the door. If you knock on the door every year you will eventually get through."
Tony Barnhart is in his fifth season as a contributor to CBSSports.com. He is a college football analyst for CBS Sports and The CBS Sports Network. He is the host of The Tony Barnhart Show on the CBS Sports Network. Prior to joining CBS he was the national college football writer for the Atlanta Journal-Constitution for 24 years. He has written five books on college football.