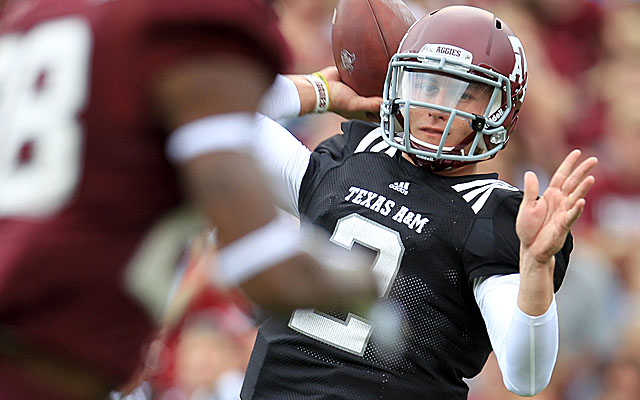 Johnny Manziel is telling a story. After the past few months, he has a lot of good stories. Anyway, he's at a Drake concert. Manziel loves Drake's music. A few weeks ago, the Texas A&M quarterback was fired up to spend time with the Canadian hip-hop star in Toronto. Manziel says this was the coolest thing he's experienced since winning the Heisman. And Lord knows there has been a bunch of cool stuff.
"He accepted me just like anybody else, as if we'd been friends forever," Manziel said of 26-year-old Grammy winner. "He gave me his advice on stuff and about how crazy things get and how he escapes from it. It was unreal."
But this story is actually about the other Drake concert Manziel attended. The one he went to in Austin about a year ago. The one where he sat up in the nosebleeds. At one point that night Manziel recalls spotting Texas basketball player Myck Kabongo sitting much closer to the stage. "I saw one of Drake's boys -- who I know now -- walked by [Kabongo] and said something to him," Manziel said. "I'm sitting there and I yelled to him, 'Hey, I know you from Twitter!' To tell them about that now, it was pretty funny."
More on Texas A&M
Analysis

Related links
More college football coverage
Funny and surreal.
Manziel uses "surreal" a lot to describe the past year as the 20-year-old Aggie has attained rock-star status unlike anything we've seen in college football. Sure, there have been celebrated college athletes before, ranging from Doug Flutie to Herschel Walker to Tim Tebow, but none of those guys seemed to live up a jet-set life of high-profile appearances, A-list pals and late-night parties as Johnny Football has. He is a cross between a Dan Jenkins character and Vinny Chase. Manziel is making the Dos Equis guy -- the Most Interesting Man in the World -- look like a wallflower. Beyond that, Manziel's world is playing out in real time thanks to the unprecedented levels of accessibility on Twitter.
Manziel's use of the social media site made headlines last month when he told an ESPN reporter he was leaving Twitter. Turns out, the Twitter departure lasted about two weeks. The fact that the soon-to-be sophomore quarterback's decision to step away from Twitter made news tells you where we are in today's sports culture. It also speaks to how much intrigue surrounds a guy who few outside of diehard A&M fans had heard of a year ago at this time. Manziel now has over 336,000 tweeps -- more than 10 times what he had on the morning of the A&M-Alabama game in mid-November, right before he led the Aggies to a stunning upset of the No. 1-ranked Crimson Tide. Privately, Manziel had talked to his friends about "slaying the dragon" that week. The "dragon" was Bama, but now there is a new dragon for him to hunt, he says, and it's the skepticism over whether he and A&M are for real or just a one-year wonder.
The former three-star recruit thrives off the doubters -- those who said he was too small or too short or not a real quarterback. Now after his spectacular debut season, they are saying he's too wild. Manziel has become a high-wire act of sorts because of dramatically increased visibility and scrutiny, and because of the access he's now afforded. He is a guy still not 21, but has the juice to do things most people can only dream of. A-listers post pictures on Instagram after hanging with him. These things raise eyebrows since Manziel has also not been shy about the places he's traveled and the people he's met. His rise to stardom comes in an era when the default mindset around college sports is suspicion about NCAA rules violations for dinners or road trips or tickets to NBA or NFL games.
Manziel, it should be noted, comes from a very wealthy family with deep roots in the oil business and real estate. He drove a Mercedes in high school long before anyone outside of Kerrville, Texas (population: 23,000) imagined he'd become a college football star.
By all accounts, A&M's compliance staff has been busy trying to keep up.
"They keep sending me questionnaires like 'How did I go to the Spurs game?' Even though I've been going to Spurs games since I moved to Kerrville when I in the seventh grade," Manziel said. "A good family friend who we've known since before I ever thought of playing college football has a suite there. We're going to go to the suite and we're just gonna watch the game. I know Tony Parker on a personal level and if I go down to say hello, I'm not doing anything wrong.
"They keep sending me questionnaires asking me who's funding the trip? Who's doing this? Every time I respond back 'ME, ME and ME' in capital letters. Hey, I don't mean to sound rude, but this is stuff I've always done, and I know you're just doing your job, but it gets to you every now and again."
The real tricky part for the quarterback is managing what fame can do to someone. Blue-chip recruits can become prima donnas after having famous college coaches woo them for months, telling them how great they are. Plus, those kids often get an even more sugary pitch online from the fan bases of any school they're considering. Stuff like that usually will inflate a person's self-worth and mess with his head, which is why college coaches now lament having to "de-recruit" some of their top signees.
With Manziel, multiply that wave of adulation by about a million.
Actually, multiply it by 37 million. That's the number of dollars Texas A&M said the school got in media exposure from Manziel's Heisman season.
Last week the school's assistant vice president of business development announced A&M had a 53 percent year-over-year increase in merchandising and other related royalties for the first quarter of 2013. To say the Aggie brand is booming would be an understatement. In the works is a $480 million expansion of Kyle Field set to begin after this season and would increase the current stadium capacity of around 83,000 by 15,000 to 20,000. Last Saturday, the Aggies set a school attendance record with over 45,000 for their spring game. That was three times the fans that showed up in 2012. Texas A&M merchandise bearing the SEC logo generated over $100,000 in royalties over the past 12 months. The most a Big 12 branded product ever sold in a year only produced $4,500 as a comparison, according to Texas A&M.
From an anecdotal standpoint, Manziel couldn't help but notice the surge in his school's popularity when he and his best friend attended a Texas Rangers game this month after being invited to throw out the first pitch.
"It is surreal," Manziel said. "We were looking around the crowd [and] seeing A&M and A&M and A&M and No. 2 jerseys and it was maroon, maroon, maroon everywhere. It just absolutely blows my mind how big that one season was and what it has done for us.
"I'm happy for the university and I'm proud to be a part of all this and having the spring game and the only spring game that is on ESPN. That is awesome for us."
Of course, with more fame comes more cynics. Manziel's Twitter mentions are littered with them.
"Twitter doesn't necessarily drive me as much as some experts or guys that come out and say some stuff like [last season] was a fluke," he said. "That motivates me more than some Joe Schmoe saying something at me on Twitter.
"It was good for a time to get off Twitter, slow things down, just take a lot of the heat off, but I still have to be a normal kid. Every other kid in college is out there on Twitter and not getting ridiculed. I understand to not reply to the [haters]. I'm OK with that. But just be able to live a normal life and be able to do things. I am still adjusting to that."
Part of that adjustment is for the mercurial QB not to react too fast away from the field, especially when there are many out there baiting him, hoping to prompt a slip-up.
"I haven't handled it the right way always," he said. "I've handled it the wrong way for sure."
He references his well-publicized arrest last summer for a late-night scuffle as an example he's learned from.
"After that happened, look at what that caused and look at what that brought to the table in my life. That was unneeded. There's been some unneeded things that I've placed on my plate that should've never been there. Avoiding those things now is my main focus. It's about making sure you don't get those unnecessary things in your life."
Still, as many of those closest to him are aware, there can be a fine line to navigate between doing what is prudent and following your instincts. In truth, it's a similar dynamic to the one Manziel is facing on the field as he approaches his second season as the Aggies quarterback.
• • •
So exactly how do you coach a guy who became a rock star after his freshman year and might as well be called Johnny Franchise?
Kevin Sumlin laughed at the question, since it's actually about a 12-pronged question. He's coached other great players in college -- Drew Brees and Adrian Peterson among them. Sumlin's reputation for dealing with people is as good as any coach working in football, especially in the ability to connect with such a wide spectrum of folks.
"The conversations, a lot of times, are on a non-football level," he said of his interactions with Manziel. "The conversations are about a lot of other things and how to handle them. Everyone has an idea about how they'd handle it, but until you're in their shoes, you really don't know.
"I don't know that 'keeping it in check' is the right way to put it. In a lot of ways, if he hadn't won the Heisman, he'd still be going to games and to concerts and trying to meet LeBron. But now those guys want to meet him too. And that's changed his life."
In January, Sumlin and Texas A&M athletic director Eric Hyman met with Manziel and his parents to help them deal with his growing stardom in the wake of his Heisman win, talking to them about how they're going to be approached by so many people coming at them with both good and bad intentions. Life didn't change just for Johnny Football, but for everyone close to him as well.
"Johnny really likes to play football, though," Sumlin continued. "He'd have stayed in and played the whole [spring] game if we'd have let him Saturday. So what's the next challenge? Really great players deep down inside are not motivated by the fame or the money. They're just striving to be the best, and he has that in him. What's the next big thing? Playing at the next level. He really wants to play football and he wants to improve."
As great as Manziel was in 2012 -- he became the first freshman to win the Heisman Trophy and accounted for 51 touchdowns and over 5,100 yards of offense, an SEC record -- there is a lot of refinement his coaches want to see from the young quarterback. A big emphasis under new A&M QB coach and co-offensive coordinator Jake Spavital has been improving Manziel's footwork and honing the timing of each route concept so he's sharper with his reads. But no one in College Station wants Manziel to get too bogged down where he gets away from the things that make him so unique. Last season, he gained over 1,400 yards rushing and in nine of the Aggies' 13 games, he had a run of over 30 yards.
Former A&M offensive coordinator Kliff Kingsbury referred to Manziel's knack for making plays once things break down as "freak mode." A&M coaches, though, would prefer Manziel not resort to freak mode now as quickly as he did in 2012.
Even though you can never read too much into spring football games, Johnny 2.0 looked sharp Saturday, connecting on 24 of 30 passes for 303 yards while looking more at ease in the pocket. He's quick to say he wants to play more within the system this year, but yeah, that freewheeling freak mode is always going to be a part of his game.
Whether it's still going to be his bread and butter remains to be seen. "If you watched [the spring game] closely, there were times he wanted to take off but he reset his feet and went through his reads," Spavital said. "I think it's going be a lot easier on him if he gets to his third read and fourth read because it'll save hits on him and he'll get easier completions. And he'll get a feel for that.
"We want to get him to the point where he doesn't need to rely on his escapability until he really needs it."
Next month Manziel and his family will travel to Southern California for a vacation. They'll rent a house, play some golf and he will work with private quarterback coach George Whitfield. Last spring Manziel spent a week doing drills with Whitfield along with Virginia Tech QB Logan Thomas. Back then, Manziel wowed Whitfield with his competitiveness as he tried to measure up against the towering Hokie quarterback.
"It's more serious this time around," Manziel said. "It's almost personal with all the stuff that's kind of being tossed around about my arm strength and this and that. It's getting kind of personal to me and so we're going to get after it."
Manziel also said he'll take classes this summer at A&M. Oh, and there's one other thing he's hoping to fit in during the rest of the offseason.
"I want to go to a Champions League soccer game in London, England. Soccer has grown on me ever since [the video game] FIFA came out. I think that'll be the coolest thing ever."
After the past year, that's really saying something.