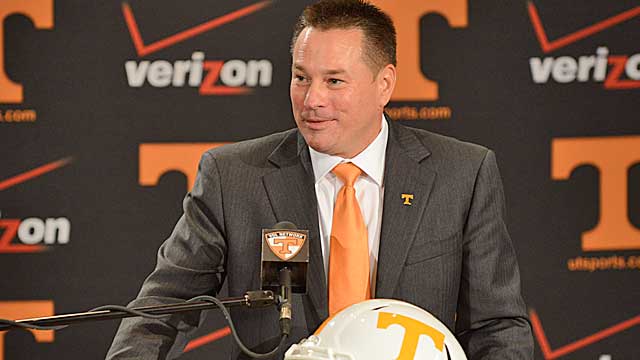 KNOXVILLE, Tenn. -- Ja'Wuan James came to Tennessee in 2010 as one of the most highly-recruited offensive linemen in the country. In his very first practice the coaches put James at right tackle and he has remained there for 37 consecutive starts. Needless to say, James has done his part to improve Tennessee football.
Never in his wildest dreams, or in his worst nightmares, did James imagine that his teams would be 16-21 (5-19 SEC) as his senior season approaches.
"It has been pretty tough," said the 6-6, 323-pound native of Suwanee, Ga. "This is not what I signed up for."
Senior running back Rajion Neal came to Tennessee in 2010, convinced that his freshman class would be the one that would return the Vols to the elite of college football.
Instead, as the spring practice of his final season draws to an end, Tennessee is starting over again with its fourth head coach since 2008.
"It [losing] takes a big toll on you both physically and mentally," Neal said. "When you put in this much work and you don't win, you just can't believe it is happening. You are always searching for an answer. It is an emotional roller coaster ride."
Linebacker A.J. Johnson has started 22 of his 24 games at Tennessee and a year ago was one of the few bright spots on the worst defense in the SEC (471.33 yards and 35.67 points per game).
"I hate to lose," said Johnson, who led the SEC in tackles with 138. "It takes a toll on you mentally more than physically when things are not falling into place."
"These kids have been through a lot," said Dave Hart, the Tennessee director of athletics. "There are times when you just need to put your arm around them and tell them it is going to be OK."
The crumbling of Tennessee's once-proud football program, which for so long was the definition of consistency, has been an ugly thing to watch. Only a handful of schools have a football tradition as rich as Tennessee's, and only seven teams in FBS history (Michigan, Texas, Notre Dame, Nebraska, Ohio State, Oklahoma, Alabama) have won more than Tennessee's 799 games.
The Volunteers were among the elite of college football for most of Phillip Fulmer's 17 seasons (1992-2008) as head coach. Fulmer, a tireless recruiter with a great attention to detail, took over for Johnny Majors and with rosters filled with future NFL talent went toe-to-toe with Steve Spurrier at Florida for almost a decade. In a four-year span from 1995 to 1998 Tennessee went 45-5 with two SEC championships, and one national championship.
Fulmer's 2001 team was ranked No. 2 and one win away from playing for the national title, but was upset by LSU in the SEC championship game. The Volunteers reached the SEC championship game again in 2004 but lost to Auburn, which finished 13-0. The Volunteers reached the SEC title game again in 2007 and lost a heartbreaker to LSU, 21-14. LSU went on the win the BCS national championship.
In Fulmer's first 16 years as coach, the Volunteers won nine or more games 11 times. Attendance was among the best in college football with an average of 105,000 or better from 1996 to 2006.
But when Tennessee went 5-7 in 2008, the powers that be decided that Fulmer had lost his grip on the program. They didn't believe that Fulmer, who had invested most of his adult life at Tennessee as a player, assistant coach and head coach, could turn things around and compete again in a new SEC where Nick Saban and Urban Meyer would be the standard bearers and dominant personalities.
So Tennessee gave up stability in search of something new and exciting. Volunteer football has been a train wreck ever since.
There has never been a coach more out of place, more ill-suited to his surroundings, than Lane Kiffin in his one season (2009) at Tennessee. A former assistant to Pete Carroll at USC, Kiffin wanted to bring a more hip, West Coast mentality to Rocky Top. It was never going to work. When Carroll bolted for the NFL, Kiffin quickly left town to become the head coach at USC and left a mess for the next coach.
Derek Dooley's three years at Tennessee were marked by inconsistent play and a run of bad luck too bizarre to be believed. Tennessee's fan base respected Dooley, the law school graduate and son of Hall of Fame coach Vince Dooley, but never embraced him. Tennessee's attendance "dropped" to an average of 89,965, only 87.1 percent of capacity. After back-to-back 1-7 finishes in SEC play, Hart had no choice. Tennessee would have to start over yet again.
With Nick Saban sitting in Tuscaloosa and about to win his third national championship in four seasons, a large part of Tennessee's fan base wanted a rock star. They wanted a strong personality who could look Saban in the eye and (maybe) make him blink. They wanted ESPN's Jon Gruden.
It was never going to happen.
Charlie Strong, whose Louisville team went 11-2 last season, wanted the job, was offered the job, and ultimately took the job. Strong changed his mind and reminded us again why Louisville's Tom Jurich is one of the best athletic director in the country.
But in Lyle Allen "Butch" Jones it appears that Tennessee has not only found the coach it wants, but also the coach it needs. He is a proven winner by finishing first in his conference four times in six years as a head coach at Central Michigan and Cincinnati. He is both a disciplinarian and a counselor. During spring break Jones would call his players not to check up on them, but also to let them know he was thinking about them.
"Coach Jones pays attention to the little things," Neal said. "He and the rest of the staff basically started us from the bottom up so that we were learning the right things to do."
After going 5-19 in the SEC the past three seasons, Tennessee's players are willing to do anything to stop losing.
"The great thing about this group of guys is that they've embraced everything we've asked them to do," said offensive coordinator Mike Bajakian, who has been with Jones at both Central Michigan and Cincinnati. "We have changed their method of learning. They have a desire to get better and improve."
In the long term the prospects look good for Butch Jones and Tennessee. This spring Tennessee is putting the finishing touches on a 145,000 square foot training complex that that is among the best in college football.
Recruiting has gotten off to a good start and promises to finish well next February with several sons of former Volunteer players -- such as Neiko Creamer (Andre) and Todd Kelly, Jr., in the mix.
Tennessee's relationships with former players have not been the best over the past four years. Jones has put a lot of work into mending those fences and last week received the blessing of the school's reigning icon, Denver Broncos' quarterback Peyton Manning.
"The most inspiring thing is how excited he is to be here," Manning told reporters during a visit to Knoxville. "Those are the kind of people we want here at Tennessee -- the people who are all-in Tennessee Vol. I can tell he is that."
Jones said, "The great thing about Tennessee is that we already have tradition -- the best in college football. Now it is our job to embrace what we have and start to build on it."
But in the short term that building process looks like it will be a struggle for Tennessee. Quarterback Tyler Bray (3,612 yards passing) left early for the NFL. Also gone are receivers Cordarelle Patterson (46 catches), Justin Hunter (73 catches), Zach Rogers (32 catches), and tight end Mychal Rivera (29 catches).
The quarterback competition is between junior Justin Worley, who has played in nine games, and redshirt freshman Nathan Peterman, a player Jones and his staff recruited hard when they were at Cincinnati.
They will operate behind an offensive line that returns four of five starters. Neal and his running mate, Marlin Lane, combined for 1,366 yards (4.9 average) on what was primarily a passing team. Lane, however, has missed several practices this spring because of "disciplinary reasons."
The defense was just awful last season as Dooley hired Sal Sunseri away from Alabama and tried to install the 3-4. It was a brutal thing to watch.
"We thought we were learning the defense, but we would get in the game and have a bust," said Johnson. "We would get that corrected and then have another bust and a big play."
John Jancek, who was with Mark Richt at Georgia for five seasons, takes over the defense.
"A big part of what we have to do here is to build confidence," Jancek said. "We are doing that."
The schedule includes five teams that were ranked in the top 10 of the final AP Poll: Oregon, Florida, Georgia, South Carolina, and Alabama. There are back-to-back trips to Oregon and Florida on Sept. 14 and Sept. 21. The Vols play South Carolina at home and Alabama on the road in consecutive weeks (Oct. 19 and Oct. 26).
But the harsh reality is that success in the SEC always comes down to players. Tennessee simply doesn't have enough of them to challenge Georgia, Florida and South Carolina, three teams that all won 11 or more games last season in the SEC East. In fact, with state rival Vanderbilt coming off a nine-win season, expect Tennessee to be picked fifth or sixth in the SEC East during the preseason meetings in July.
For now, Butch Jones can sell enthusiasm and hope and sell them well. But in the SEC, hope can never take the place of a great defense and a sound running game.
Tony Barnhart is in his fifth season as a contributor to CBSSports.com. He is a college football analyst for CBS Sports and The CBS Sports Network. He is the host of The Tony Barnhart Show on the CBS Sports Network. Prior to joining CBS he was the national college football writer for the Atlanta Journal-Constitution for 24 years. He has written five books on college football.