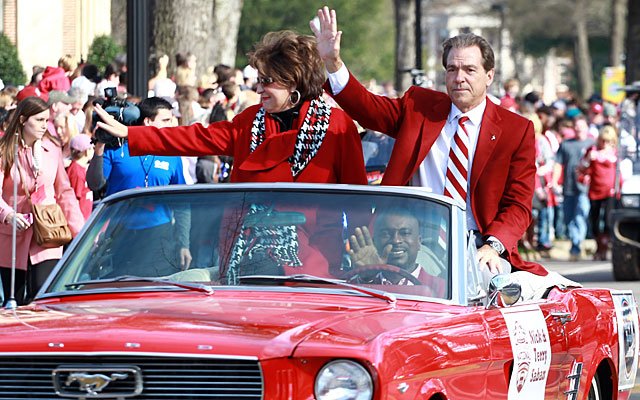 TUSCALOOSA, Ala. -- They actually catch their breath inside the Mal Moore Athletic Facility. Contrary to the bullet-train pace set here as Alabama continues to collect crystal footballs, stress does ease, anxiety dissipates. They do pause for a few of those 31,536,000 seconds per year.
It's called "Noon Ball," some pickup basketball that is a common activity in other programs. In this one it is a precious hour during which -- supposedly -- no prospect is recruited, no play is drawn, no film is reviewed and Alabama's choke hold on college football loosens just a bit.
Except that Nick Saban still has control.
More on Alabama
Related links
Video
More college football coverage
"The key to the drill," Bama's coach said, "is picking the best players, getting a not-so-good guy to guard me since I'm a little older than the rest of them."
Football sports information director Jeff Purinton admits to being that not-so-good guy. It's his Washington Generals moment, his slice of hardcore hardwood Zen when Noon Ball is in effect -- mostly after signing day and before spring practice.
Someday Purinton will tell his grandchildren he guarded a 61-year sub-6 footer with minimal range. And the stories will be glorious whether Saban catches Bear Bryant or not.
"No, not even slightly [surprised]," said Alabama law professor Gene Marsh, a Saban acquaintance, riffing on the program's three championships in four years. "He's so wired."
That's really where we are as Saban approaches his seventh Alabama spring game Saturday. The players and coaches all have the sport wired in some continuing, constant way. From the titles to recruiting to facilities to image ... Alabama indeed has college football wired.
Three recent examples:
• Everything in the game these days seems to be viewed through some sort of Crimson Tide filter.
"Alabama is ahead of all of us," Mack Brown said in February, "with the number of personnel they've hired, and that's something that everybody's looking very closely at." 
More than one coach has complained about all the "polo shirts" on the Crimson Tide sideline. When it came time to bolster his staff, though, Brown went out and hired Patrick Suddes as director of player personnel. Suddes was an associate director of football operations at ... Alabama.
It's possible that coaches aren't so much concerned about recent NCAA recruiting deregulations, it's what Saban could do with them.
• Airplane hangars all over the world are jealous. The Tide work out in a new 37,000 square-foot weight facility that goes beyond the description, "state of the art."
All for the low, low bargain price of $9 million.
• Saban recently visited the Yankees during spring training. Why not? Excellence abides.
"They've got more [championships] than we've got," the coach said.
Saban specifically asked 19-year veteran Mariano Rivera how he stays motivated, maintaining his "standard of excellence."
"You've got to get all that out of your head," Rivera responded, "and focus on the next pitch, the next out, win the game. That's all I think about. Nothing else matters."
Since 2009, Alabama has essentially been the team embodiment of Mariano Rivera. Think of the obstacles. The Tide lost crucial games the past two Novembers -- death to most national championship contenders -- and still won it all. Last year's repeat came after the defense lost six starters from the previous season. At tailback, Mark Ingram begat Trent Richardson who begat Eddie Lacy who begat T.J. Yeldon.
"Saban, what he's done, all the sudden, he put this place on the map from the standpoint of setting a culture," said David Morris, AJ McCarron's private quarterback coach. "You expect Alabama to contend every year.
"Growing up, it wasn't that way all the time. It wasn't a machine like it is now."
Morris, 33, lives in Mobile, Ala., and backed up Eli Manning at Ole Miss. His contact with Bama is limited to watching his work pay off each week as proprietor of QB Country. In a program where he is overshadowed by Saban and Bear and the running game and the defense, McCarron quietly finished last season as the nation's most efficient passer.
"When I get inside the white lines I'll be the first to tell you I don't lack confidence," he said.
Why should he? Life is grand. A significant Heisman chase seemingly looms ahead. As a rising fifth-year senior, McCarron's semester is academically populated only with classes on Tuesday and Thursday, 75 minutes each at 11 a.m.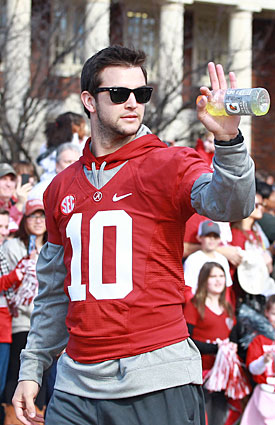 Strolling across campus he could be a ripe target for Bama's infamous cloying fans. But his mother -- DeeDee Bonner, the
one who gave him the AJ nickname without periods
-- reminded him, "When you get to my age people probably won't want your autograph and you'll miss it."
"I know," McCarron said of the fame, "it's not always promised."
It seems like prehistory back when we were debating whether Bama's quarterback was merely a "game manager."
McCarron, sensing the youth of his receivers last season, switched from the tradition of taking his offensive line out to eat to treating his wideouts last season.
"Outback is probably one of our favorite places," he said. "We'd get loaded cheese fries."
"My first year I took my O-line out because I needed to bond with them. I knew a lot of my receivers were younger so I had to spend time with them. We had to let our relationship grow throughout the year."
The strategy paid off with a career year -- 30 touchdowns, 291 passes between picks. Freshman Amari Cooper emerged as a 1,000-yard receiver on a team known for its pounding running game. The bonding with his wideouts couldn't have hurt when McCarron threw the game-winning 45-yard touchdown to Cooper with 3 minutes, 15 seconds left in the SEC Championship Game.
McCarron, though, prefers to focus on the second play of the BCS title game. Kevin Norwood caught a 29-yard play-action pass on a corner route to Bama's 48.
"Everybody came back to the huddle and said, 'All right, it's on,'" McCarron said.
It was, indeed, on. Alabama won by four touchdowns. Cheese fries for everyone.
It is a machine that could become the biggest and baddest ever. No team has ever won three consecutive wire-service (or BCS) national championships. Each Tide coach since Bryant has won 10 games at Alabama at least once, but there was precious little consistency until Saban arrived in 2007. That was after a middling stay in the NFL and being armed with a national championship won with a rival.
"Everybody thought he was going to be very successful," Morris said, "but this successful? I don't know."
It took Bud Wilkinson 17 years to win his three titles at Oklahoma. Saban has won four in his past eight college seasons. Last year Alabama became the third team to win three championships in four years since the wire-service era began in 1936, joining Notre Dame and Nebraska. The Huskers were better offensively during their run -- 44.2 points per game from 1994-97. Notre Dame was better defensively -- 12 shutouts in 38 games from 1946-49.
But Bama's recent accomplishments are still open-ended. The Tide will likely start 2013 No. 1 in some poll or another. The players know they didn't come here to play in Meineke Car Care bowls.
"That's one of the hardest things about playing here at Alabama," McCarron said. "The fans expect so much. At the same time, the coach says, 'We kind of created that beast.' I think it makes you play to a different standard than everybody else. You're not just trying to get to a bowl game."
"For me when I was holding that crystal ball [in January], that's what I was thinking about, 'First game,'" linebacker C.J. Mosley said. "If people look at that picture of me and say, 'He doesn't seem excited,' that's why. Knowing our [next] season started pretty fast."
Saban said the euphoria would last 24 hours. Strength coach Scott Cochran gave himself two weeks.
"This is so much fun," Cochran said immediately after the Notre Dame win. "How can you imagine being somewhere else in the world? There isn't a better place."
Not now. Marsh gushed over a recent visit by Saban to his sports law class. The subject was agents and lawyers. Saban went into extreme detail, wowed the class and stayed for about an hour.
"He was terrific," Marsh said, "prepared beyond belief."
Wired, you might say.
McCarron recently sat in Purinton's office, the last of three players to pass through for media interviews. Their combined ring count was a staggering 18. McCarron alone could out-bling the richest rappers. There is the possibility he could have more rings in his career than fingers to wear them on, 11.
If Bama makes it four out of five and three year in a row, McCarron will have earned four national championship rings, four for BCS bowls and three SEC title rings. It's a challenge for McCarron and the Bama ring committee to come up with a different look. For 2012: white gold and a design similar to the New York Giants' 2011 championship rings.
And, yet, the message still flows inside Mal Moore.
"Success is never finalized, it's a continuance," offensive lineman Cyrus Kouandjio said. "I wear [a ring] around for a week and throw it in a trophy case."
Besides, the monster tackle says, his fingers get jammed in practice, joints swell and, well, winning championships isn't necessarily made for wearing championship rings.
The coach and his power endure at Noon Ball. The floor -- just like the field in college football -- is tilted in his favor. That 61-year-old sub-6 footer with minimal range is in command. Saban can take Purinton on the court anytime he desires. He settles all the on-court disputes and calls all the fouls. This place is wired too.
Do you win, Saban is asked?
"Most of the time," he said.