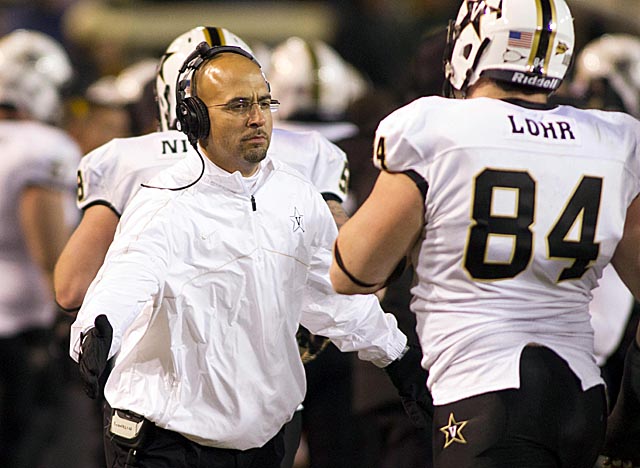 NASHVILLE, Tenn. -- You can look at a stat sheet and see that things have changed at Vanderbilt:
• In 2012 the Commodores won nine games for the first time since 1915, tying the school record for victories in a season.
• Vanderbilt closed the season with seven consecutive wins, the first time that has happened since 1948.
• Vanderbilt went 5-3 in SEC play, only the second time in school history the Commodores have won five conference games in a season.
• In 122 seasons of college football, Vanderbilt had never played in two straight bowl games. That changed last December when the Commodores beat NC State in the Music City Bowl.
But if you want to see the most tangible evidence it's a new day at Vanderbilt, take a peek through one of the huge glass windows in the revamped McGugin Center athletics complex. Across the way you will see Vanderbilt is building an indoor practice facility.
An indoor practice facility? At Vanderbilt? It is the kind of commitment to the sport many thought this school would never make. Vanderbilt wants to win like anybody else, but as a top-20 academic institution the university powers didn't want to appear too committed to winning in athletics. That was always considered a bit unseemly for Vanderbilt.
"Timing is everything," said Dr. David Williams, Vanderbilt's vice-chancellor and director of athletics. "It always helps if you have leverage."
That leverage has come in the form of James Franklin, the third-year head coach who arrived here in December 2010 and has refused to accept the premise that Vanderbilt, the smallest (6,727 undergraduate enrollment) and most academically prestigious school in the SEC, could consistently compete with the big boys in the best football conference in America.
In his first two seasons since coming from Maryland, where he was the assistant head coach, Franklin has won 15 games. No Vanderbilt coach since the great Dan McGugin (197 wins from 1904-34) had done that. In the process he has made believers not only of the Vanderbilt community, but his own players.
"Coach Franklin's first year we thought we could win," said wide receiver Jordan Matthews, who last season led the SEC in receiving (94 catches, 1,343 yards) and decided to come back for his senior season. "Last year we believed we could win. This year we know we can win."
Franklin has done it by refusing to accept the status quo, which had Vanderbilt destined to fall a distant third in its own city behind the Tennessee Titans of the NFL and the Tennessee Volunteers, Vanderbilt's biggest rival. For as long as anyone can remember, orange was the dominant color when Tennessee came to Vanderbilt Stadium. This year, however, Vanderbilt dominated Tennessee in Nashville 41-18, snapping a 14-game home losing streak to the Vols.
"Is it a challenge in our own city that there are 50,000 fans from another school? Sure it is," Franklin said. "They [Tennessee] have unbelievable tradition. But the fact is that we have not been afraid to market and brand our program. There's a coach and a staff that people know want to be respected and have as much pride as anybody."
Now, has Franklin ruffled a few feathers along the way? You bet. His first season he had a now infamous dust-up with Georgia defensive coordinator Todd Grantham on the field after a 33-28 loss to the Bulldogs in Nashville. The two men had to be separated by security and school officials.
When asked about it in the postgame news conference, Franklin did not back down.
"We're also going to fight and I want to makes sure everybody understands that," Franklin said. "We're not going to take stuff from anybody. Anybody. No one. Those days are long gone and they are never coming back. Never."
That was the sixth game of James Franklin's tenure at Vanderbilt. Since then the Vanderbilt players have been all in.
"We love Coach Franklin and we know he loves us," Matthews said. "These coaches have our backs. And we've got theirs."
Franklin may have won over his players, but winning over the faculty is an ongoing process.
"As hard as we are trying to educate our players, we also have to recruit and educate administrators on why we have to do this thing," Franklin said. "At Vanderbilt we have to wear a lot of hats. If I say, 'We need to do this,' I don't want to hear, 'Well, we can't do this.' Your job is not to tell me we can't do it. Now tell me how to do it within the Vanderbilt system. That is where we have made progress."
The indoor facility is the perfect example. Williams, who spent 14 years at Ohio State, proposed the facility be a part of an overall expansion of the student recreational center. It would give students a place to play intramurals when the weather was bad; it also would give the faculty an indoor track to use for jogging. Sold.
"At Vanderbilt some people had a real feeling that athletic success said something negative about academics," Williams said. "People have had to get over that. It is just not the case."
Since joining the SEC in 1933, Vanderbilt has always been able to sell a world-class education and the opportunity to play against the best competition in college football. But now that it is winning, Vanderbilt can sell a unique situation.
"There are only two schools in the country that finished in the top 20 in the polls (No. 20 in the coaches poll), had a top-20 recruiting class (No. 19 on Rivals.com), and has a top-20 ranking as an institution (No. 17 in U.S. News & World Report)," said Franklin. "That's us and Notre Dame."
Franklin also has used social media and other nontraditional methods to get the word out about Vanderbilt. Last summer he allowed cameras into the team meeting room when Franklin awarded walk-on Marc Panu a full scholarship.
The video has received over 400,000 hits on YouTube.
Earlier this year Vanderbilt posted video of the Commodores' 5 a.m. workout entitled Dores at Dawn.
With 14 starters returning (eight on offense, six on defense) there is real optimism Vanderbilt can go to its third straight bowl and perhaps make life uncomfortable for the top of the SEC East, where Georgia, South Carolina and Florida each won 11 games or more last season.
Vanderbilt lost a heartbreaker (17-13) to South Carolina in the opener. The Commodores got pounded by Georgia (48-13) and lost 31-17 to Florida. That is the next gap to be closed.
Vanderbilt opens the 2013 season at home with an SEC game against Ole Miss on Aug. 29.
On this April afternoon the excitement about that game fills the building.
"We can't wait. We wish we were playing Ole Miss tomorrow," quarterback Austyn Carta-Samuels said. "This team has a lot of confidence. This isn't the old Vanderbilt anymore."
Tony Barnhart is in his fifth season as a contributor to CBSSports.com. He is a college football analyst for CBS Sports and The CBS Sports Network. He is the host of The Tony Barnhart Show on the CBS Sports Network. Prior to joining CBS he was the national college football writer for the Atlanta Journal-Constitution for 24 years. He has written five books on college football.