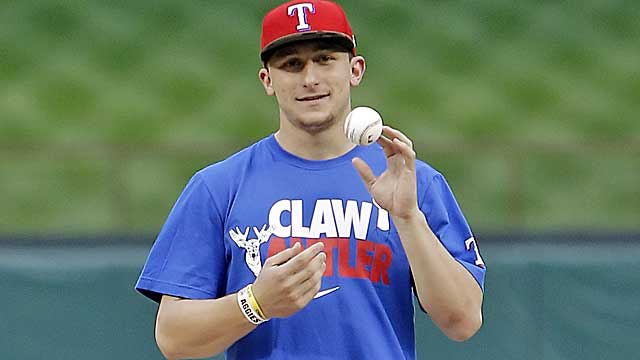 Johnny Manziel hasn't done anything wrong.
He has done some things differently. A lot of things. OK, a lot of things. But so what? We're all unique little snowflakes, no two alike. And Johnny Manziel is different from you, from me and most importantly -- to some folks -- from the Heisman Trophy winners who came before him.
But here's where I'll repeat myself, and while I haven't planned what I'm going to write -- I never do; it just comes out -- I suspect this phrase will repeat itself a few times:
Johnny Manziel hasn't done anything wrong.
So why are people so upset with him? Because he's having too much fun? That's what it is, isn't it -- Texas A&M quarterback Johnny Manziel is having too much fun, and people are mad at him for it. How dare you, Johnny Football, relish in your stardom and celebrity by dating a model and hanging out with Drake and getting your picture taken with LeBron.
How dare you.
How dare you be different, and not just in the way you act but who you are, where you came from. See, Manziel isn't like a lot of college athletes. Lots of them -- not all, but lots -- come from less fortunate backgrounds. Matt Leinart (Heisman winner, 2004) was overweight and cross-eyed as a child, and has said "kids are so cruel to the fat kid, to the kid with the glasses." Eddie George (1995) and Eric Crouch (2001) came from broken homes. Ernie Davis (1961) was raised by grandparents in a poor coal-mining town. Troy Smith (2006) spent years in foster care.
Johnny Manziel comes from a financially comfortable family, and was driving a Mercedes in high school. He went to Spurs games as a kid, where he would watch from a luxury box purchased by his buddy's family.
How dare you not know what it feels like to be poor, Johnny Manziel.
So we've turned on him, lots of us -- media and fans -- and it's only going to get worse. Manziel can't help himself, and neither can we. He has this Forrest Gump quality, showing up in the neatest places, like Rangers Ballpark in Arlington, where he threw the ceremonial first pitch on April 7. Or the Late Show with David Lettermen, where he won over actress Anne Hathaway, who said after he was gone, "How cute was he? Johnny Football is a star."
Well, sure. And he was on Letterman in December to read the Top 10. Topic? "Top 10 Perks of Winning the Heisman Trophy."
Not listed was a perk or two he got a week later, when he was a guest on the The Tonight Show with Jay Leno. Another guest? Megan Fox.
Megan Fox? How dare you, Johnny Manziel.
He hasn't done anything wrong, though the latest blip on the Manziel radar isn't a good look. It's a picture of Manziel in a car, kissing his Heisman. At the end of the iconic trophy's outstretched arm is a hand, of course. In that hand? Between the thumb and forefinger? A stick of pot.
Allegedly. Manziel says the picture was photoshopped. He confirms it was him in the picture -- "sorry for kissing my trophy," he tweeted -- but he says the joint or cigarillo or whatever that was in the trophy's hand (I've seen it called a McDonald's french fry) was "ABSOLUTELY PHOTOSHOPPED."
I believe him, even knowing that Johnny Manziel is no choir boy. He's not a bad kid -- not close -- but he's not an innocent little tyke either. Since winning the Heisman he has been photographed holding a fistful of money at a casino, hanging out with bikini-clad coeds at Cabo San Lucas, and wearing beads and a silly purple hat at Mardi Gras.
There's one picture that has caused more of a stir than the others, the one at a nightclub with the sparkler in his mouth and the bottle of champagne in his hand and, well, see, Johnny Manziel is 20 years old. Legal drinking age in Texas is 21.
How dare you, Johnny Manziel.
First of all, there are versions of the story -- unrefuted versions, I may add -- that Manziel's parents were with him at the club. It's legal in Texas to drink in the presence of a consenting adult, but there are versions of the story (unrefuted versions, I may add) that Manziel wasn't even drinking from the bottle. Just using it a prop in a picture with a flaming sparkler between his lips and a funny look on his face and screaming young partygoers at his side.
Johnny Manziel didn't do anything wrong in that picture, and that's the worst picture of the bunch. Emphasis on "worst." Emphasis yours, maybe. The emphasis sure isn't mine.
Manziel is living the life many would live at 20, winner of the grandest individual trophy in American sports, still in school, with access to famous people and the money to make it happen and the power through social media to spread the word. He has more than 156,000 followers on Instagram, and another 340,000 on Twitter.
Maybe he has an addiction to the limelight. He tried to quit Twitter recently but fell off the wagon after two weeks. Maybe that's the worst thing I can say about Johnny Manziel, that he walks toward the spotlight, not away from it. So what?
To be fair, let me say the risk of actual trouble does seem real, what with his arrest from June 2012 -- three misdemeanors, including disorderly conduct by fighting and possessing a fake ID -- and his penchant for showing up at places like nightclubs and Mardi Gras, places where 20-year-olds have been known to make mistakes.
If that's why people are freaking out about Manziel -- we're worried for him -- that would be nice. But that's not why people are freaking out about Manziel. It's not Texas A&M fans making noise. It's folks elsewhere, and they're not worried Manziel will mess up. They're hoping he will. He has had it too good for too long, the cushy childhood followed by the Heisman followed by Anne Hathaway and Megan Fox and LeBron and Drake.
People are jealous of Johnny Football. You know it. I know it.
Do you know the story of Charlie Dina? He's a 5-year-old from Houston whose ongoing battle with cancer touched the students last year at Texas A&M. They started wearing a yellow wristband with the word "Charlie's Angels" to support the little guy -- and Manziel wore one, too. He wore it on the field, during games, and eventually the Dina family saw it on TV. From there, well, things happened.
On Tuesday of this week, Johnny Manziel was in College Station, playing golf with 5-year-old Charlie Dina.
So you go ahead and dislike Johnny Manziel. Whatever your reasons, have at them. Me? I don't dislike him at all. I still don't know what he has done wrong.
But I know what he has done right.