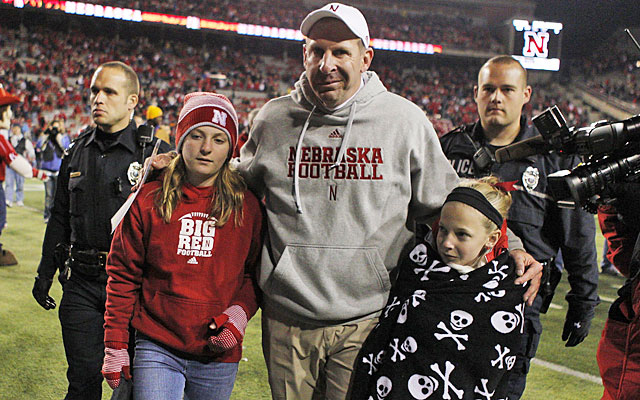 LINCOLN, Neb. -- Walk into the Osborne Athletic Complex and look for Bo Pelini. He's probably in the back running his football program. He's certainly not out here among these red remnants in the lobby. His 48 wins in five seasons aren't celebrated with gaudy collages on the wall.
Down here, it's all about the man in the office five floors up. The nostalgia of Tom Osborne's back-to-back titles in the mid-1990s is unmistakable here. As if his bronze statue didn't give that away.
Pelini has had mild success by Nebraska's wildly successful standards. But if this year becomes his BCS breakthrough, Pelini won't be doing it to get on these walls.
More on Nebraska
Analysis

Related links
More college football coverage
In fact, Osborne said Pelini has visited his office with a football question one time. As Osborne recalls, Pelini came up a few years ago and the two talked about day-to-day management tactics of a head coach.
"I don't care about the recognition," Pelini said. "It's about the kids you're coaching. I like to compete. I want to win. Most importantly, I want these kids to grow and win."
There are two layers to Pelini's career at Nebraska, and whether 2013 becomes a banner year hinges in large part on how the two intertwine.
There's Pelini's overall résumé, which by most accounts is strong. He has won at least nine games in all five seasons, a feat accomplished by 11 coaches in college football history among BCS automatic qualifying schools, according to a Nebraska spokesman. Since 2008, eight head coaches have more wins than Pelini.
The way the Bill Callahan era humbled the program, nine or more wins a year is a welcome consistency. Pelini has done this with top-25 recruiting classes every year.
Then there's late November/early December. A 70-31 loss to Wisconsin in the Big Ten title game cast a pall over Lincoln, not only because of the ugliness of the loss, but because of the statistic it highlighted: A combined 3-6 record in the final three games of the past three seasons.
Take out this stretch and Pelini is 46-14 at Nebraska (including his interim gig at the end of the 2003 season after Frank Solich was fired).
In two postseason games last season, Nebraska gave up 115 points and more than 1,200 yards.
Quarterback Taylor Martinez said overconfidence might have plagued last year's team, something that's amplified at a place with expectations he calls "Championship, pretty much, or bust -- every time."
Maybe not every time, but year No. 6 would be an ideal time for resurgence.
"I think an overwhelming majority appreciates what [Pelini has] done here," said Tom Osborne, now the soon-to-be-retired athletic director emeritus. "I think the fans and Bo are hungry for a conference championship and a BCS game."
Getting to the Rose Bowl doesn't require perfection. Just ask last year's five-loss Wisconsin team. But it does require late-season progress.
Pelini isn't hiding from Nebraska's lofty expectations, calling his team "mentally weak" after a spring practice. At the spring game, Pelini organized the heartfelt touchdown run of 7-year-old Jack Hoffman, who's battling pediatric brain cancer.
"You grow in a job and understand what the challenges are," Pelini said. "You don't have all the answers both when you start and now. I believe I'm a better coach now than five years ago."
He will have a chance to prove it with a defense that loses seven starters. This might not be such a bad thing. The previous batch of defensive linemen didn't exactly evoke memories of Pelini's LSU days from 2005-07.
Pelini's spring menu was a defensive a la carte -- minimal spots secured, everything open for competition. Even the seven defensive linemen signed in 2013 could push for starting roles, he said.
The Huskers are committed to a 4-3 defense while mixing 3-4 packages to keep opponents honest.
Martinez, who is pushing 10,000 career yards at NU, has been erratic late in seasons but should showcase growth after leading the Cornhuskers to 29 wins in three years.
"I have a pretty good idea of what we have to do," Pelini said. "I like the potential of this group defensively. I think we'll be very athletic and deep."
A longtime NFL assistant before joining the LSU staff, Pelini said he still thinks about a potential return to the league one day. He liked the pros. But he wanted to see what college football would bring for his family, and he's still enjoying it.
In an environment where losing is unacceptable, Pelini hasn't wavered in his approach to the job, offensive coordinator Tim Beck said.
Take the Wisconsin game, Beck said. There was devastation all around, yet Pelini immediately dove into the game film, addressed the concerns (outmuscled up front, bad tackling, all the go-to problems) and struck a positive note with his team in the following weeks.
"It's tough to come back in and say, 'All right, guys, it's going to be OK,'" Beck said. "He's very approachable for our staff and players. They feel a lot of love from him. There's a lot of respect. They don't want to let him down. If they have problems, they can talk to him. We have fun as coaches and players. It doesn't become such a grind."
Combing through a loss means finding the "black and white thing you have to figure out" and why, a solution that makes waking up the next day a little easier.
Pelini tries to keep his life pretty simple -- take his kids to school, then find the black and white at the office.
The losses he takes personally. They stay with you, he says. But as a coach who appears in a relaxed state entering his sixth season in Lincoln, Pelini is eyeing a complete body of work more than half hallway adoration.