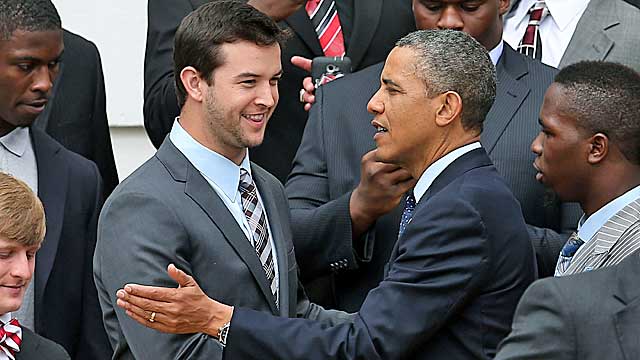 TUSCALOOSA, Ala.-- When you say the word "legacy" to most college football players, their eyes tend to glaze over.
And there's nothing wrong with that. As a rule few concepts are more foreign to a college-aged male than how he is going to be remembered by the adults several decades from now.
AJ McCarron is the exception to that rule. He gets it. As the starter on two consecutive BCS national championship teams, his legacy as one of Alabama's greatest quarterbacks is secure. He has already done enough so that as time passes he will be lovingly embraced like Namath, Sloan, Stabler, Barker and many others who have come before.
But in the spring of his final season McCarron also understands that he has a chance to go where no quarterback has gone before. Alabama was won two straight national championships three times in its history (1925-26, 1964-65, 1978-79). No Alabama quarterback -- no quarterback anywhere, for that matter -- has been the starter on three consecutive national championship teams.
That is why at a recent players only meeting, the senior from Mobile was the first to speak.
"I usually just talk to the offense but I felt like I had to say something to the whole team," said McCarron.
McCarron looked at his teammates and said: "What is your purpose?"
"My point is that there have been a lot of teams that have had their time," said McCarron, who was the nation's most efficient passer last season, throwing for 30 touchdowns and only three interceptions. "Florida State, Miami, and USC had their time. Florida had their time when people didn't think anybody else was going to win. The past couple of years have been our time."
McCarron has actually been a part of three national championship teams at Alabama. He took a redshirt in 2009 when Greg McElroy led the Crimson Tide to a 14-0 season and a BCS title. In 2010 Alabama was just as talented but, by everyone's admission, not as hungry. The Tide dropped to 10-3 while state-rival Auburn won the BCS title. The past two seasons there has been no letdown as McCarron has thrown 46 touchdowns and only eight interceptions.
"What I wanted to know was why those eras always end? I think it has to do with the leaders on team. People look back at the leaders and wonder why they couldn't keep it going," said McCarron. "I don't want my name and the guys who are the leaders on this team to have their names brought up in that kind of conversation."
Then McCarron ended with this:
"I told them that your time doesn't have to end. We have the best college football coach (Nick Saban) in history and he's got us to this point. If we buy into what they (the coaches) are preaching, our time doesn't have to end."
"He got everybody's attention," senior linebacker C.J. Mosley said of McCarron's speech.
Statistically, McCarron is in very good position to leave Alabama as its best passer ever. He has 5,956 career yards, just 1,968 behind John Parker Wilson, the school's all-time leader. He already holds the career touchdown pass mark with 49. His interception percentage of .995 (only 3 interceptions in 314 attempts) in 2012 is the best in school history. Over his career he has thrown just eight interceptions in 690 attempts (1.15 interception percentage). That is the Alabama record.
And here's the interesting part: If things go according to plan, McCarron could have his best statistical season ever at Alabama in 2013. Says who? Says Nick Saban.
"With a guy like AJ we could be a much more quarterback-oriented team this year," said Saban. "We have much better skill players."
Yep. He said it. And on paper what Saban said about the skill players is absolutely true.
A year ago McCarron lost several weapons to injury. DeAndrew White caught a 51-yard touchdown pass in the opener with Michigan and was set up to have a big year. Then White tore his ACL against Ole Miss in the fifth game and was lost for the year. White's injury opened the door to freshman Amari Cooper, who finished with 59 catches for 1,000 yards. Both are back.
Kenny Bell became McCarron's best deep threat last season (25 yards per catch) before breaking his leg against Auburn. He is back at full speed. Also back at receiver are Kevin Norwood (10 starts, 29 catches), Christion Jones (27 catches, 368 yards), redshirt freshman Chris Black (one of the nation's top recruits in 2012), and early enrollee Raheem Falkins (who is 6-4).
"We've never really had to be a quarterback-oriented team because we've had really good players surrounding the quarterback," said Saban. "But with AJ and these skilled players I can see us with a little more diversity and being a little more explosive in the passing game."
"Oh, AJ has got all of these tools he can use in the passing game," said tackle Cyrus Kouandjio. "I can see us throwing the ball more."
If that's the case, McCarron said he's all in.
"This is the best receiving corps we have had and I think it's the best Coach (Saban) has had," said McCarron.
And here is the great unknown about AJ McCarron. Let's say he stays healthy and puts Alabama in position to win its third straight BCS championship. Let's say he lights up the scoreboard with all of those great receivers. Let's say that he finishes as Alabama's all-time winner and all-time passer and becomes the first quarterback in history to win three national championship rings as a starter.
Would all of that be good enough to win the Heisman Trophy?
You would think a season like that and a career like that would be good enough for at least a trip to New York. But the reality is that McCarron is going to have a tough time just being the All-SEC quarterback in 2013.
Johnny Manziel of Texas A&M won the trophy last season as a redshirt freshman. He returns trying to become only the second player in history (Ohio State's Archie Griffin was the other) to win two Heismans. Georgia's Aaron Murray returns as the only quarterback in FBS history to throw for more than 3,000 yards in three consecutive seasons. If he stays healthy he should finish as the SEC's all-time passer in total yards and touchdowns.
The Heisman Trophy, they tell us, is not a lifetime achievement award. It's supposed to be for the most outstanding player of that particular season. But if McCarron just matches his numbers from a year ago, he would finish his career with 79 touchdown passes (32 more than any other Alabama quarterback in history) and only 11 career interceptions.
For all of its great football history, Alabama did not have a Heisman Trophy winner until Mark Ingram took home the hardware in 2009.
The highest any Alabama quarterback has ever finished in the Heisman Trophy voting is fifth: (Jay Barker, Terry Davis, Pat Trammel, Harry Gilmer).
McCarron, for all he did last season, did not crack the Top 10 of the Heisman voter getters.
With McCarron in possession of three championship rings and headed to an unprecedented fourth, those voters will have to take a second look in 2013.