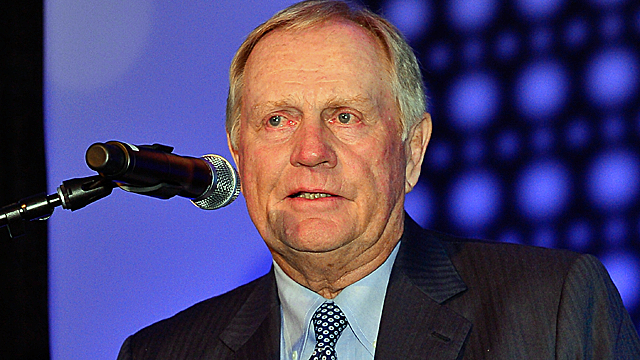 ATLANTA -- There are times when those of us who cover athletics feel that the model is simply broken and cannot be fixed. Just a few recent highlights:
• A runaway booster (now in prison) taking football players to strip clubs.
• A parent trying to shop his kid to the highest bidder.
• The Penn State scandal that brought down a coaching legend, a college president, an athletics director and forever changed a great institution.
• Oregon and Willie Lyles.
• The excesses of the NCAA enforcement staff.
Oh, and we're just getting warmed up.
But let's not give up on college athletics just yet.
Says who?
Says Jack Nicklaus.
"Look, I know there is a lot of bad stuff going on [around college athletics]," said Nicklaus, who was in Atlanta to receive the Coach (John) Wooden Citizens Cup at the annual dinner of Athletes For A Better World. "But I love the concept of a college athletic scholarship. Not only do you have a commitment to the university but the university has a commitment to you. It's a good lesson for young people to learn."
So what makes Nicklaus, winner of 18 major golf championships, qualified to speak on college athletics? Well, let's take a look.
Nicklaus was a college athlete at Ohio State before he turned professional in 1961. He and his wife Barbara have five children and all of them earned Division I athletic scholarships: Jackie (golf, North Carolina), Gary (golf, Ohio State), Michael (golf, Georgia Tech), Steve (football, Florida State), Nan (volleyball, Georgia).
"That's pretty good," Nicklaus said with a smile.
Three of Nicklaus's sons (Jackie, Michael, Steve) were all-state football players. Nicklaus's grandson, Nick O'Leary, is a junior tight end at Florida State who started 11 games last season and caught 21 passes for the Seminoles. Even with his busy schedule of building golf courses all over the world, Nicklaus does not miss a Florida State home game.
"I'll tell you this about Nick," said the proud grandfather of 22. "If the ball is anywhere near him he's going to catch it."
Athletes For A Better World (www.abw.org) was founded in 1998 in an effort to promote the most outstanding citizens in college and professional sports. John Wooden, UCLA's legendary basketball coach, was so impressed by the organization that he lent his name to ABW's highest award. Each year, five college finalists are brought to Atlanta and one receives The Wooden Cup. Former Georgia football coach Vince Dooley, a member of the College Football Hall of Fame, is the chairman of a selection committee that includes heavy hitters such as Archie Manning, Billy Payne, Cal Ripken, Jr., John Smoltz, and Gene Stallings. A professional athlete whose life has served as a role model to others is also honored with the Wooden Citizenship Cup. Last year the winner was Pat Summitt, Tennessee's Hall of Fame women's basketball coach. This year it was Nicklaus who, along with wife Barbara, founded the Nicklaus Children's Health Care Foundation which has raised more than $23 million for children's health care services around the country.
"I can't tell you how much it means to me to receive an award with Coach Wooden's name on it," said Nicklaus, 73. "And it's not about your athletic prowess. It's about leadership. It's about how you handle your life. How you do things the proper way. It's nice to be honored for those reasons and not necessarily my golf."
But the thing Nicklaus enjoyed the most on this evening was meeting with the five college finalists, all of whom have extraordinary stories:
• Nathanael Franks, a decathlete from Arkansas, graduated with a double major in Chemistry and Physics and was chosen to perform a trumpet solo at the German Chancellery. He was the winner of the Wooden Citizens Cup.
• Brigetta Barrett overcame personal hardship to earn a track scholarship at Arizona and become an Olympic silver medalist in the high jump. She is a five-time NCAA champion.
• Purdue basketball player Andrea "Drey" Mingo overcame bacterial meningitis in 2011 and a torn ACL in 2012 to become the Most Outstanding Player in the Big Ten Tournament in 2013.
• Eric Soza, a quarterback at Texas-San Antonio, has been honored for his community service while maintaining an almost perfect (3.95) grade point average in Kinesiology.
• Meghan Lyons, a forward on the University of North Carolina field hockey team, recently was inducted into the Order of the Golden Fleece, the university's oldest honor society.
Barrett, who may go down as the best women's high jumper of all time, asked Nicklaus the key question: "How do we get to be you?"
Nicklaus, known for straightforward answers, said: "Just keep doing what you're doing."
"All I told them was that they are going to influence a lot of lives," Nicklaus said. "They are great athletes, great scholars, and great role models. I just told them just be yourself. Just continue doing the right things."
While your humble correspondent wanted to talk about golf (Yes, Nicklaus said the Augusta National rules committee made the right decision on Tiger Woods' drop at 15), the Golden Bear wanted to talk about college football, which he loves.
Remember that in 2006 Nicklaus received a rare honor when he dotted the "i" in the script "Ohio" during halftime of the Ohio State-Minnesota game. In a life filled with great moments during 73 wins on the PGA Tour, he still calls it one of his greatest thrills. Nicklaus is one of only a handful (Bob Hope and astronaut John Glenn are on that list) of non-band members at Ohio State to be so honored.
"I haven't been back [to Ohio State] in a couple of years because I've been going to the Florida State games, but I record and watch every one of them," said Nicklaus. "Urban [Meyer] is doing a great job there. If we hadn't been on probation last year we might have gotten into the big game with Alabama."
He wanted to know if college football will end up with just four major conferences when all of the dust settles.
"Seems to me that if you have four big conferences with about 16-20 teams each, then you have your playoff," Nicklaus said. "But I do wonder what you do with a team like Notre Dame."
Spoken like a true college football fan. Now if he could only get (Florida State coach) Jimbo Fisher to use the tight end more.
Tony Barnhart is in his fifth season as a contributor to CBSSports.com. He is a college football analyst for CBS Sports and The CBS Sports Network. He is the host of The Tony Barnhart Show on the CBS Sports Network. Prior to joining CBS he was the national college football writer for the Atlanta Journal-Constitution for 24 years. He has written five books on college football.