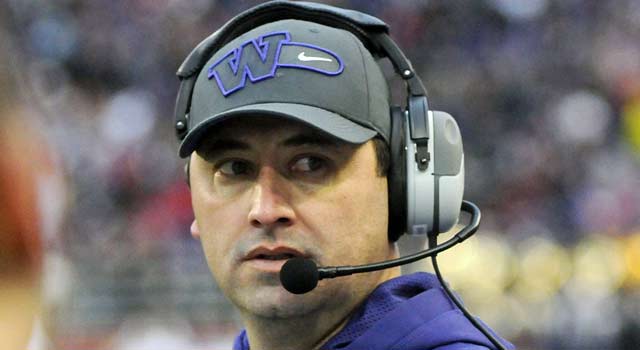 PHOENIX -- Almost 40 percent of FBS head football coaches (47 of 124) are gathered here in one hotel this week for Pac-12, Big 12, MAC and Mountain West spring meetings. Little did they know Jason Collins would be joining them -- at least the news value, the presence, the issue of Collins who became the first active male major sport pro athlete to go public with his homosexuality.
Basketball -- the NBA -- happened to be the sport that crossed the barrier. The hope is that Collins' declaration opens doors for all sports. But we all know, or should know, there is another dividing line to be crossed.
Why can't one of the major college sports be the next to embrace a gay athlete? Why can't it be college football in particular where arguably the hurdles would be higher, the scrutiny greater, the triumph of acceptance sweeter?
College football is the nation's second-most popular sport for a lot of reasons. The violence, the speed, the youth, the masculinity, the college pride. The social bonding aspect of the shared experience. But can it be tolerant, this tolerant to accept an athlete who happens to be gay -- not a gay athlete?
Can it be next?
"It's gonna happen," said Cal coach Sonny Dykes. "This will be the first step in people being more comfortable in talking about these types of things. I think it's all coming. As coaches, we have to be wise in how we deal with these things."
Washington coach Steve Sarkisian found himself recently discussing the subject of a gay athlete with his staff.
"We're trying to get ahead of this," Sarkisian said. "How do we educate our players? How do we educate our fans? How does it pertain to the recruiting process? Our conversation came about: What if there is a potential recruit? If there is a college athlete that is openly gay, does that affect his draft status? We're in the infancy stages quite honestly in dealing with it."
Those are comments from two Pac-12 coaches whose homes -- Berkeley and Seattle -- have been, in general, more tolerant toward such issues. But it's a big country with a big Bible Belt. Beyond that, what if an athlete came out while still playing at a faith-based university?
"I think I'm more comfortable now [with a gay athlete coming out] than I've ever been ...," BYU's Bronco Mendenhall said. "It would be really an interesting thing. Fortunately, at BYU I work at a place where I believe the same things that the institution promotes so there would not only be a faith-based stance, which would be doctrine and a clear direction but there would be a personal stance that would go with that. So I would try to address both." Collins' action suggests the day is coming soon when we don't waste our time even writing about an athlete's sexuality. But history will record the struggle about how it became a moot subject. All sports are on the clock now. No doubt the first active gay athlete in the NFL and Major League Baseball will come forward.
But at least those players by and large have careers, security, money. Try explaining your sexuality to 100 other college teammates and coaches. Try to walk across campus where everybody knows. Try playing in front of 100,000 fans, any number of which who might have hostile intent and different ways to express it.
There is another layer to consider: College athletes are playing for scholarships, their educations, their futures. Any issue that impacts that scholarship has to be considered. No, they can't cut you because you're gay but any college coach -- or teammates -- can make your life damn uncomfortable. Players at Indiana (Bob Knight) and Rutgers (Mike Rice) endured a lot just to play major-college basketball.
Consider that many college athletes aren't fully formed emotionally. You don't have to be an athlete to know that. You merely have to be -- or have been -- a college student. It took Collins until he was 34 to make his declaration, as a pro with money and some sense of security.
So it would be great if college football led the way. The obstacles are more significant than college basketball -- those 100 minds in the locker room, the bigger crowds, the increased scrutiny.
"As long as they work hard, push themselves and get along with their team and are a team player and do what coaches ask of them and they can perform, those things become smaller," Stanford coach David Shaw said. "They just become individual issues, which they are. It won't be as big of a deal as people would think they would be ...
"My concern is always, are we having guys doing the right thing? Are they pulling their weight on the team? Are they guys we can count on and depend on? Eventually, those are the things that matter."
Women's sports have historically been more progressive on the subject. Martina Navratilova came out three decades ago, in 1981. Baylor's' Brittney Griner was decades ahead of Collins, making public her sexuality after leaving Baylor and before she entered the pros.
What was it about Griner or basketball or Baylor -- or perhaps none of it -- that made it possible? Football, we do know, is different. Less tolerant, perhaps, because of its macho image. But certainly more popular than any sport, which presents a whole new set of issues.
Locker room harmony would be a major issue. Coaches can accept in their hearts a gay athlete. But how would that person -- as Sarkisian suggested -- impact everything in a college coach's locked-down world.
There's always a Chris Culliver and Alfred Blue out there. There are those who use the same Bible that says love one another as you love yourself to condemn homosexuality.
The issues are no different when Collins, a free agent, next walks into an NBA locker room or arena. Not everyone is going to agree with his lifestyle.
"The only impression I had was good for him and good for the guys who have come out in droves to support him," Shaw said. "For these high-profile professional athletes who have come out in support of him, it shows a lot about their character and who they are, and hopefully, they can continue to push the nation's conscience in the right direction."
Perhaps it is a university's enlightened environment that will open minds. Perhaps college football will be next.
Bruce Feldman contributed to this column