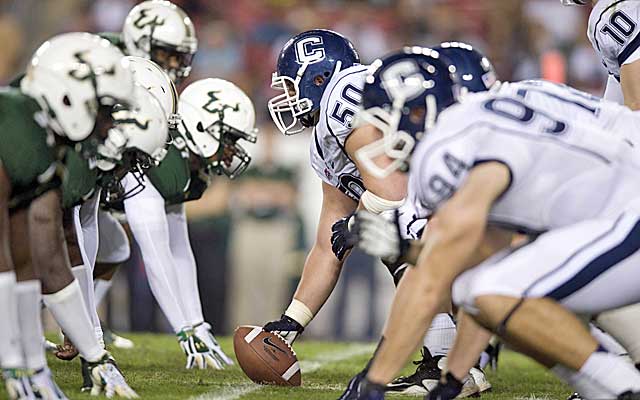 Connecticut, Cincinnati and South Florida are the cornerstones of the American Athletic Conference. They have a pile of old Big East exit fee money arriving on their campuses soon. They've enjoyed football success in the last decade.
Beyond the positives, this sobering reminder isn't going away: They are at least $100 million short of the power conferences in media rights money over the course of the AAC's seven-year television deal starting in 2013-14. That's before you get to the playoff revenue structure starting in 2014-15 ($90 million-plus per power conference, $12 million plus performance incentives per smaller conference). These three schools paid full admission to the realignment rave but left early and empty-handed. Pitt, Rutgers and friends closed down the club while counting stacks.
The ACC's grant of rights, coupled with Notre Dame's part-time football commitment, brings the league's revenue to more than $20 million per school annually, according to a league source.
More realignment
Column

Related links
More college football coverage
AAC schools will get a little less than $2 million per year off a reported six-year, $126 million deal starting in 2013-14. The total pales in comparison to ESPN's billion-dollar-plus offer from two years ago -- before the AAC (also known as the American) lost more than a dozen schools in basketball or football. At times, UConn, Cincy and USF outperformed old Big East defectors. But they came from the C-USA or independent ranks within the last 10 years. Perhaps they didn't have enough time to establish an identity or cachet that Pittsburgh, Syracuse and West Virginia developed.
Commonality is thinning among old friends now. The financial gulf is too wide, and there's not much they can do. UConn and Cincinnati were close. Coupled with BYU, they are widely considered the most viable options if expansion ripples again. UConn was the finalist for the right to replace Maryland in the ACC, but league presidents unanimously voted in favor of Louisville.
It wasn't UConn's Northeast footprint or its 21st national ranking among public universities that lost it. The lack of football tradition and game-day environment at Rentschler Field (capacity 40,000) did, according to an ACC source. Cincinnati president Santa J. Ono sending holiday cards to ACC presidents illustrated the Bearcats' zeal for playing up. But the Bearcats ran into similar problems as UConn. USF has a place in this conversation, too. The Bulls were among four teams to talk with the ACC early in the replacement process in November, but the Bulls' chances weren't promising. The three longest-tenured AAC schools have watched their conference take body blows until the automatic qualifier status was knocked out of them. No doubt they felt that one. What's next for these three? Options are scarce. But they can collect exit fee money, win football games, position for a better media rights deal in 2020 and, if another conference calls, pack a few bags.
CBSSports.com requested interviews with UConn athletics director Warde Manuel, Cincinnati athletics director Whit Babcock and USF athletics director Doug Woolard for this story. They were not available for interview, but Babcock recently spoke to colleague Dennis Dodd about Cincinnati's place in realignment.
Exit fee money will help
The AAC is finalizing plans to distribute its "Realignment Reserve Fund" -- otherwise known as exit fee money -- and its longest-tenured members will get the biggest reward. UConn, Cincinnati and USF are expected to receive multi-million-dollar installments over a four-to-five period largely from the AAC's realignment pot of nearly $70 million, according to two sources with knowledge of the situation.
The league will also distribute revenue from NCAA men's basketball tournament "units" left behind in the Catholic 7 breakup. Temple, which has played one year in the league, will get a minor bump compared to the six incoming members for 2013-14 but not as much as the three mentioned above.
The AAC will likely finalize these plans at the league's spring meetings in Ponte Vedra Beach, Fla., from May 20-22, possibly earlier.
Last year, Documents shared between the AAC and the Big East (formerly known as the Catholic 7) highlighted the AAC's exit fee stash worth $68.8 million by 2020.
These schools would probably prefer a lump sum up front, but the AAC is wise to space out the payments. The payments will keep UConn, Cincinnati and USF closer to the old Big East deal -- which paid around $7 to $10 million per school, depending on performance-based incentives -- but that changes once the exit fees dry up. The new AAC deal likely will abandon the incentive-based model and take a uniformed approach across the membership, according to a league source.
Will the phone ring?
The ACC has 14 1/2 members and would have added two more only if it had to (it doesn't -- not anymore). The Big 12 is content splitting revenue 10 ways.
The Big Ten would have one reason to at least examine old Big East schools if it hasn't already -- to give Penn State, Maryland and Rutgers another East Coast friend. But Ohio State already covers the Cincinnati market. And does the Big Ten need the Hartford area? It's uncertain whether these teams add value to a conference already corralling $25.7 million per school annually.
The AAC doesn't have a grant of rights, instead opting for a $10 million exit fee policy with 27 months notice required. Under traditional media rights deals (ACC and Big 12 with ESPN), candidates generally must provide equal or greater value than current members to be considered. It's unlikely UConn, Cincinnati and USF present enough to justify a bigger membership and more scheduling conflicts.
The Big Ten could handle the inventory because of its 24-hour network, but Big Ten commissioner Jim Delany has acknowledged the ACC's grant of rights slows realignment. That doesn't mean it subjugates expansion forever. If the pools open, these three should be stretching from the 10-meter board.
Play well, grow the conference and hope for the best
The playoff money for smaller conference is a sliver of the Big Five's, but it's still an impressive haul. On top of per-conference payouts, the highest-ranked team among the AAC, Mountain West, Mid-American Conference, Conference USA and Sun Belt will receive around $6 million. The highest-rated conference gets an additional $7 million. UConn, Cincinnati and USF won't have automatic qualifier status anymore but, with a potential 11- or 12-win season, should have their chances in the new format. The BCS has had four top-ranked non-AQs in as many years.
No disrespect to the Conference USA teams entering the league -- UCF (2013-14) and Tulsa (2014-15) can play -- but consider the upcoming football schedule a little easier in the old Big East. Booster morale could affect the bottom line, too. Alumni must transition from a familiar Big East to a C-USA/Big East mash-up. Athletic directors must sell a long-term vision to the fan base. If two or three AAC teams emerge as perennial top-25 schools, perhaps the AAC could enhance its media rights re-up in 2020. These schools must strengthen the program, brace for the financial realities and answer the phone if "Rosemont, IL" or "Greensboro, NC" appear on the company line.