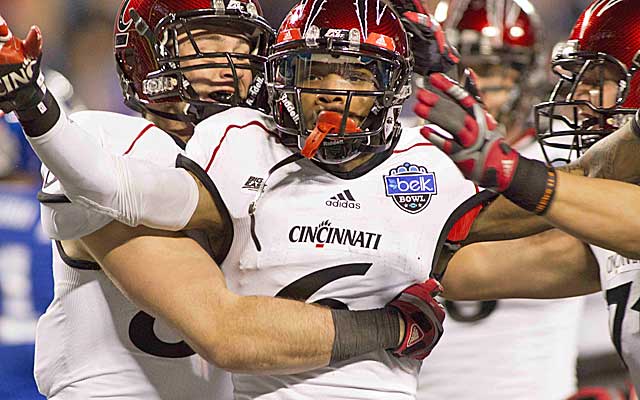 CINCINNATI -– For Cincinnati, anticipation turned to purgatory on April 22.
Think of the dream prom date cancelling at the last minute. Or missing the last flight out of Fairbanks. It had to be that bad, that disappointing, that defining.
"We only had about a three-hour advance notice from people I know," AD Whit Babcock said.
One of the shining stars in recent BCS history, a member in good standing of the Big East (for now), Cincinnati saw the future diminish before its eyes that day. The ACC announced a grant of media rights among its members that essentially stopped realignment cold for the near future.
More realignment
Column

Related links
More college football coverage
"They kept that real quiet," Babcock said of the ACC. "I guess I should learn enough from this business never to be surprised. But that one caught a lot of people off guard."
Let's be clear: Cincinnati would kill to keep its BCS-conference status. It is, well, status. But after this season, that goes away. What was once the Big East (American Athletic Conference on July 1) has an automatic berth for the last season of the BCS.
The subject of where Cincinnati goes from here is like the 800-pound lineman in the room. Obvious, but spoken about in hushed tones.
"I would say surprised is how I felt," said Babcock, who has plenty of realignment experience. He was at West Virginia when the Big East was raided by the ACC in 2003 and at Missouri when it made its way to the SEC.
"Maybe it's me. It followed me around."
It has been an odd existence lately for this city school of 42,000 students. It did not get swept up in the realignment wave that carried former Big East mates Syracuse, Pittsburgh and Louisville to the ACC. It is caught between preparing for life in the new American Athletic Conference (The American) in 2014 and quietly preening/hoping for admission into a BCS conference.
"We were running 100 miles per hour on a two-month to two-year plan [for a new conference]," Babcock said. "Now maybe we can look at a one-year to five-year plan. There are certainly no guarantees there will ever be any more conference realignment."
For now that kind of activity is shut down and a 194-year-old school that has been to more BCS bowls (two) than eight SEC programs waits. Sandy Koufax's alma mater is throwing money into upgrading Olympic sports and expanding Nippert Stadium. The program that has its own crystal football -– see the 2012 Belk Bowl -- deserves more. Ask any media consultant. Cincinnati is right there at the top with the likes of UConn, South Florida and BYU as the most desirable names left on the realignment board. But the ACC's move has drawn an artificial line, for the moment, redefining college football's caste system.
Above the line, Cincinnati would be splitting a $90 million check in a BCS conference each season before a ball is snapped. Below it, the Bearcats go to a league (The American) dividing a base of $12 million annually between 14 teams ($17.3 million total beginning in '14.)
In a BCS league, they wouldn't have to be the best in their conference to get a playoff berth. Among the so-called Group of Five non-BCS leagues, they will be annually chasing one guaranteed spot with those approximately 60 schools.
"We still have a path," Babcock said, "but it's not an automatic berth. ... But as we've all learned, things can happen pretty quickly and quietly."
So they wait, for now, slowly and quietly. They are doing it with a 58-year-old coach who once vowed never to coach outside the South. A coach who left one of those BCS leagues (Big 12's Texas Tech) of his own free will to chase a dream in a lower caste. After 34 years in the business Tommy Tuberville realigned this part of his career for his wife. The former Suzanne Fette is from the area.
"If I ever leave here," said Tuberville, of his fourth head-coaching job in 17 years, "I'll leave divorced."
Maybe it's more of a quest, than a change. Tuberville's departure from Lubbock ranked right up there with Bret Bielema taking the Arkansas job as one of the biggest head scratchers of the offseason. When it was suggested that for all of Mike Leach's success at Tech, it may ultimately be easier to get to a BCS/playoff bowl at Cincinnati, Tuberville said, "You said it, I didn't."
Because, for now, it's true. Tech never broke through to a BCS bowl.
"You can probably count on two hands how many teams have played in two BCS bowl games," Tuberville added. "Cincinnati is one of them. There's been success here. Obviously they've been consistent. Right now, what we don't know is the unknown."
Actually, there have been 29 teams play in at least two BCS bowl games. But that's getting ahead of the story. In this what-have-you-won-for-me-lately world, Cincinnati has captured at least a share of four of the last five Big East titles. U.S. News and World Report thinks more of the school (tied for 139th) than Louisville (160th). Since 2007, no Big East program is ranked higher in cumulative BCS standings.
The last three Cincinnati coaches have left for BCS jobs -– Mark Dantonio, Brian Kelly, Butch Jones. Tuberville has arrived from one.
"I like Texas Tech, but I was going to fight every day the guy that I followed," Tuberville said of Mike Leach. "We were total opposites. He threw the ball and I like running the ball. ... So it was hard to be accepted by a lot of people out there."
So in the same year when commissioners were finalizing a playoff, Tuberville came to a program that will have a difficult time qualifying for it. The irony was not lost for a coach who went 13-0 with Auburn in 2004 but was shut out of the BCS title game.
"It's taken nine years," he said of a playoff, "for me to get my wish."
"Tommy knew we had a revolving door of coaches every three years," Babcock said. "It seemed like he wanted to finish his career here. He said, 'I want to work six, seven, 10 more years. [I want] the chance to come there ... and win some games and leave a legacy.' "
In addition to going undefeated at Auburn, Tuberville has won national championships at Miami and spent 14 years in the SEC.
"It just seemed kind of natural to come to a place that's improving," Tuberville said. "Coming here kind of reminds me of being in Miami."
The coach has donated $300,000 out of his salary to the renovation of those Olympic sports, some of which had been played without scholarship athletes before he arrived. There's a new football practice field. Nippert -- Babcock calls it the Wrigley Field of college football -- is getting new turf.
The Big Ten and Notre Dame recruit in the area. So do a lot of schools. Cincinnati doesn't necessarily get the best players in Cincinnati, but the program endures. Tuberville's staff is full of energetic recruiters. Since 2007, the program has a cumulative BCS ranking of 16th -- better than Arkansas, South Carolina and Nebraska.
"We can win here," Tuberville said.
He probably will because that's what Tuberville does. There have been 10 bowls and only four losing seasons in those 17 years. Winning here would be so subversive in a game that is locked down by an exclusive club that Cincinnati is about to leave.
But how does a guy make -- at best -- a lateral move in terms of salary and prestige and facilities? When Jones departed in early December, Babcock initially called Tuberville for a list of names. The two had been together at Auburn from 1999-2002.
"That relationship gets overplayed just a bit," Babcock said.
Until the AD asked if Tuberville might be interested. Then Tubs ran it by Suzanne. The two had met in New Orleans during Miami's preparation for the 1990 Sugar Bowl. As Tuberville tells it, a bunch of Hurricanes coaches walked into the home of The Hurricane -- Pat O'Brien's. The coaches met some women and, well, Tuberville's life was suddenly realigned. Eight months later Suzanne Fette called out of nowhere, 15 minutes before he was about to step on the field for two-a-days.
Two years later they were married.
"I gave out one too many business cards," the coach said smiling.
Lateral move? No, maybe this is the smart move. Programs these days are judged on what they've done lately. Utah and TCU moved up. Cincinnati is moving down. But for how long? If this is college football purgatory, well, it doesn't suck at the moment. If nothing else, the Bearcats have commitment -- from the administration, from a happy couple and from a son of the South who wonders a lot about geography these days.
"I've always said I'd never coach north of the Mason-Dixon Line," Tuberville said. "[Maybe] I'm on top of it."