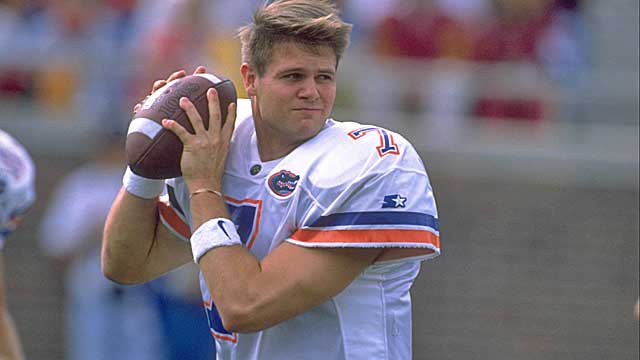 Danny Wuerffel didn't play college football for the glory, although a lot of it came his way.
He didn't play seven years of professional football for the money, because money never meant a whole lot to the son of a Lutheran minister. He didn't play football with hopes that someday he would be named to the College Football Hall of Fame.
Danny Wuerffel played football, at all of its levels, as a means to an end. That end was the opportunity to shine a public spotlight on his very strong faith and to use that recognition to put his faith into action.
More on Hall of Fame
Related links
More college football coverage
In that sense Wuerffel, who turns 39 on May 27, got out of football exactly what he put into it. And that is why Steve Spurrier's greatest quarterback ever was so humbled Tuesday morning when he was named to the College Football Hall of Fame.
"I was stunned and grateful and excited," said Wuerffel, who was in New York for the announcement. "It is not the normal phone call you get in the course of a day. I never expected this."
For four unforgettable seasons at Florida (1993-96), Spurrier had his perfect quarterback. Nobody before or since has translated what the demanding Head Ball Coach wanted so purely from the chalkboard onto the field. Spurrier has had a number of good quarterbacks in his 23 seasons as a college head coach but none has executed his offense with more precision and better results than Wuerffel. He called his former coach with the news on Monday.
"The first thing you think of at a moment like this is all of the people who played a part of it and Coach Spurrier was certainly the centerpiece of that," said Wuerffel. "I do hope whenever my teammates hear about this they will be happy but also feel a sense of pride. We did this together."
Just the numbers from Wuerffel's career are certainly worthy of the Hall of Fame: A record of 45-6-1 with four SEC championships and one national championship. He played in two national championship games, winning one (1996). The other was in 1995 against Nebraska and Tommie Frazier, who is fittingly going into the Hall with Wuerffel.
In December of 1996 he became only the second Florida player (Steve Spurrier was the first in 1966) to win the Heisman Trophy.
Wuerffel left Florida with 10,875 yards of career passing, which is still fifth all-time in the SEC. His 114 career touchdown passes is still the SEC record 17 years after he played his last college game. That record could fall in 2013 as Georgia's Aaron Murray enters the season with 95 touchdown passes.
"When I look back at that time I have to pinch myself to make sure I'm not dreaming," said Wuerffel. "What we experienced in college superseded any kind of dreams I had as a kid."
And on top of all that excellence on the field, in 1996 Wuerffel won the Campbell (then Draddy) Award, which is presented to the football player who is also has the most outstanding academic record.
"I loved to compete and I loved the aspect of team sports," Wuerffel said. "I loved to compete in a lot of things and thought for a while that I might be a basketball player. Football was such a gift to me but it has never been the driving force in my life."
Wuerffel's success in football only served as the prelude to his true mission. During his three seasons with the New Orleans Saints (1997-99) Wuerffel was exposed to the city's Ninth Ward, which included some of the poorest neighborhoods he had ever seen. He saw children who were malnourished, poorly educated and lacked all hope. Wuerffel decided that he had to do something and in 1997 joined Desire Street Ministries as a volunteer.
Desire Street was founded in 1990 to minister to the poorest of the poor in New Orleans.
After the Washington Redskins let him go in 2002, Wuerffel returned to New Orleans to work part time with Desire Street.
"I thought about trying to catch on with another team but after a month of working there I couldn't see myself doing anything else," said Wuerffel."
In 2005 Hurricane Katrina hit New Orleans, wiping out the buildings that had made Desire Street home. Wuerffel played a role in moving 80 impoverished young people to an old 4-H camp near his home of Ft. Walton Beach, Fla., where they set up a Christian academy.
Today Wuerffel is the executive director of Desire Street Ministries, whose headquarters are now in Atlanta's Grant Park area. Under Wuerffel's direction the organization has spread its ministry to several locations throughout the South.. "Atlanta has been a phenomenal place for our ministry," Wuerffel said. "The community has really embraced us."
In June 2011 another storm moved into Danny Wuerffel's life when he announced that he had contracted Guillain-Barre syndrome, a disorder of the peripheral nervous systems. Severe cases of the syndrome can cause paralysis, even death. There were days when Wuerffel found it difficult to move from room to room in his home. Friends and co-workers at Desire Street were very concerned.
But Wuerffel said his doctors caught the disorder early and he has almost completed his recovery.
"I'm thankful to say that I'm 90-95 percent recovered," he said.
Wuerffel is philosophical about his illness, seeing it merely as another part of his personal growth.
"It has been an incredibly difficult couple of years," Wuerffel said. "But it has also been the best couple of years in my life. You don't really grow or change much when things are always going well."
Spoken like a true Hall of Famer.