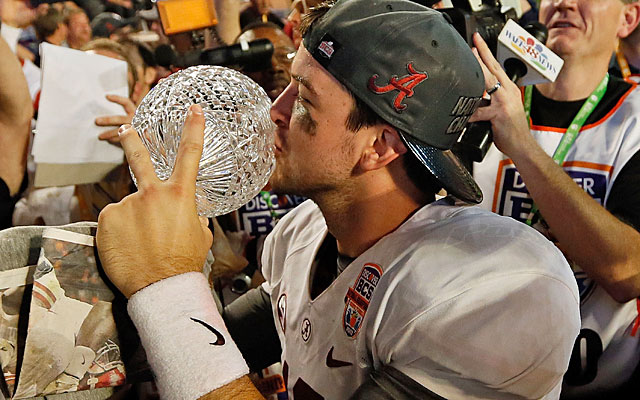 If you don't believe the SEC can win an eighth consecutive title, then you have to believe in something else. I believe in Ohio State.
NCAA football
Related links
More college football coverage
The Buckeyes are favored for now mostly because of what they don't have to do. They don't have to play an SEC schedule -- unlike Texas A&M, Alabama, LSU, Georgia, Florida and South Carolina. That makes a second consecutive undefeated season more likely. The Bucks believed they deserved a spot against Alabama a few months ago.
Their 12-game winning streak is the longest in the country. Their coach is a wily, motivational top-five tactician. A defense that was holding on for dear life at times last season is stronger.
Who is this Tressel guy they keep talking about?
It would be karma in the last season of the BCS -- two Big Ten teams in the Rose Bowl. One in the Rose Bowl game on Jan. 1, Ohio State in the BCS title game five days later. I'm picking the Bucks to be there. Will the SEC?
Pre-spring rankings in parentheses.
Dodd's Power Poll
Rank
Team (Previous)
Comment
1
Ohio State (4)
Overall: 12-0
Conference: 8-0
Of course there are holes. Braxton Miller has to improve as a leader and a thrower. The defense will miss John Simon. But this is the Big Ten where there isn't a serious challenger to the Buckeyes. Plus, this team is motivated after being shut out of a bowl in 2012.
2
Alabama (2)
Overall: 13-1
Conference: 8-1
They should waive the 10-year waiting period for the College Hall of Fame if AJ McCarron wins a third championship (fourth as a squad member). Nick Saban also may have had the best hiring offseason, grabbing Kevin Steele (director of player personnel) and Mario Cristobal (offensive line). Both are former head coaches.
3
Texas A&M (1)
2012: 11-2
Conference: 6-2
The Aggies beat Alabama, Oklahoma and won 11 -- and they're still peaking. With Johnny Manziel supposedly off the party circuit by two-a-days, A&M should be ready to challenge for the SEC West. Keep an eye on the Alabama game the third week of the season.
4
Stanford (3)
Overall: 12-2
Conference: 9-1
It's time to stop patting the Cardinal on the head for a nice effort. This is a program that could compete in -– and win -– the SEC. Yeah, I said it. How about 10 starters back on defense? How about a smashing running game? How about defending Pac-12 champs? Had there been a four-team playoff last season, the Cardinal would have been in the conversation.
5
Oregon (5)
Overall: 12-1
Conference: 8-1
The seamless transition to Mark Helfrich has been, well, seamless. This is still the fastest program in college football. When you see Nick Saban running hurry-up, no-huddle you know Oregon has had an influence. Watch Marcus Mariota make a serious run for the Heisman.
6
Georgia (6)
Overall: 12-2
Conference: 7-2
This is one of three teams that could win the SEC East. (The other two are below.) I happen to like the Dawgs because a) Aaron Murray is back; b) So are Todd Gurley and Keith Marshall; c) So are five starters on the offensive line; d) Georgia is motivated for a rematch after losing a heartbreaker to Alabama.
7
South Carolina (7)
Overall: 11-2
Conference: 6-2
"Defensive genius" Steve Spurrier rocks on. We all get the Jadeveon Clowney phenomenon. But if the Cocks are going to win the East they're going to have to get more out of the offense. No Bama, LSU or Texas A&M on the schedule. Florida comes to Columbia.
8
Florida (8)
Overall: 11-2
Conference: 7-1
First goal: Break into the top 100 in total offense. The Gators were an elite program last season and may have qualified for a four-team playoff had one been in effect. But against elite competition Florida is going to have to be more offensively efficient. Can the Gators win 11 again? Sure. Can they win the East? Ask Jeff Driskel. A lot of it is on him.
9
LSU (17)
Overall: 10-3
Conference: 6-2
There's so much news in the SEC that the Tigers were able to hide out a bit. If they're the sixth-best SEC squad (according to this poll), then watch out. Offensive coordinator Cam Cameron comes to clean up Zach Mettenberger's mistakes. D-coordinator John Chavis is solid. The running game remains strong.
10
Louisville (11)
Overall: 11-2
Conference: 5-2
Let's see, how to describe Louisville's last few months. How about, fantastic? AD Tom Jurich got the Cardinals into the ACC in November. Louisville then won the Big East and embarrassed Florida in the Sugar Bowl. That good enough for ya? Quarterback Teddy Bridgewater leads a group of 16 starters. This is definitely a top 10 program on the rise with Charlie Strong in place for the foreseeable future.
11
Notre Dame (10)
Overall: 12-1
Conference: N/A
Brian Kelly no longer has to game plan around Everett Golson. The quarterback will be a difference maker this year. You know how I know? Gunner Kiel transferred (OK, what else is new), this time to Cincinnati. A lot had to go right for the Irish last season. The sense here is that they won't win six games by nine points or less. The margin for error remains thin.
12
Clemson (9)
Overall: 11-2
Conference: 7-1
If it wasn't for a brutal schedule -– Georgia to open the season, at South Carolina to close it -– the Tigers might be national championship contenders. The triumvirate of ACC offensive player of the year Tajh Boyd, offensive coordinator Chad Morris and receiver Sammy Watkins should be enough for a third consecutive 10-win season.
13
Texas (NR)
Overall: 9-4
Conference: 5-4
Trying to come up with a Big 12 favorite here. Texas gets the nod because of 19 returning starters, a Big 12-friendly spread option and stability at quarterback with David Ash. The Horns have made steady progress since bottoming out at 5-7 two years ago. After the debacle in Dallas last season, 2013 will be defined by the Oklahoma game.
14
Kansas State (19)
Overall: 11-2
Conference: 8-1
It's easy to dismiss the Wildcats. Bill Snyder is another year older. Heisman finalist Collin Klein and linebacker Arthur Brown are gone. The Wildcats can't possibly duplicate a Big 12 championship season that was a national championship run all the way into mid-November, can they? Sure. Bill Snyder -– with a new five-year contract -- is one year older.
15
Oklahoma (20)
Overall: 10-3
Conference: 8-1
More Big 12 titles than anyone (eight). Great quarterback after great quarterback. Recruiting out the wazoo. Are you wondering the same thing as me: What's wrong with OU? The Sooners haven't won an outright conference title since 2010. The defense isn't on an elite level. Ten wins in '12 wasn't bad, but Bob Stoops is rededicated with a staff shakeup.
16
Florida State (13)
Overall: 12-2
Conference: 8-1
Jimbo Fisher got the Noles to their first ACC title since 2005 in his third season. Next goal: National championship contention. A three-back rotation led by James Wilder Jr. will leave a mark. Redshirt freshman quarterback Jameis Winston had a fantastic spring. A defense that was No. 2 nationally has to be rebuilt but there are plenty of options. It would help if FSU can win at Clemson on Nov. 19.
17
Boise State (15)
Overall: 11-2
Conference: 7-1
The most valuable piece below the Mendoza Line wisely picked the Mountain West to stay in/return to. This MWC is tougher for Chris Petersen as a 12-team league but it arguably has more juice than the American Athletic Conference in the playoff era. Don't expect a BCS bowl this season but expect eight to 10 wins while quarterback Joe Southwick becomes the next good/great one for the Broncos.
18
UCLA (NR)
Overall: 9-4
Conference: 6-4
The Bruins won nine in Jim Mora Jr.'s first season and showed signs of taking back L.A. Brett Hundley is one of the top 10 quarterbacks in the country. Linebacker Anthony Barr will wreck plenty of backfields. All signs are pointing up for a program that looks suspiciously like Pete Carroll's emerging group at USC in the early 2000s.
19
TCU (18)
Overall: 7-6
Conference: 4-5
The Frogs would be the pick to win the Big 12 if it wasn't for a brutal schedule that includes LSU as well as trips to Oklahoma, Oklahoma State and Kansas State. How much will TCU have left in November? The quarterback situation is one of the best in the country with the returning Casey Pachall battling with dual-threat Trevone Boykin.
20
Northwestern (16)
Overall: 10-3
Conference: 5-3
Call the Wildcats Stanford Jr. An academic powerhouse that is trying to develop into a football powerhouse without losing its soul. Under Pat Fitzgerald's guiding hand, Northwestern won 10 for the first time since 1995. With a loaded backfield that includes All-Big Ten tailback Venric Mark, and a shored up secondary, double digit wins aren't out of the question.
21
Oregon State (14)
Overall: 9-4
Conference: 6-3
Never doubt the Beavers under Mike Riley. There are worse attacks to come into a Pac-12 season with than the league's No. 2 passing offense. A battle between quarterbacks Sean Mannion and Cody Vaz will extend to August. Riley loses record-breaking receiver Markus Wheaton. Meanwhile, the entire offensive line returns for a squad that was 100th nationally in rushing.
22
Oklahoma State (21)
Overall: 8-5
Conference: 5-4
Mike Yurcich. Remember the name. Following up Dana Holgorsen and Todd Monken, the former Division II assistant (Shippensburg) takes over as Cowboys offensive coordinator. Yurcich will have plenty to work with two talented quarterbacks -- Clint Chelf and JW Walsh.
23
Nebraska (22)
Overall: 10-4
Conference: 7-2
There it was, all laid out for them -- the first conference title since 1999. Then the Huskers gave up 70 to Wisconsin in the Big Ten championship game. Nebraska has won at least nine five years in a row but can't get over the conference hump. In Taylor Martinez's senior season, will this be the year?
24
Northern Illinois (23)
Overall: 12-2
Conference: 9-0
Jordan Lynch is a year older. The Huskies should have enough left from an Orange Bowl season to win the MAC again.
25
Ole Miss (24)
Overall: 7-6
Conference: 3-5
The SEC's most curious program. Hugh Freeze has the recruiting thing down, but can the Rebels take the next step in the ultra-tough SEC West? Twenty starters return.