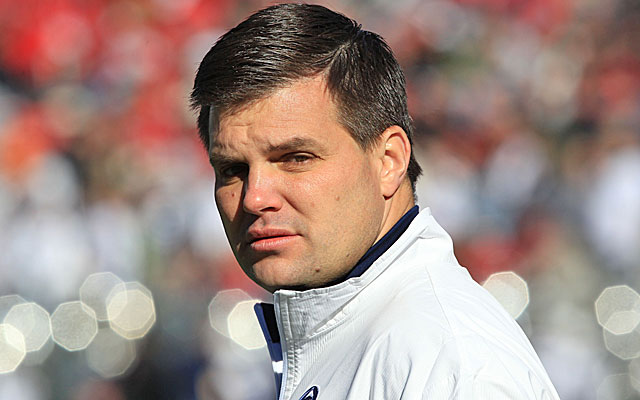 STATE COLLEGE, Pa. -- Jay Paterno isn't going away.
Not when the former Penn State assistant and Joe's son had interest from multiple networks about doing some college football work. Not with a possible book in the works. Not with his work for a non-profit. Not with a regular column on statecollege.com. Not with the idealistic zeal of Robert Kennedy, which explains what could be a blooming political career.
Not with enough speaking engagements to fill his appointment calendar. Not with five kids, a dog and -- you may have heard -- a purpose.
"May you find a cause or a love so precious you will defend its honor to the last," Joe and Sue Paterno's second-youngest child told graduates of the Paterno Fellows, a Penn State Liberal Arts Honors Society program earlier this month.
More on Joe Paterno
Column

Related links
More college football coverage
There is no pretense to Joseph Vincent Paterno Jr. For 17 years he coached at his father's side, the final 13 as Penn State quarterbacks coach. Even during those years, Jay, now 44, was a spokesman of sorts for his dad. It is not surprising that his current "job" since Joe Sr. died 16 months ago -- perhaps his life's work now -- has been keeping his iconic father's legacy alive.
"Not necessarily his legacy, but the truth," Jay said one recent afternoon at his home in an upscale State College neighborhood. "It's not all-consuming but if you're not careful it can be."
It has been, as you must know, a divisive quest. But if you thought the Penn State "issue" is going away, think again. It has served as the backdrop of unprecedented criticism of -- and legal challenges to -- the NCAA. Because of Mark Emmert's perceived (by some) circumventing of the NCAA enforcement process, even the Miami case is viewed in a different light.
"I don't care what you think of Donna Shalala's politics," friends have told Jay of Miami's president, once a member of Bill Clinton's cabinet. "you've got to admire her chutzpah."
Shalala's fight against the NCAA in the discombobulated Shapiro investigation has not gone unnoticed.
"She would be on my short list for the next president of Penn State," Jay said. "I don't care if they pay her $8 million a year."
We're coming up on a year since the NCAA smacked Penn State with unprecedented penalties. As part of those penalties, the NCAA went back to 1998 to wipe out some of Joe Paterno's accomplishments. It's been 19 months since the Jerry Sandusky presentment, and seven months since the former Penn State assistant was put in jail. There have been dueling investigations from Penn State (Freeh Report)and the Paterno family (Critique of the Freeh Report).
The sniping on both sides has been so intense that it was asked if the two reports essentially cancel each other out.
"We know," Jay said, "we're a hell of a lot closer to the truth than the Freeh Report."
And so it goes for a school, a family, a program and a nation. Normally, the media parade -- even after this heinous, shocking scandal -- would have moved on, except Jay won't let it.
When the satellite trucks began pulling up to his house after the family's report in February, he didn't shoo them away. Since Sandusky broke, the media was an outlet for Jay's message: His father didn't know about, didn't enable -- tacitly or otherwise -- the monster that is Jerry Sandusky. Jay's further take: Penn State, independent investigator Louis Freeh and the critics acted with the quick-twitch reaction that damaged the school's rep, football program and a family's last name to the core.
"It hurts me to me to see what happened to Penn State," Jay said. "No doubt the people that have suffered the most are the victims. The truth has to be there for them. It's gotta be there for Penn State [too]. If it's there for my dad too, so be it."
This is no endorsement of a point of view, merely a look-in on a son trying to preserve his father's memory. Whatever has been said -- or will be said -- likely won't change anyone's mind at this point. Agree or disagree Jay Paterno's viewpoint, one has to respect his energy in defending it.
What would you do for your father in such a situation?
Life as a lightning rod seemingly suits the son. He apologies for the uncut lawn (too much rain lately). A wonderful family patters around the house. Those five kids are the same total as Joe and Sue had. His wife, Kelley, shuttles them back and forth between practices. In Jay's study is a giant framed enlargement of a Sports Illustrated cover signed by his father featuring Penn State.
Jay is well-read and engaging way beyond football. He is quick to fetch a personal letter from producer Aaron Sorkin, thanking Jay for complimenting the HBO series, The Newsroom. There is discussion of Joe Posnanski's defining biography of his father, Paterno. The book shelves are packed in that study. Jay points to one of his favorites -- The Last Campaign -- chronicling Bobby Kennedy's run for president in 1968, the year Jay was born.
"Look, I'm not naïve," Jay said. "Not to compare myself to Bobby Kennedy, but one of things Bobby Kennedy said when he went out on campaign: He was aware that they were there to touch a piece of something else. I'm aware of that too. My dad's gone. Unfortunately, I look like him a little bit, I walk like him. I can't help it."
JayPa doesn't want to make it about himself, but in his campaign for his father some of it has to be. The spit storm that has radiated outward from Sandusky's acts cost former assistant Mike McQueary who is suing the university. Former defensive coordinator Tom Bradley -- the loyal soldier and interim coach after Joe was fired -- is in Pittsburgh, without a football job.
It's questionable whether any of them will coach at a BCS-conference school again.
"Be realistic ... if you're an AD, do you want to introduce Jay Paterno as your head football coach," he said, "and have to answer a bunch of questions? Your first five questions ... would be about Jerry Sandusky."
Perhaps the whole press conference.
"The assumption that he would know and not do anything about it," Jay said of his father. "There were people that said all the coaches knew and didn't do anything about it. You'd have to think we are absolutely horrible human beings."
This Football Camelot ended Nov. 10, 2011 when Joe Paterno was fired by phone ending a 61-year relationship with the school. (A billboard popped up in the area: You can't cover up 61 years of success with honor.)
Two months later Paterno passed, a victim of lung cancer. It all came in such a rush. The Freeh Report had found Paterno negligent in allowing Sandusky to prey upon his victims. The NCAA had already blamed a culture of football at Penn State.
"I watched the [NCAA] announcement and could not believe it," Jay said. "[Mark Emmert] really doesn't know what he is talking about.
"As a friend of mine probably said it best, 'It's insulting in two ways,' " he added. 'They're implying not only that your father is a criminal but also that he is stupid.' If he wanted to cover it up, he could hide ... The idea that there was this culture of football was just ... good God, I was in disbelief but not surprised.
"The perception is that Jerry was doing all this on campus. We was convicted of 45 counts, three of the 45 happened around our campus. The rest were at his home or at camps, things totally unrelated to Penn State.
"For whatever reason, there are people in the administration who don't want to correct that narrative."
Jay is asked how his father could miss Sanduksy's actions -- about the perception that Joe was all-knowing, all-powerful in State College. Is it possible that an elderly man could have compartmentalized some knowledge of Sandusky's crimes on some level to protect the football program from negative publicity?
"He did not have that ability," Jay said. "When things weren't right, he was up all night. He was one of those guys who did not have the ability to compartmentalize something like that -- compartmentalize injustice, and that was a big injustice.
What he's basically saying is, 'Had I known what was going on, I would have done more. I wish I had done more.'"
An 8-1 start and possible run at a Big Ten title in 2011 disintegrated as the season became anything but about football. Jay will forever be grateful for the way Ohio State fans greeted him on his last visit there as a Nittany Lions coach on Nov. 19, 2011.
"They were saying things like, 'We miss your dad,' he said. "I will take that to my grave because of the way they treated me."
During this next chapter of his life, Jay's eloquence on any number of subject is obvious in his statecollege.com columns. Dude can write. That non-profit, Nets4Net, seeks to eradicate malaria in Africa. He hasn't decided on any political aspirations. He has the face, opinions and personality for TV. Let's just say Jay Paterno isn't going to be hurting for a job in the future.
And they keep calling, Penn State, alumni chapters. He and his mother were approached last month to speak at a Pennsylvania Family Support Alliance about child abuse. Jay estimates he did more than 20 such speaking engagements in the last year.
"If there is one lesson I have learned in my life," he told those Paterno Fellows on May 4, "It is the pride, the honor that comes when you stand up for right."
Joe Paterno used to read his son a poem that has a lot of meaning today -- Rudyard Kipling's "If."
If you can keep your head when all about you
Are losing theirs and blaming it on you;

If you can trust yourself when all men doubt you,
But make allowance for their doubting too ...

That's how the poem begins. How all this ends, well, you already know Jay Paterno isn't going away.
"I love my dad obviously," Jay said. "I'd fight for him to the death. But you know what, I love Penn State too. What has happened to this university and what no one really wants to talk about is, this not a Penn State [issue].
"This, he said, "is a Jerry Sandusky issue."