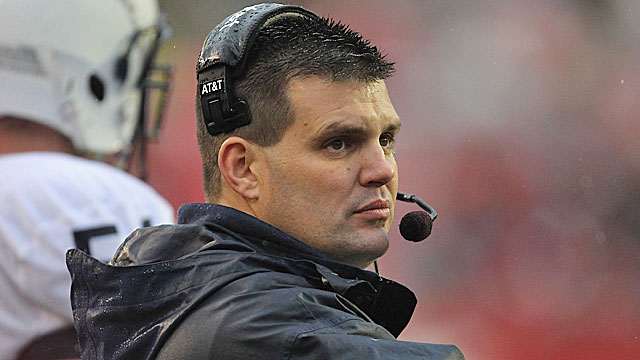 Jay Paterno is speaking nonsense, but he's allowed. And I'm being serious. There are six people in the world who have the right to speak utter nonsense in support of Joe Paterno, the former Penn State coach who either did or did not -- and he did not -- do enough to protect children from sexual predator Jerry Sandusky.
Those six people are Joe Paterno's widow, Sue, and their five children. Jay is one of those five kids. Blindly defending dad? Sure. That's understandable. That's what two of Paterno's sons, Jay and Scott Paterno, have done since this story broke in November 2011. They have spoken utter nonsense. They have defended their dad.
Enough time has passed for me to see that for what it is. Used to be, back when this story broke and then for months afterward, I'd get sick when Jay or Scott Paterno would say something to exonerate their father for his role -- and yes, he had a role -- in Jerry Sandusky's reign of terror. I'd get sick, and then I'd get angry. And then I'd get to writing. This is what I wrote on the topic in August.
More on Joe Paterno
Column

Related links
More college football coverage
But it's not what I'm writing today, even after reading the utter nonsense that came out of Jay Paterno's mouth in a long-ranging interview Tuesday with CBSSports.com's Dennis Dodd. I don't feel sick. I don't feel angry.
I feel sad.
Sad for the victims all over again? Absolutely. Goes without saying, but if I didn't say it some of you would wonder, so I'll say it: Sad for the victims, and sad for their parents. Heartbreaking what happened to those kids, and to those families. Devastating. Spend too much time tapping into that emotion, and maybe I will get angry all over again with Jay Paterno ...
But, no. Not today. Not anymore, if I can help it, because in his own way Jay Paterno is a victim as well. Not the victim. Not one of the 10 or 20 most affected victims or their families. Not close. Not remotely close.
But still, Jay and Scott Paterno, and their three siblings and their mother, are victims of this thing, too. Imagine, for a second, being one of them. They had a husband or father who wasn't just any husband or father, but one of the most virtuous husbands/fathers in America. That's what everyone said about Joe Paterno, anyway. That was the reputation.
That was the lie.
Imagine finding out, it was a lie. Or imagine, if his immediate family still believes in Joe Paterno's virtuosity, discovering that millions of people around the world now think he was a fraud, a fake, a pedophile-enabling cretin.
Imagine that.
If that were my father or yours, we'd be hurting. We'd be clinging to any stick that floated along, anything at all that would allow us to believe all those people out there ripping our dad didn't know. How could they know? They don't know. They weren't there in 2001 or 2002 or whenever Mike McQueary said he told Dad about Sandusky and that kid in the shower. Hell, McQueary doesn't even know what year it was! How can he be so sure about what he saw? And how does anyone know what he said that day when he visited his boss and head coach, Joe Paterno, and tried to give words to the unspeakable thing he'd seen in a school shower?
That's what I'd be thinking if my father's name were Joseph Vincent Paterno. That's what I'd hope my two sons would be thinking if their father's name were Joseph Vincent Paterno. That's what families do. They circle the wagons and attack anyone who would try to attack them.
You get that, right?
What would be nice is if Jay Paterno would get that he's not going to change anyone's mind about this story. We've decided, Jay. We've decided, Scott. Those who want to believe in your father, do. Those who don't believe in him, don't. It's over. There are no new facts to come out, only new interpretations, and very few of us are interested in another interpretation.
Joe's a monster who was told Jerry Sandusky had raped a kid in the school shower, and somehow managed to sleep at night -- every single night, for another decade -- without checking back with the police, without asking, "Say, whatever happened with that incident in my football team's shower?"
Or ... Joe's an innocent who was told something about Sandusky and a kid in the shower, reported it to his boss, and therefore has no culpability in whatever happened next.
Those are the two sides, and they've been chosen. Every time Jay Paterno or Scott Paterno speaks, they drive the wedge deeper between one side and the other. One of them speaks and the side that believes in the myth of Joe Paterno has something else to hold onto, something to fool themselves into thinking feels real.
The other side? The side that knows Joe Paterno was one of the handful of men in the world with the knowledge and power to make sure Sandusky was stopped, but didn't make sure? Allowing Sandusky to rape who knows how many more boys in the next decade? We have some fresh new kindling, and a match to reignite our anger.
Either way, Jay Paterno's words don't help. They hurt. They bring this awful story back for all of us to think about all over again.
Then again ... maybe that's good. Maybe that's what we need, a steady series of reminders of the evil that could lurk among us, and of the corruption of power that can happen when a man -- even one as seemingly good as Joe Paterno -- is granted god-like status in his community.
Whatever the case may be, Jay Paterno spoke to Dennis Dodd and I read it and saw five examples, then 10, then another 10, of the delusion that has allowed that family to function since November 2011. But I don't feel anger at Jay Paterno, just sadness.
As for all of you other Paterno sycophants, you men and women who see what you want to see simply because Joe Paterno once coached your favorite football team? I have plenty of anger for you. Disgust is another word for it.