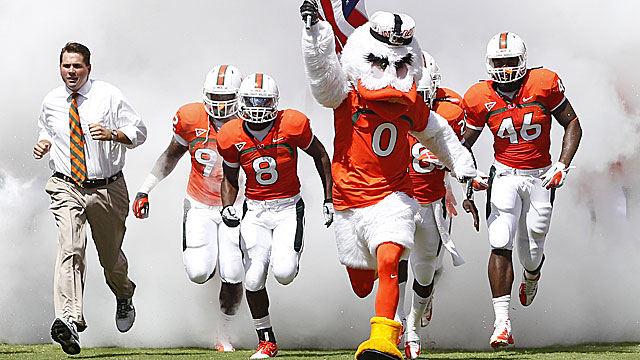 AMELIA ISLAND, Fla. -- Al Golden wakes up every morning with an 800-pound Shapiro in the room.
He won't tell you that but Miami's coach knows it's true. For most of the 2 ½ years Golden has been on the job, there has been something additional, awful and malignant attached to his daily duties. It sapped the program's energy, distracted from the cause.
Redefined his job.
"On a scale of 1-10, it is the most difficult circumstance you have to operate under," Golden said during a break in the ACC spring meetings.
More on college football
Related links
More college football coverage
There are not many sympathetic figures in the sordid Nevin Shapiro NCAA investigation. Not president Donna Shalala whose indignation has muted the fact that on some level her university is guilty for letting a now-convicted Ponzi schemer run free in the athletic department. Certainly not Shapiro and the NCAA.
But Golden has been asked to sustain Miami football while an unprecedented scandal bubbled around him. He is not named in the notice of allegations. Last year, the coach called "simply false" "inferences and suggestions" in a Yahoo! Sports story stating he was aware of wrongdoing within the program.
With less than a month to go before the school's infractions committee hearing, Golden has not been shy about his plight. He termed negative recruiting surrounding the program as "toxic, toxic, toxic."
"Where we are because of the gray area and the length [of the investigation] and the obviously notoriety of the program," he said. "That combination has been very toxic. It's really given ammunition to the opposition."
Toxic?
"Toxic, meaning it lingers," Golden said. "You can clean up the site but until you change the soil then it's toxic. In our business we'll always say we have a bigger stadium or we have a better graduation rate or we have more guys in the NFL or we have guys in the Pro Bowl. That's all fine. Those questions and those statements linger for a day maybe a conversation and the kid will think about it and make his own decision. In this case really there's no decision to make. It's not finite.
"As soon as we make it a fixed value, we're all going to be better off for it. The strain on all the coaches and their families, it's been an incredibly tough 2½ years."
Golden speaks of "unanswerable questions" asked by recruits -- even high school sophomores and juniors -- trying to make a life-changing decisions.
"Every time they see our brand right now it's also got another brand next to it," the coach said, "with a big 'X' by it."
"This," he added, "is as bad as it can be. Good days are coming and when the clouds do clear, we're going to come out stronger and better for it."
Those aren't the words of a man about to be named in major violations in a program that has been burned to the ground around him. In his first two seasons on the job, Golden's Hurricanes have been denied bowl opportunities and an ACC title game berth because of the school's self-imposed penalties. The second bowl ban last season was announced with only a few days left in the regular season.
"Hey, how about the coaches? How about the coaches' families that have been deprived of two bowl games?" Golden said. "The opportunity to go to Charlotte [for the ACC title game], what would that have meant to recruiting? To be able to say we were the first Miami Hurricane team to be able to do that?"
With Miami and North Carolina ineligible for a bowl in the ACC Coastal Division, Georgia Tech went to Charlotte at 6-6, and subsequently to the Sun Bowl at 6-7 after losing to Florida State.
ACC commissioner John Swofford told CBSSports.com that Miami's self-imposed penalties have "been strong. They dealt with the accusations straight up. In Al's case he's been able to rebuild a program even during the process itself."
But have those penalties been enough?
"In my opinion, yes," Swofford said. "When you couple what they self-imposed with the length of the investigation, I feel like it's a part of the penalty itself."
Swofford said the NCAA, in general, needs to address the length of investigations. The association advertises that the average length of investigations is down to 10 months. But Miami's has lasted more than two years. North Carolina's probe lingered as well.
"This has nothing to do with Miami but in the future we -- the NCAA -- have to find a way to bring closure to these kinds of situations much more quickly than we seem to be able to," he said.
Golden won't name names, but said those in the profession offering encouragement have eased his mind.
"Everywhere you turn you are faced by it," he said of the investigation. "The only thing that lent support and credence that we were doing it the right way were other coaches and administrators."
You might have noticed that Miami's famous swagger is muted for now, certainly changed.
"It went from being a Miami Hurricane and trying to win a championship to now being the team that navigated the storm and led us out of it," Golden said.
Even within this mess, there has to be some level of pressure on Golden. He has recruited well. Even with that toxic climate, the coach says there are still six or seven commits for the 2014 class. But in his first two seasons, Golden is a combined 13-11. There are 19 returning starters including quarterback Stephen Morris, tailback Duke Johnson and an experienced offensive line.
"We're planning on going to a bowl game," Golden said.
That would signal a major accomplishment and a possible reprieve from the NCAA. They wouldn't pile on with a third bowl ban, would they?
Time served for Miami at this point has to sound like the biggest win of Golden's coaching career. For now, he can't avoid the big Shapiro in the room. It's ugly and it stinks all the way out to the practice field.
"How do you coach under those circumstances?" the coach said. "There's no playbook for that."