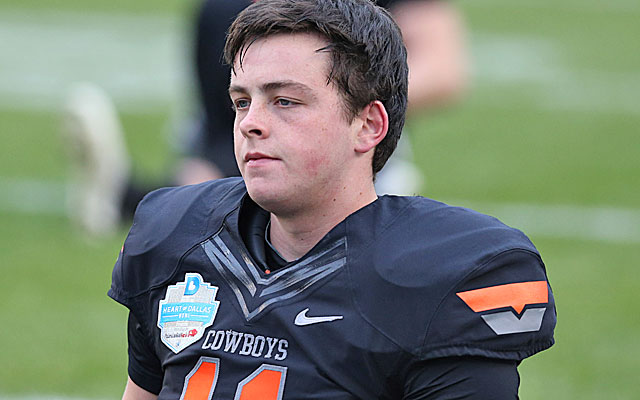 The transfer game reached absurd levels of curiosity when Mike Gundy restricted quarterback Wes Lunt from 37 schools and three whole conferences.
Gundy is going for the estate, the 50-percent revenue split and the dogs in this divorce.
Mediation is necessary. After all, there were high hopes for this union when that National Letter of Intent came through the Oklahoma State football fax machine in February 2012. But the quarterback wants to play, and the coach doesn't want to lose an edge. That's why we've called "1-800-No-Fault-Transfer" to help provide some clarity -- and a few guidelines -- to this split. Future transfers, please call. No-Fault-Transfer has sought divorce mediation (or just some general thoughts about transfers) from North Texas' Dan McCarney, Fresno State's Tim DeRuyter and friend of the SEC Houston Nutt.
Time to hash this out in a stale conference room over bad coffee.
Gundy can have the Big 12/Southern Miss restrictions: All three coaches from the mediation counsel say preventing players from signing with a team on your future schedule is widely accepted by coaches and often the players leaving. "Players know your program inside and out," McCarney said.
That's why No-Fault-Transfer will allow the restrictions on the Big 12, and also Southern Miss, because of the precedent it sets.
It's not that a player shouldn't be allowed to transfer to a school where he has a relationship with the coach -- which Lunt would have at Southern Miss under former Cowboys offensive coordinator Todd Monken.
But Gundy has ushered three offensive coordinators into head coaching jobs, and he probably doesn't want them providing a safe landing strip for departing players. For settlement purposes, these restrictions keep Gundy happy.
Lunt gets the other 27 schools: The only SEC school on Oklahoma State's immediate schedule is Mississippi State in 2013. No tangible reason to keep him from the SEC.
Perhaps the Cowboys will meet a Pac-12 school in the Buffalo Wild Wings Bowl one day and Lunt will lead his school to a come-from-behind win because he knew all the Cowboys' secrets. But that's doubtful. He can go to the Pac-12.
And the Eastern Michigan ban -- well, it's Eastern Michigan. Let the man Swoop if that's what he wants!
Lunt should have reasonable flexibility. And Gundy had his eyes on another quarterback, which always plays in the quarterback's favor in transfer mediation.
"As a coach, you've invested so much time in a player that you don't want to see them leave," Nutt said. "But if they aren't the right fit or aren't going to get the opportunity, you still want to see them do well."
By placing nearly 40 restrictions on Lunt, Gundy probably doesn't want him to leave: No-Fault-Transfer can't speak for Gundy, who was unavailable for comment, but maybe the man remembers he had something special in Lunt, who has three years of eligibility left (one more than probable starter Clint Chelf). He has a thing for quick releases, if only on the field.
Does Gundy want to stay with Lunt?
"Maybe [a heavy restriction plan] is a way to try to discourage transfers from leaving," McCarney said.
Added Nutt: "That's like saying, 'You're going to be here, buddy.' "
Harsh restrictions could actually give a player more incentive to leave, almost out of spite, but if Lunt doesn't like his visits to Illinois and Louisville, then maybe the two can reunite ambicably.
Probably not.
In splitting of assets, the coach always wins: Gundy can keep his $3 million-plus salary, his one Big 12 title and his 67 wins.
Lunt can keep the Cowboys shirt and cleats he got as a freshman, along with the handshakes on his way out.
Clearly Gundy gets the better deal. You didn't think players would actually get a financial cut, did you? At least Lunt keeps future professional earnings.
Transferring can be tough, yet Nutt sees the list of transfers grow every offseason. He knows exactly why.
"As soon as the playing time doesn't happen, especially if it's a highly recruited player, there's pressure from back home. 'Those coaches are messing your son up, you better get out of there.' "
The empathy phase: In one season, Gundy and Lunt shared eight wins and 1,108 yards.
They can do more without each other.
Gundy can't lift the NCAA rule that forces Lunt and other transfers wanting more playing time to sit out a year. The rule often handcuffs players, but as DeRuyter points out, the alternative would handcuff schools because programs would get poached all day. Even in the messiest transfer divorces, both sides still can win.
"You just have to be clear about your intentions on both sides and, if someone is better off elsewhere, hope for the best," DeRuyter said.