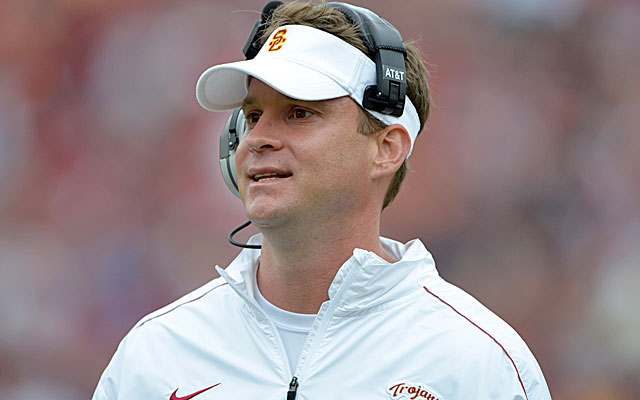 Last week at their annual spring meeting in Amelia Island, Fla., the ACC's head football coaches said they wanted the Coaches poll to be a part of the selection process in the new four-team playoff.
In 2014 we say goodbye to the BCS and the two-team playoff that has existed for 16 years. Those two teams were picked by a formula that included two human polls (the Coaches poll was one), and an average of computer polls. The four teams for the playoffs, however, will be chosen by a selection committee. The composition of that committee has yet to be determined.
The Coaches poll, which includes votes from 56 FBS head coaches, has been a part of the BCS selection process since it began in 1998. The BCS championship trophy is the Coaches Trophy to which the American Football Coaches Association (AFCA) owns licensing rights.
In short, the coaches are pretty ingrained and invested in the current process. They believe their voices should still be heard in the new world order.
I talked to Duke's David Cutlcliffe last week and he simply said "We as coaches believe we should still be a part of the process."
Cutcliffe is one of the most honorable men in the profession and what he says carries a lot of weight with me. But it is not going to happen -- at least not to the extent that the coaches would want.
College football's postseason is growing up and, moving forward, coaches will be just one of many constituencies that will be considered in the process. I'm not saying their voice will be ignored, but neither will it be dominant.
Here are just five reasons why the Coaches poll can't be part of deciding the four-team playoff. Understand that these are not CRITICISMS of coaches. It just recognizes that coaches are what they are:
Lane Kiffin
OK, this one's a criticism, but last summer I wrote about the inherent flaws of the Coaches poll as exemplified by Southern California coach Lane Kiffin. Kiffin, a voting member of the poll, said publicly that if he were outside USC he would not vote the Trojans No. 1 because of issues such as depth, etc. Then Kiffin cast his first ballot and put USC No. 1 because he wanted to show his guys that he believed in them. Kiffin saw no contradiction in his public pronouncement and his private actions. Kiffin finally decided he was in an indefensible position and gave up his vote in the poll.
The Coaches poll is more political than politics
Remember that at the end of last season Northern Illinois (12-1), the MAC champ, needed to finish No. 16 or better in the final BCS Standings to earn an at-large spot, probably in the Orange Bowl. If Northern Illinois finished No. 17, then it was all but certain that No. 11 Oklahoma (10-2) would get that Orange Bowl bid as an at-large team. So every single vote counted.
An analysis of the final vote in the Coaches poll (the only one that is made public) by Steve Berkowitz of USA Today, revealed that four Big 12 coaches (Oklahoma is a member of the Big 12), including Oklahoma coach Bob Stoops, either voted the Sooners No. 6 or Northern Illinois No. 24. Stoops did both.
Again, this is not a knock on Stoops. His job is to do what is best for Oklahoma. What is best for Oklahoma is to play in a BCS bowl. They gave him a vote and he did what was best for Oklahoma. My point is that coaches should never be put in that position. Still, Northern Illinois finished No. 15 and got the BCS bid to play Florida State (losing 31-10).
Every final Coaches poll is full of these kinds of examples of coaches taking care of themselves or their buddies. That just can't be a part of the new process.
A huge conflict of interest
Most organizations bend over backwards to avoid even the APPEARANCE of a conflict of interest. The coaches' conflict of interest here is beyond blatant. Many coaches -- most coaches in fact -- have incentive clauses for bonuses based on postseason appearances. Earning a spot in one of the six bowls in the new playoff will trigger a bonus. A spot in one of the semifinals will pay a bigger bonus. And winning the national championship will be a bigger bonus still.
There is absolutely nothing wrong with that. Coaches should receive bonuses for postseason accomplishments. But you can't be in a position to vote yourself or your friends a bonus. In any other business such a thing would never be CONSIDERED.
You can't do the homework and do your job
A coach's job is to get his team ready to play an opponent each week. That means a head coach is focusing on his team and his opponent on a weekly basis. He doesn't have time to analyze how good Boise State is if he is not going to play them.
My hope is that the members of the selection committee will travel extensively, watch a lot of football and talk to a lot of people in order to truly gauge how good these teams are in respect to the rest of the nation. The learning curve is going to be pretty intense for the members of the committee, especially for the first few years.
Coaches would never agree to transparency
Duke's Cutcliffe said in media reports that the coaches would be willing to agree to let everybody have a vote and to make all ballots public and to police the transgressors. I admire the coaches for setting a lofty goal but I'll stick with what I wrote last August: With notable exceptions, most coaches don't understand the concept of transparency and those who do don't really believe in it. Again, coaches are not wired to be transparent to the public. They do what is best for their football program and their school and their alumni. And that's OK. I just don't think for a minute they are going to subject themselves to the weekly scrutiny of their ballots. Quite honestly, they shouldn't. Coaching football is tough enough without those kinds of distractions.
I understand where the coaches are coming from. They have heavily invested their lives into the game and they don't want to be shut out of the process. So how about this:
The coaches will continue to do their poll. I like the idea of not releasing the first poll until mid-October. But that poll, and no other human polls, will be in the room with the selection committee.
I've already suggested putting Grant Teaff, the executive director of the AFCA, on the selection committee to represent the coaches. Teaff would get input from his coaches and meet with his board of directors before the selection process and then serve as their voice in the room.
My belief is that the four-team playoff is an opportunity to move college football out of the realm of the subjective polls. The process will always be somewhat subjective because humans are involved, but those humans will be carefully selected and given tons of objective data to help make their decisions. In other words, the powers that be need to make the process as objective as possible.
I admire coaches and what they do as much as anybody. But when it comes to football, very few have an objective bone in their bodies. And that's as it should be.