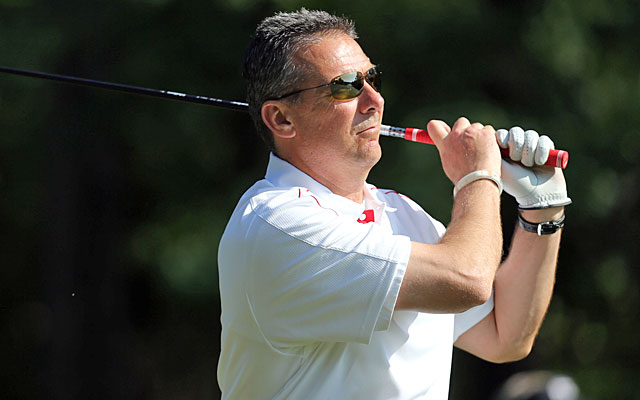 COLUMBUS, Ohio -- Urban Meyer insatiably chased perfection, and that swallowed him up at Florida, leaving him with severe chest pains, family orders for a lifestyle change and a walk away from what's probably a top-five job in the country.
After all that, Meyer found perfection in his first year at Ohio State when not many were expecting it.
So, is going 12-0 last year actually good for him?
The precedent is set: Meyer's Buckeyes are the Big Ten's brightest hope for 2013 BCS title contention.
The last time Meyer faced title expectations, he was forced into a hospital and a brief retirement before the 2009 calendar year ended.
Meyer sees at least two reasons why this circumstance is different. For one, Meyer said he hasn't thought about how the undefeated season affects him because he has trained himself not to look ahead and to delegate more. He hasn't encountered one day in Columbus where he felt he couldn't shut off work and go home, he says.
Also, after evaluating Ohio State's roster, Meyer knows there's no parallel -- at least not yet -- with his Florida squads that were stocked with All-Pro talent. He doesn't face the same challenges. Maybe a few recruiting classes can change that.
"I don't think we've reached that status. I could show you some film and we're certainly not there," Meyer said. "We were not good enough [last season] where we had these high expectations. I'm biased, but I think that '08 team is as good or better than any team to ever play college football."
Meyer admittedly overreacted to too many internal problems in the past. But over time, he realized something: He's not always needed as much as he thought. He can get out of the way sometimes.
Meyer found time to tackle several topics from his office this week in an interview with CBSSports.com, including the SEC, Big Ten recruiting, Ohio State's under-wraps offensive changes, regret with how he left Florida, the college football playoff, increasing scholarships, and the need for schools to pay not only players -- but their parents -- for official visit expenses.
On the fragility of winning and how Alabama/SEC balances it well
"That's how I think Alabama has really done a good job. You have to give those guys a lot of credit. A lot of times you see that nowadays, the entitlement issues that come with winning and outside influences. I just think it's why the SEC is so good. You look at [2012], [Alabama] should have lost three games. Georgia had them beat. LSU, I watched that one, it was over. Obviously they ended up beating them. I thought they'd be really good. I think there are some really good teams in the conference."
On concern about the Big Ten's declining NFL Draft numbers and sagging reputation
"Am I worried? Yeah. I can only control that I want to recruit really well here and develop players. There are some great players in this league and some excellent coaches. I think that's going to start to change."
On the root of the SEC's success in recruiting compared to other conferences
"Just look on a map where the players are. There's certainly a population shift. I also think that's cyclical. There was a time New Jersey was loaded with potential NFL players. There are other times it's not. Maybe we just got caught in a little bit of, you know, I think some of the good players from the Northern part or Eastern part went down South. When you're losing Sharrif Floyd and Dominique Easley, those are usually guys who would stay up [in the Northeast]."
On whether coaches settling into a current job can go 10-20 years at one spot
"I don't think you can. I think Bob Stoops is a guy I'd like to talk to, a guy I watch. I admire the way he handles it because he's a family guy. He's created a beast at Oklahoma. At Oklahoma, what's good enough? But I have a lot of respect for Bob Stoops. I talk to him about it. I know this, he's not an isolated nut job. He's a family guy who enjoys his life and leaves and does things. He's going to do his best. He tells me all the time, I'm going to do my best. Not for you, not for these guys, I'll do my best for these players."
On why he won't forecast his tenure length at OSU or show concern for his long-term impact on the game
"I learned a lesson. I really want to make the great state of Ohio proud. I want to impact people and enjoy my family. In the big picture, [a legacy is] not really important. I'm not trying to worry about the world. I'm trying to worry about Ohio State."
On how his commitment to the spread offense is overrated
"We're more of a pro style. We might not look like it all the time, but schematically we are. We ran more direct handoffs than we've ever run. I have two tight ends that can really block. The spread offense we ran last year wasn't a spread offense. It was pro style with spread elements. Defenses have done a really good job defending the spread because they work at it so hard. There are at least eight teams in the Big Ten running the spread offense now, whereas in 2005, when we first came to the SEC, there was one -- Florida."
On whether OSU will implement more of the spread when recruiting classes take shape
"I don't know. I think we'll always have a little bit more of a pro element to it as well now. Also you have weather issues once in awhile. It depends on what's working. If teams are working all their time on maybe defending the perimeter run game, that leaves some voids. A lot of our rush yardage last year was interior. Teams defended the perimeter really well last year, so that just gave us a chance to go inside. A lot of it is personnel and what you're facing. That determines what you do. We took an offense that was kind of built as an I-formation team a year ago and we tried to adapt it to more open sets, not necessarily spread calls."
On offensive changes in 2013
"We're going through a really fine menu of who we are offensively. Now we know Braxton [Miller], like really know what he can do, and we can really utilize that. It's not just running fast. There are some things in the pass game I think he'll be really good at. And you'll see that next fall. We're working hard on it right now. I have this new coaching staff with all these great ideas and I think we were all over the place last year. We're going to try to tighten it down. I don't want it out there. [How Miller handles it] will determine how much we do and how far we go with it. It's much less running. But, we have to win games."
On his concern with the looming college football playoff
"My biggest thing is the wear and tear on the player. If someone would have told us after '06 and '08, 'By the way, you have one more,' I don't know who you're going to play with. Oh, my gosh. To get what that '08 team had to do, playing South Carolina, FSU, Alabama, Oklahoma, then they say, 'By the way you go play USC' or something like that -- you just have to be really smart on how you practice leading up to that. I've talked to some of my colleagues about it. With the concussion issue, you have to be really smart. The good thing is it's only two teams.
"To add another game -- it's not just another game. When people say that, they've never coached in those games. When we played Alabama, that wasn't another game. You're talking about elite, elite teams doing this [claps hands loudly]."
On the potential for an eight-team playoff in the future
"I worry about [eight teams]. Whenever they have that discussion, it ought to be, No. 1, student-athlete welfare, not television, not commissioners, not that -- student-athlete welfare. That's best for the student-athlete? I'm not sure it's that right now. I remember looking in that room [after winning a title], all the injuries. The question is, 'Do you increase scholarships now?' You're going to deal with injuries. The more games you have, the more opportunities for stuff. They aren't games now. They are freakin' sledgehammers."
On why college football shouldn't follow an NFL playoff model
"The NFL is not into the development of players. They are in the drafting players business and they don't go pads at all. The minute you do that in college, you're not developing players. What you just said, those are all real conversations coaches are having. Because it's real. Do you really want a 17-year-old kid who doesn't know how to tackle not practicing? I don't want that. I don't want to do that. Now you get guys hurt because they don't know how to play."
On paying players
I think they should get a stipend, no doubt, 100 percent. Really disappointed when they rescinded that. I understand, because I was at some schools where that would be major. And I can understand that you can't pay just football players. My daughters are volleyball players. How do you pay them and not them? ... I understand the issues. But absolutely, I think there should be something involved."
On the need to pay the expenses of recruits and their families on official visits
"That's nonsense the mom and the dad have to buy a plane ticket. Kids from Texas visiting Ohio State, we should pay for that. They don't have $1,200. They shouldn't have to pay that to visit the school of their son. So there are things along the way that they can have that -- we should be having those discussions. Instead we're having discussions about unlimited recruiting material or something like that."
On how to pay for it
"The BCS is getting ready to get billions of dollars for the national championship game. I think that money should go to student-athletes. If you can't pay them, then pay for families to visit. Think about what happened all spring. People are talking about these silly rules, why aren't they talking about, well, the student athlete. We [coaches] bring that up but that gets lost somewhere. Coaches talk about it all the time. But a lot of time these coaches aren't on these committees. There are no coaches on these committees. It's very frustrating and well-documented."
On why 'no question' he would still be at Florida if health issues never surfaced
"I realized not too long after [around February 2011]. I called Jeremy [Foley] and said, 'I made a mistake.' Once I felt like everything was under control, it was like, 'Oh my gosh, what did I do?' I just told Jeremy as a friend in conversation. The talk was more about one day getting back into it. He was very supportive. Then I started at ESPN and had a ball with that, but is that enough? Is that what I was called to do? I planned to take more than a year [off] though."
On the tough move from Florida
"We were gypsies for so long. We finally settled in and had our home. That was that. Right as things happened I said, 'I'm done, we'll stay down here, I'm tired of coaching.' Then opportunities show up and we move and here's a kid [son Nate] who lived in a place for seven years -- he didn't like it, he loved it. It was a really hard move. Everything's good now and we're settled in, but I mean really hard."
On regrets for the way his Florida tenure ended
"I didn't at first. I thought we did a good job. We did our best. I look back now, the way it ended was certainly a regret. Does that mean it haunts me? Not at all. I've always felt our job is to do a good job and do it the right way, do it ethically and for the best interest of the student-athlete -- check, check, check. I'll always be associated with the school, and my great friends are there and all that. Absolutely none with that. It just wasn't a normal way to move on. There would have been if I would have stayed out. I was worried about survival for a little bit."
On the most important everyday change he has made in the office
"Overreaction. I'm one of those Type A's that can't go through life being completely nuts like I was. It's not easy to change. I think I have a little bit. It was chaos. Every speed bump was a catastrophe. I sit back, evaluate, sometimes don't deal with [problems] immediately, make sure I have a very good circle and administration. Sometimes you have to hand it off. And I'm real clear with players. This is the line of demarcation."