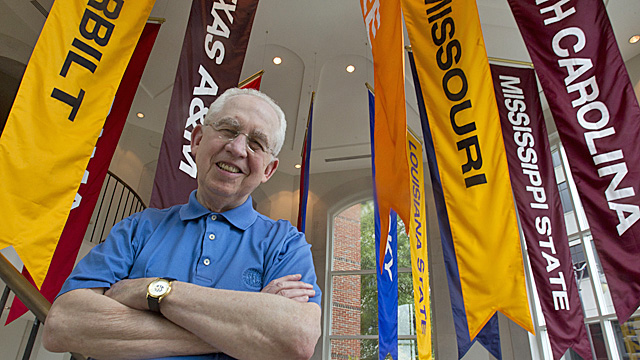 DESTIN, Fla. -- Mike Slive has accomplished a great deal since taking over as commissioner of the SEC in 2002. But it would be hard to top what has happened to both commissioner and conference in 2012-2013:
•  The SEC incorporated two new members (Texas A&M, Missouri) and the Aggies gave the conference another Heisman Trophy winner.
•  The SEC won an unprecedented seventh consecutive BCS championship in football.
•  The league was a driving force behind the creation of a four-team playoff, which will begin after the 2014 regular season.
•  It created a historic alliance with the Big 12 to play annually in the Sugar Bowl to match the Big Ten-Pac-12 relationship in the Rose Bowl.
•  And on May 2 in Atlanta, with all 14 head football coaches in attendance, the SEC announced that it would launch its own network on Aug. 1, 2014.
"We've been busy," Slive says.
There are a number of big items still left to tackle, like the future of football scheduling in the conference, which will be discussed when the annual Spring Meetings begin here on Tuesday. On Monday morning, I sat down with the commissioner to discuss the future of the conference and a host of other issues.
Tony Barnhart: Let's start by talking about something really important. This time last year, you had to make a quick trip back to Birmingham from these meetings because you had become a grandfather for the first time.
Mike Slive: I left here and finally got a chance to hold my granddaughter about 1 o'clock in the morning. Then I got on a plane back here about 2 a.m. to finish the meetings. It has been wonderful having Abigail in our family. There is nothing like being a grandfather.
TB: You've been the commissioner since 2002. This has to be the busiest year you have had.
Slive: It really has been. What is gratifying is that we come to Destin this year knowing that we've taken a lot of steps for the long-term good of this conference. Texas A&M and Missouri have been great fits. The alliance with the Big 12 is going to be really special. The network was basically three years in the making, and now that's done. It's been a great year.
TB: What has been the early feedback about the SEC Network?
Slive: Very positive. Wherever I go, people come up to me and talk about the network. How can they access the network? What's going to be on the network? The other question is what is the content going to be? Over the next 15 months, we will develop the content. The SEC owns the content and we will sit down with (our partner) ESPN and find the mutually agreeable programming. We forget that there are over 8,000 hours in a year. Even with 45 football games and 100 men's basketball games and a total of 1,000 events, our goal is to develop programming that isn't just an event so that our viewers will get something valuable by coming to the network.
TB: Which is why the first person hired was (Birmingham-based radio host) Paul Finebaum.
Slive: Yes. Some people like Paul and some people don't. But everybody will tell you that he is interesting, regardless of the angle or the point of view you come from. Paul's moving to Charlotte (where the SEC Network studios will be based) and he'll have a year working with ESPN on various platforms before our network launches. It is an SEC network but it is a national network. We obviously want the programming to be interesting to the fans in our (11-state) footprint but we also want it to bring in people from all over the country -- whether they like the SEC or not -- to see what we're doing.
TB: Football scheduling is going to be a hot topic at these meetings. Some schools, specifically LSU, feel strongly that the "permanent crossover" component of your scheduling should come to an end. Others believe that the conference should go from the current eight- to a nine-game schedule.
Slive: Remember that last year we overwhelmingly voted to keep the current 6-1-1 scheduling model (six division games, one permanent opponent in the other division, one rotating opponent in the other division) and we are currently building the 2014 schedule on that basis. The question is whether or not we keep that model for a longer term. As I have always said, the First Amendment is alive and well, and will be on display for the next few days. We understand there are different points of view on this.
Should we stay with the 6-1-1 model? Should we eliminate the permanent crossovers? Should we go to nine games? There is going to be a lot of discussion during the week on this and a lot of media interest.
TB: Under the current scheduling model, LSU plays Florida every year and has been outspoken in wanting to change that. Do you have an opinion on whether that part of the scheduling model should be changed?
Slive: If I had an opinion, I wouldn't tell you. But I am open-minded on this issue. The test for me is what is the principle in play? There are scheduling principles in play, but for me, the overriding principle is: What is in the long-term best interest of the Southeastern Conference? That is a simple principle but it can be very difficult in application. It takes some forecasting. It takes some thinking.
We've always been very creative in this league. We have always been deliberate and careful. All those characteristics have to go into this discussion about the schedule. Where it comes out, I don't know, but everything is important -- every element.
TB: We know that in the four-team playoff (starting in 2014), strength of schedule is going to be important. Because of that, some of your schools believe the SEC should go to a nine-game conference schedule. How do you feel about that?
Slive: A lot of this discussion comes back to nonconference scheduling, and as a conference, we're going to have to take a look at that. But when I was on the men's basketball committee, I always believed that you should judge a team by its entire body of work. And our conference schedule is a big part of the body of work for our teams. Some of our teams (Florida, Georgia, South Carolina, Kentucky) already play a ninth game because of a nonconference rivalry game.
TB: Last December, Georgia and Alabama played what many believe was the best SEC championship game ever. Then Alabama goes on to dominate Notre Dame in the BCS championship game. What were your thoughts after watching those two games?
Slive: Georgia-Alabama was just a terrific game. And one of the things you hope when a team like Georgia plays a team like Alabama and loses close at the end is that the selection committee understands that they are looking at very comparable teams and that they both deserve to be playing for the national championship. And when Alabama goes out and wins (against Notre Dame) the way that they won, it just reinforces the concept. We'll see how that plays out.
TB: Are you happy with the four-team playoff?
Slive: I am very happy with it. The new (six-bowl) structure gives more than just two opportunities for our teams. We will play the Big 12 in the Sugar Bowl on New Year's night. Everybody's agreed we want the four best teams (in the playoffs). The academic schedule has not been disturbed. The fans wanted a playoff and we found the right model.
TB: You understand that after the first year, fans are going to be calling for the field to expand to eight teams.
Slive: I understand that for some people, this is considered just a step to a bigger process. But for those of us who have done it over the years, it was not just a step. We were able to get accomplished what we wanted to get accomplished and were able to breathe life back into New Year's Day. We're created something new for the fans. New Year's Eve will not be the same. We are going to really have two January Firsts, just one of them will be on Dec. 31.
TB: OK. Let's talk about some things you might now bring up to the front burner. Two years ago, you called for the athletic scholarship to change to include the full cost of attendance. That still hasn't been done. You recently said that you wanted to get this accomplished within the framework of the NCAA, but that alternatives might need to be considered if it can't get done.
Slive: I have said that it is important that we do this, which leaves people to speculate about what happens if you don't. Our goal is to have an effective NCAA. I don't go to the what-ifs, but I do think that if we can't get this done, we have to sit down and talk about, you know, what's wrong?
TB: What's wrong is that the schools that say they can't afford it outnumber the ones that can.
Slive: One of the things (NCAA president) Mark Emmert has tried to do has been to indicate that we should make decisions based on what is best for the student-athlete, and not based on an economic issue of who can do it versus who can't do it. In this day and age, that's not really the appropriate test.
TB: The SEC led in average football attendance for the 15th straight year, but nine of your 14 schools saw attendance dip in 2012. The SEC has put together a working group to study the problem. Is there really a problem with football attendance in the SEC?
Slive: The time to deal with an issue is when you don't have it and try to think ahead. Television and technology are becoming a bigger part of sports. We have more to offer than just the event, so we want to make sure we are providing the fan with the kind of experience that continues their interest in coming to our stadiums. We took a baby step last year when we started showing the same replays inside our stadiums that fans were seeing at home. Right now, our stadiums are filled to 96, 97 or 98 capacity. This is the time to stay ahead of the curve.
When I go to games, I'm always touched when I see a mom and dad with their children -- we'll call them John and Jane. I realize if I come back in 10-15 years, Mom and Dad will be Grandma and Grandpa. John and Jane will be Mom and Dad, and then there'll be a new John and Jane. We want to keep all of those people coming back to our games.
TB: You will turn 73 on July 26. You just became a grandfather. At the end of this week's meetings, you will have one year left on your contract as commissioner of the SEC. So what do you want to do?
Slive: (smiling) I think we'll just use the year to figure that out.