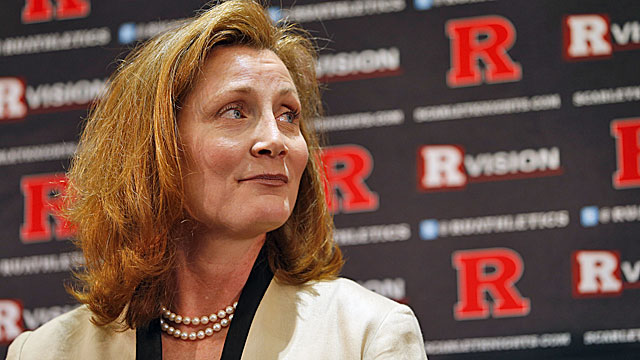 I'm beginning to think this is more of a coaches' problem than a Rutgers problem.
New Jersey's state university can't seem to get away from associating itself with allegedly abusive coaches, if you consider the fine reporting by Craig Wolff in the Newark Star-Ledger. Worse, the school seemingly didn't do a proper background check on an AD hire they absolutely could not get wrong.
That was after not doing a proper background check on a basketball hire they absolutely could not get wrong.
Or maybe it's just hard to find an untainted coach. The days of simply teaching the basic tenets of a sport in a humane way are almost reason for nostalgia.
That's the main issue for Rutgers' president Robert Barchi to consider -- if he lasts the week. It was under Barchi's watch (he started Sept. 1) that former men's basketball coach Mike Rice was allowed to roam free with physical confrontations. Now it looks like Barchi didn't have the time to personally oversee the hiring of his new AD, Julie Hermann, with the university's reputation at stake.
"Whores," "alcoholics," "learning disabled" were allegedly some of the insults hurled at Tennessee's volleyball squad by Hermann. A 16-year old letter from her final Vols squad alleges Hermann mistreated players.
In a Monday conference call, Hermann said she did not call players "whores" and added she would not resign. Also, Barchi backed Hermann in a Monday statement. Regardless, these are not the conversations you want to be having three weeks before the new AD starts her job.
Rutgers' officials went ahead with the hire despite a jury verdict that awarded $150,000 to a former Hermann assistant who sued because of pregnancy discrimination. To some schools, that would be reason enough to strike Hermann's name off the list. At Rutgers, the Star-Ledger reported Hermann's name was added by the school's search committee co-chairwoman after an initial list of 47 candidates was submitted by a high-powered headhunter hired to, well, hunt for viable candidates.
Whether Barchi remains, his reputation is done. He cannot go forward as an effective leader. The embattled president doesn't deserve an opportunity for a third strike. What if Hermann has to evaluate a Rutgers coach who becomes pregnant? But, again, that's a Rutgers problem for the moment.
What Barchi's lax leadership apparently has revealed is there may be more coaches with unsavory pasts than we'd like to believe. We have seen their like publicly in the past -- a morally bankrupt sub-culture with whistles. Coaches armed with more bile than leadership, more insults than ability to properly motivate.
That's how bullies usually rule, isn't it? They pick on the weak and vulnerable for ego's sake. College players are particularly vulnerable. College is the jumping off point in their personal and professional lives.
The Star-Ledger also reported those Tennessee volleyball players "struggled with the decision to write the letter, fearful their scholarships would be revoked."
Apparently, no one at Rutgers bothered to ask why Hermann suddenly went into athletic administration after Tennessee. What was her interaction like with players when she was a coach?
The fact that all 15 players on the roster went on record with the letter should tell you that Hermann's alleged tactics weren't exactly selective.
"We really need better training for coaches," said Jack Stark, a clinical psychologist based in Lincoln, Neb., with a thriving sports practice. "Whenever I give talks to high school coaches I say, 'Guys, you've got to change your behavior. The old ways don't work anymore.'"
The question remains: How prevalent is this kind of coaching conduct? We know players can be controlled by the threat of losing that scholarship and/or playing time. Let's not forget -- no matter what the NCAA tells us -- that sometimes the only avenue to a top-notch education is through that scholarship.
These are complex issues before even asking a further question: Where is the line when it comes to abuse? Sometimes we can't answer from school to school, from sport to sport, from coach to coach. That can mean unspeakable acts go unpunished while a coach moves up the career ladder. And that's a shame. Because of the nature of the wrongdoing -- it can be hidden, go unreported -- there aren't many reliable statistics on the subject.
Stark has worked with Nebraska and Creighton. His National Center For Coaches counsels those involved in what he calls one of the top 10 most stressful jobs in the country. Fortunately, the ratio of "good" to "bad" coaches is 4 to 1, according to Stark.
"It [abuse of players] happened a lot more in the past," he said. "It happened less because these things have been exposed. Coaches have cut back dramatically. I have vivid memories of coaches grabbing my facemask. It's a different environment."
That would make Bobby Knight and Mike Rice outliers, thank goodness.
To even begin this discussion, though, that line has to be drawn between what's allowable and what's not. As mentioned, that's a problem in itself. What's one man's (or woman's) inspiration is another man's abuse. Woody Hayes was considered a great man by many because he won football games. But when his slugging of Clemson linebacker Charlie Bauman 35 years ago hastened the end of his career, there were precious few, if any, saying, "That's so out of character."
Now the light shines on us. We need to teach our children, coaches and student-athletes what that line is. I'm not here to draw up a set of guidelines at the moment. That's for schools, coaches, presidents, perhaps even the NCAA to figure out.
But we can certainly rule out balls thrown at heads, slurs and punitive drills.
The issue is to shine that light. To no longer allow winning percentage to win out over a hand to the neck. Empower student-athletes enough that it's OK to go to a higher authority to complain without fear of reprisal. To have those presidents sit in on practice now and then -- unannounced and unseen.
That would violate a trust, you say? On some level, the benefit of the doubt on that trust has been lost. Whether it's a tiny minority or a growing menace, athletes' wellbeing continues to be at stake.